Roddy Retires – The original SBG trailblazer hangs up his gloves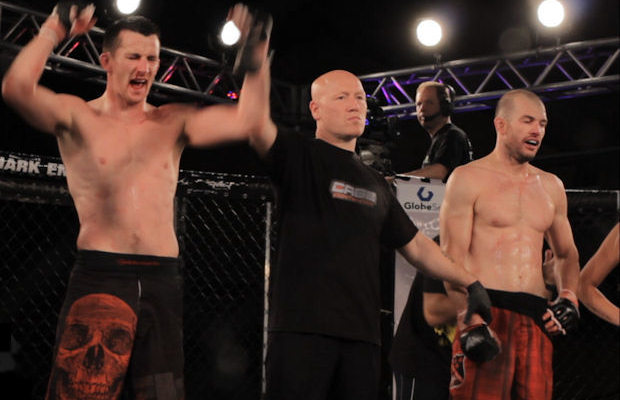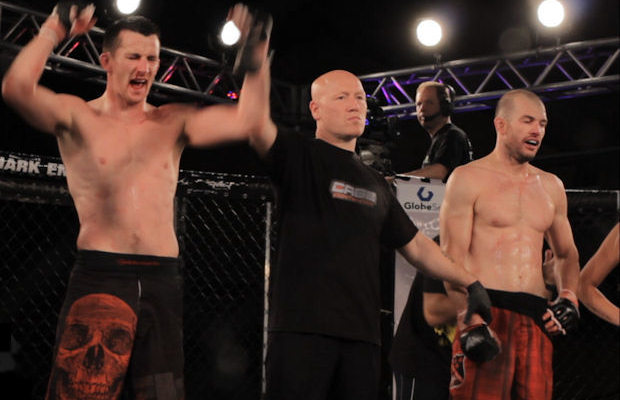 Just over a minute in and already he was staring the worst case scenario in the face. The lungs of the stadium that once pumped out their hero's name were now stifled, as if any activity on their part could plunge their protagonist into deeper trouble. It wasn't supposed to happen this way. 
It's said that the secret to being a good party guest is knowing when to leave.
The battles that "Rowdy" Owen Roddy has been involved in will long be remembered as some of the greatest nights in the history of Irish MMA. His resilience, passion and determination inside the cage have attracted many to the sport, while his humour, honesty and light hearted manner outside of competition have forced people to reconsider their views on it.
Having been out of action since December of last year when he lost to Wilson Reis, a valuable win that would propel the Brazilian to the UFC, Roddy explained why he felt it was time to walk away from MMA competition.
"I just feel like it's the right time for me to retire. I made my decision at the start of the year, probably two months after I fought Wilson," he said.
"With the club really taking off and a young family, it's just too hard to train for a fight. If I have to put that much focus into a camp both the club and my family suffer, and I just can't be leaving them every couple of weeks anymore.
"This is 100% the end of my fighting career – I'm not coming back. You won't be hearing about me putting the gloves on a year down the line or anything, this is it."
Having been inactive for such a long time, some might presume that the loss to Reis had taken the fighting pride of Ballymun's love for the game away. However, the Primal MMA head coach revealed initially he couldn't wait to get going again.
"The fight with Wilson didn't force the decision at all, retiring was actually the last thing I wanted to do for about two months after the fight. I felt like I'd gotten in there and given a great account of myself against one of the best guys at that weight class and I was raring to go.
"Eventually I came to this decision and I'm ready to fully recognise my role as a coach with Primal. It's not like I'll be sitting around on the couch, I want to produce the next Irish champion and I think it's possible with the setup that I have now," said the Dubliner.
One of John Kavanagh's original students, the relationship between the two is akin to that of siblings. Although Roddy's retirement would force Kavanagh to discontinue one of his most successful products, the SBG coach was one of the driving forces behind the decision.
"John kind of knew that I probably wasn't giving 100% of myself to my camps anymore. Physically I was always there, but I just had so much on outside of the fights and it was difficult.
"After my last fight when I wanted to get back to competition John was supporting my decision, but at the same time, he's always guided me toward coaching roles.
"I've been doing the kids class in SBG now for nearly ten years and he's always told me I could have a future in that capacity. I thought about it for a long time and I knew he would be behind me either way. That made it a lot easier," said Roddy.
Kavanagh praised the former champion, highlighting the rare, dynamic nature of his student within the sport:
"Owen was the first complete MMA fighter Ireland ever produced and not many people can match his skill set to this day as a high level striker, wrestler and jiu jitsu player. I'm very proud to have been his coach and I'm proud of the fighter that he became.
"He's a very unusual character in the way that he fought at a high level and he has such an aptitude for coaching at the same time. He's made the kid's program in SBG a massive success since he began coaching it ten years ago.
"MMA fans' loss is MMA practitioners' gain as far as his coaching ability is concerned and I have been encouraging him to do this for quite a while – with his two kids and his own gym, he's just been juggling too many balls.
"He has been one of the key factors in the development of our team and looking to the new gym we're building, we are putting a huge emphasis on his kid's classes.
"A lot of people don't understand the contribution he's made to SBG. After training with Owen, fighters come to me and they're already the equivalent of a purple belt at MMA and then I get all the credit when they start getting attention.
"He is a huge part of the success that we are enjoying now with the likes of Conor, Cathal and Chris, they would be the first to say it, having someone like Owen to train with has been instrumental to their development."
With the Long Mile Road club under the watchful eye of the mainstream MMA media since the UFC debuts of Gunnar Nelson and Conor McGregor, Roddy admitted that walking away at this particular time made it difficult for him.
"It does make it harder, there's no point in denying it. To be honest, it's absolutely heart-breaking for me at the moment. People are always saying, 'two years earlier and it would've been you'.
"The only regret I'll ever have is not fighting in the UFC, but it just wasn't meant to be for me. The fact that I have all the lads in Primal there and that I'll always be around for the guys in SBGi makes it easier.
"I'm probably going to start competing in jiu jitsu a fair bit now as well, that's something I've been interested in for a long time," said Roddy.
Although the absence of his frenzied flurries, knees to the solar plexus and Houdini like escapes will be noted with the Irish fan base, for Roddy, the feeling is mutual.
"I'll miss the reaction of the fans. I went out there every time to excite, I wanted people to leave and say, 'did you see the Roddy fight?'
"I want people to remember me for fighting my heart out every time I got in there. I left it all in the cage and I always tried my best to entertain people by making sure my performances were something they could enjoy.
"When I think back on all my fights, I think I was able to do that, and win for the most part, and I can honestly say the person they saw in there was who I am.
"I want to thank all the people who came out to see me; they gave me some of the most memorable moments of my life. John Kavanagh and all the guys at SBG, Primal and the ISI – without their support I wouldn't have had this career."
As for his favourite fight, there wasn't much hesitation when the question was posed to him. Coming back from the jaws of defeat having been in the patented choke hold of a veteran UFC fighter and grappler, Roddy and the crowd symbiotically went from strength to strength to hand out a memorable upset.
"It has to be the Gugerty fight. I really proved a lot to myself that night. There was no quit in me, I could've easily tapped out when I was in that choke in the first round, but I fought through.
"After that night I knew I had one of the most valuable assets of all – heart. Gugerty was a top class fighter who had been in the UFC, it was a huge task and we turned it into a huge success. The noise in the arena that night was something I'll never forget."
*
Eventually his arms began to shake, withering from the battle he looked so painfully close to ending. As soon as the gap presented itself, the hometown hero scrambled to his feet as the assembly took a mass intake of breath. Now standing, he reigned down shots on the man who nearly finished him seconds before, with his hammer like blows conducting the eruption from the stands behind him.
It's said that the secret to being a good party guest is knowing when to leave, but as his hand was raised that night, "Rowdy" became the host of the celebration. The night will forever be remembered as a coming of age moment for Irish MMA, as Roddy proved that not only were we were able to compete on an international scale, but we could be victorious as well.
@PetesyCarroll
___________
Please check out our documentary on Owen Roddy's fight against UFC veteran Shannon Gugerty
[youtube=http://www.youtube.com/watch?v=Mu4bJQK26JA]