Video – 'Notorious' Conor McGregor Documentary Trailer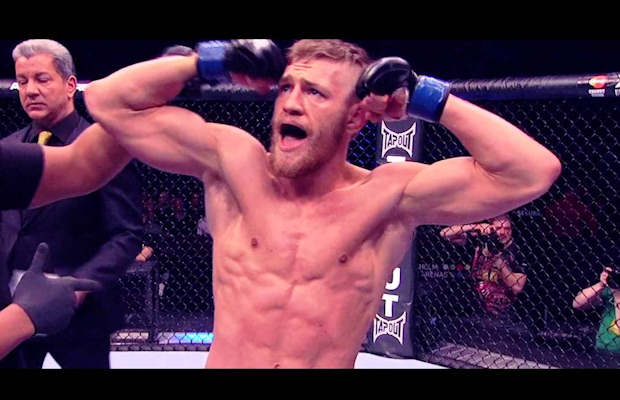 The Notorious : Reality Bites
Thursday, 13th March, 21.30, RTÉ Two
In the worlds fastest growing sport, mixed martial arts (MMA), an Irishman from Crumlin stands on the threshold of becoming the next global superstar.  This special one off documentary enters the high-stakes world of the UFC, following 'The Notorious' Conor McGregor over the most important six months of his fighting career.
Conor McGregor was an apprentice plumber grinding out a living on the building sites of Dublin city; now the path is set for him to become UFC's ultimate fighter.  With the mouth of Mohammad Ali and the abilty to match the talk, Conor is being groomed for mega stardom.
Filmed over six months the documentary follows Conor's journey, right from when he shot to overnight fame after his UFC debut in Stockholm (where he blew away his opponent away in just 67 seconds), through to his next fight and American debut in August 2013.  In a journey that takes us from Dublin to Boston via Las Vegas, the documentary offers audiences an access-all-areas insight into the unique sub-culture of MMA and the rollercoaster adrenaline ride of the UFC.  Conor's story from his gym in Crumlin to the biggest fight of his life in Boston is a long and grueling one.  We see him train, spend time with his family and his team mates and show the stresses and benefits of being a highly paid up and coming cage fighter.
It's a story about being talented, outrageous, prodigious; where a young Irish man walks a perilous tightrope between million-dollar-fame and penniless failure. Through Conor's eyes the audience is catapulted into the rapidly expanding and ultra tough world of mixed martial arts; experiencing the remarkable physical and emotional swings that go hand in hand with Conor's quest for recognition, success and glory. Coach John Kavanagh, his family and girlfriend and his entourage from Crumlin all play a significant role in the documentary as they back their man to become the Ultimate Fighter.
'The Notorious' is a Motive Television production for RTÉ. The documentary is directed by Patrick Timmons Ward, produced by Jamie D'Alton, filmed by Gavin Fitzgerald and associate produced by Graeme McDonnell. Recent Motive Television sport documentaries include the IFTA 2014 nominees 'We Got Game', 'Batmen' 'The Gambler' and 'Man On A Mission' which won the 2012 IFTA for Best Sports Programme.
The Notorious : Reality Bites – RTÉ Two, Thursday, March 13th at 21.30