Fight Picks And Preview – UFC Fight Night: Holloway vs. Oliveira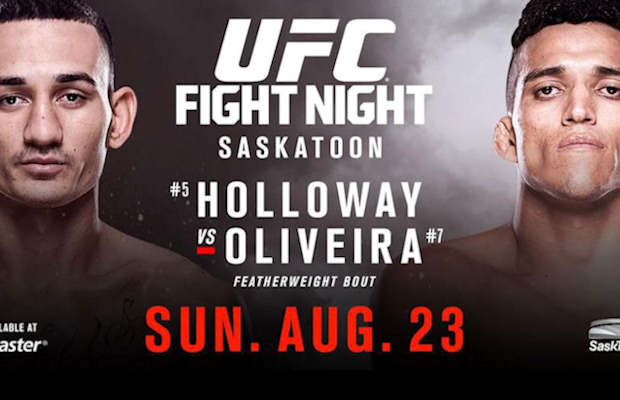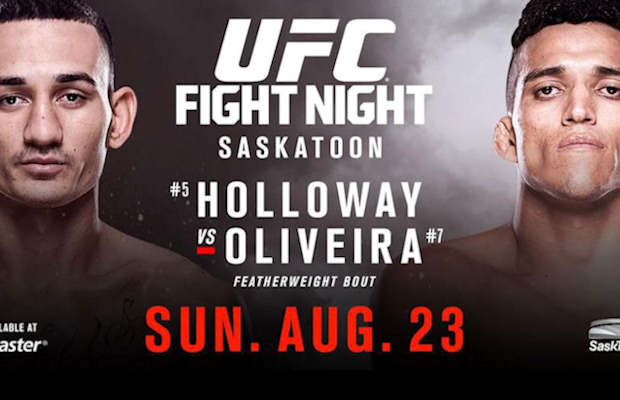 After an increasingly rare weekend without top-class MMA last week it's back to business this weekend as the UFC puts on a fairly run of the mill fight night card this SUNDAY at the SaskTel Centre in Saskatoon, Saskatchewan, Canada.
In the headlining bout it's the featherweight on show again as Max Holloway takes on Charles Oliveira in a fight which could have title implications over the next 12 months.
A native of Hawaii, Max Holloway has had a tough road to this portion of his career after entering the UFC as a 21 year old with just four fights. In his Octagon debut "Blessed" was immediately thrown into the fire against Dustin Poirier and although he lost that fight the three wins which followed made him a genuine prospect. Another step-up in competition saw Holloway lose out to Dennis Bermudez before a unanimous decision loss to Conor McGregor seemed to signal a turning point in his career. Since then Holloway has improved in leaps and bounds and has won six fights in a row including a sensational stoppage of veteran Cub Swanson last time out.
Like Holloway, Charles Oliveira has taken the road less traveled on his way towards the top of the 145 lbs division. As an undefeated 12-0 fighter on the regional Brazilian circuit Oliveira quickly moved to 14-0 with two Octagon wins over gritty competitors Efrain Escudero and Darren Elkins. That impressive start, though, was followed by two years of turmoil as the Brazilian went 2-4-1 losing to the likes of Jim Miller, Cub Swanson, Donald Cerrone and, lastly, Frankie Edgar along the way. That loss to Edgar, like Holloway's to McGregor, seemed to lift Oliveira after a much lauded performance in defeat while the four wins that have followed backed that up further.
As a fight this is as close we will get in this age of MMA to an old-fashioned grappler vs. striker match-up. Oliveira, the grappler, is an absolute monster when it hits ground. His transitions, guard passing and ability to latch onto submissions are some of the very best in MMA. That is all set up by a wonderful clinch and trip game while his constantly improving muay-thai based striking attacks are also not to be messed with.
For Holloway his game is all about smooth, silky striking. The American has a tight, technical stand-up game and throws with a large output of strikes from all distances and angles while switching stances on occasion. Over the years he has been seen as a more volume oriented striker than anything else but his destruction of Cub Swanson showed that his power is also a factor. In the wrestling Holloway has improved both offensively and defensively after big flaws early in his career while on the floor he is more than competitive although, if it does go there, it should be a big advantage for his opponent.
As a fight this one will be really fun and should be very intriguing to see play out. You would expect plenty of Holloway dominance on the feet early while Oliveira plays the long game and preserves energy without committing to getting it south too much. A big factor in this fight will be damage on the feet as Holloway trys to dish it out and Oliveira trys to avoid it. If Holloway can find his range early and hurt, or even tire, Oliveira badly you'd have to favour him but if he doesn't, as history has shown, Oliveira can be out of a fight for long periods and still win by grabbing a submission out of nowhere. Over five rounds, that danger will be extremely tough to avoid. For that reason I'm leaning with Oliveira here.
Outside of that big fight there isn't too much to get excited about – apart from Erick Silva who takes on late replacement Neil Magny after his original opponent Rick Story was forced to pull out through injury. The Brazilian is one of the most exciting fighters in MMA today and is currently on his best run in the UFC after submission wins over Mike Rhodes and veteran Josh Koscheck. He won't have an easy fight at making it three in a row, though, against a man who won seven fights on the bounce recently before losing to jiu-jitsu ace Demian Maia last time out.
As with all Silva fights this one should be really exciting with leather exchanged hard early and often. Expect Magny to use his reach to stay away on the outside while also getting in close to clinch and work takedowns. Silva will do this best to break down the barriers and land combinations on the inside while on the floor he is extremely dangerous with submissions on bottom as well as on top. After seeing Magny struggle so badly against Demian Maia a couple of weeks ago on the floor another submission win here, especially if Silva can get on top, is probably the most likely outcome.
Elsewhere on the card the very impressive Maryna Moroz takes on Valerie Letourneau and Canadian fan favourite and former middleweight title challenger Patrick Cote returns against the hard-as-concrete Josh Burkman, while Chad Laprise, Olivier Aubin-Mercier and Sam Stout should all give the Canadian faithful something to shout about.
FIGHT PICKS
Max Holloway vs. Charles Oliveira – Oliveira weathers the storm, gets the submission
Neil Magny vs. Erick Silva – Exciting fight ends in a Silva submission
Patrick Côté vs. Josh Burkman – Should be a war of attrition, fancy Burkman
Chad Laprise vs. Francisco Trinaldo – Should be a Laprise win inside the distance
Olivier Aubin-Mercier vs. Tony Sims – OAM via TKO
Maryna Moroz vs. Valérie Létourneau – Could be FOTN, I'm taking Moroz
Sam Stout vs. Frankie Perez – Stout via decision
Yves Jabouin vs. Felipe Arantes – Arantes via submission
Marcos Rogério de Lima vs. Nikita Krylov – Can't pick against Krylov, Von Flue choke from hell
Chris Kelades vs. Chris Beal – Fun fight, Kelades via decision
Shane Campbell vs. Elias Silvério – Silverio via decision
Misha Cirkunov vs. Daniel Jolly – Cirkunov inside the distance
BET OF THE WEEK
This week I'm taking a 3/1 double of Erick Silva and Charles Oliveira
START TIMES (Sunday night)
Early Prelims – Fight Pass @ 11pm
Prelims – BT Sport 2 @ 12am
Main Card – BT Sport 2 @ 2am