Bellator 270: The Line Up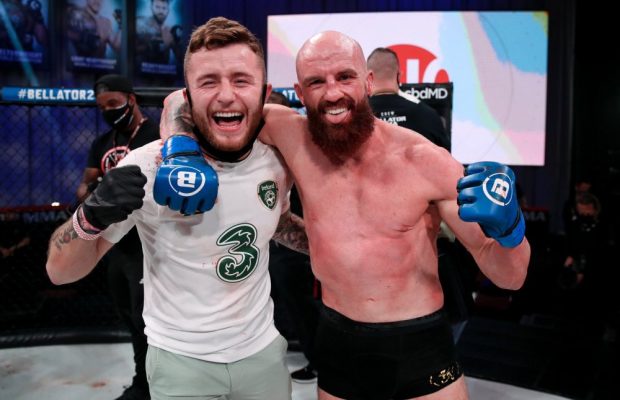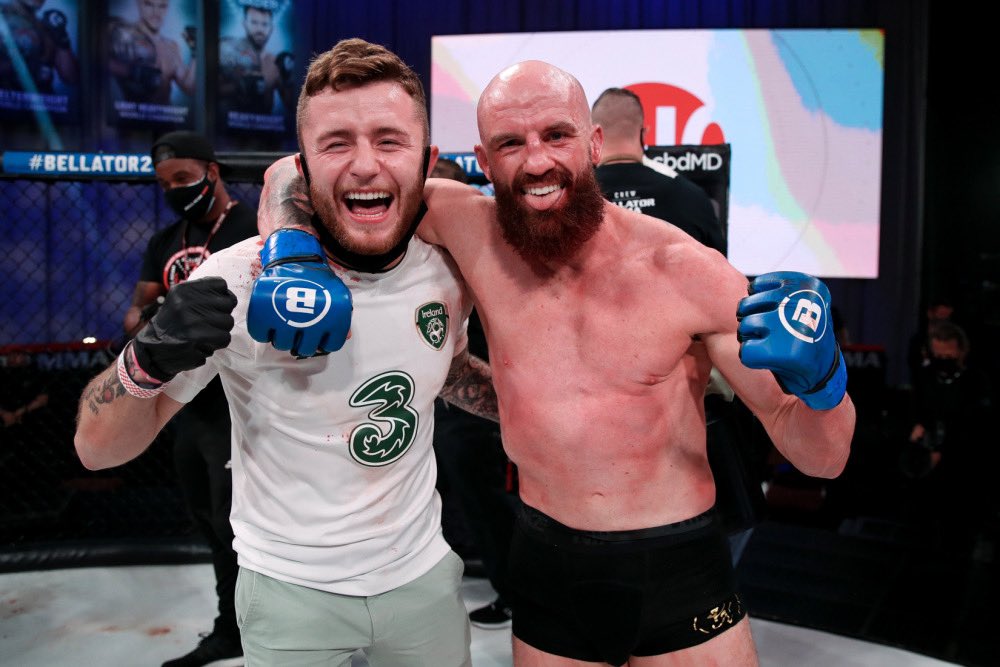 Bellator will make it's long awaited return to the Emerald Isle as Showtime Sports presents Bellator 270 live from the 3Arena in Dublin, Ireland. This will be the first time the Bellator cage returns to Ireland since Bellator 240 back in February of 2020. Not only that, but Scott Coker and company have put together a star-studded lineup filled with hometown talent. Most notably, Peter Queally will take on Patricky "Pitbull" Friere in a rematch of a bout that occurred earlier this year. This fight will also determine the undisputed Bellator lightweight champion. In the comain event fan favorite James "The Strabanimal" Gallagher will face a tough test in the form of Patchy Mix. There's a lot to unpack before the cage door closes on Friday night, so let's take a closer look at this card:
Main Card
Peter Queally (13-5-1) vs Patricky Freire (23-10)
"The Showstopper" was able to propel himself into the lightweight title picture when he defeated Patricky Friere back in May of this year. Now, Patricky's brother Patricio has vacated the Bellator lightweight title, which has allowed for this fight to be upgraded to a vacant title fight. Queally won the first bout via doctor's stoppage due to a cut that had opened up on Pitbull's hairline. Pitbull was not in agreement with the decision to call the fight because in his opinion, it was a small cut that was no longer bleeding excessively. It was also Pitbull's idea to have this rematch in Ireland in front of fans as he's clearly looking to make a point with his performance. The SBG Ireland product is eager to prove his doubters wrong by defeating one of the best lightweights in Bellator for the second time this year. Achieving such a feat would catapult him towards the upper echelon of all time great Irish MMA fighters. The stakes are incredibly high, and with the title now on the line, Friday night's main event is must see TV.
James Gallagher (11-1) vs Patchy Mix (14-1)
James Gallagher is back in a big way as he looks to blow the roof off the 3Arena once again when he takes on Patchy Mix in the comain event. Gallagher is riding the momentum of a 4 fight win streak and admittedly has a tough task in front of him. Patchy is the 3rd ranked fighter in Bellator's bantamweight division, and he also presents a unique set of skills to challenge James. Although, Gallagher is incredibly focused on his craft at the moment and plans on challenging champion Sergio Pettis next. SBG Ireland's top bantamweight will play curtain jerker to his longtime teammate Peter Queally in what will be an incredible atmosphere on their home soil.
Fabian Edwards (9-2) vs Robert Fonseca (13-4)
A short notice matchup between Fabian Edwards and Robert Fonseca will be the second fight on this main card. Originally, Fabian had stepped in on short notice to face Charlie Ward, but Ward was forced to withdraw due to a torn bicep. Now, Robert Fonseca will keep the show alive by taking on Fabian. Edwards is the brother of UFC welterweight Leon Edwards, and is currently in the midst of a two fight losing streak. The 28 year old is looking to change his fortunes and reclaim his reputation as one of England's brightest prospects. Fonseca is making his promotional debut on about a week's notice, and will compete for the second time in 15 days. The Brazilian is looking to capitalize on what may be the biggest opportunity of his career at 38 years old.
Daniel Weichel (41-12) vs Pedro Carvalho (11-5)
The first fight on the main card will feature Daniel Weichel against Pedro Carvalho. Daniel is the lone German on this card, and has 53 fights on his record at 36 years old. He'll look to ignite a winning streak here in what is considered to be the twilight of his career. Carvalho is a Portuguese fighter who is also training out of SBG Ireland. He's on a two fight losing skid, most notably including a loss in a title fight against Patricio "Pitbull" Freire.
Preliminary Card
Ashley Reece (8-2) vs Luca Poclit (6-1)
Ashley Reece and Luca Poclit will collide in Bellator 270's featured prelim. Reece has lost two of his last four, although those are the only losses of his career and he has never been finished. The Englishman will look to get back in the winning column for the first time since 2019. Moldova's own Luca Poclit is riding the momentum of a 6 fight win streak. Poclit is the former Eagles FC champion, and he is making his promotional debut.
Daniele Scatizzi (10-5) vs Brian Hooi (16-7)
Daniele "Scat" Scatizzi will face off against young up and comer Brian Hooi. Scat is one of multiple SBG Ireland fighters on this card, as the Italian is coming off of a win over a year ago. Brian Hooi will be making his promotional debut as the lone fighter on this card to represent the Netherlands. Hooi has lost three of his last six, and is coming off a win from over a year ago, just like his opponent.
Lee Chadwick (26-15-1) vs Arūnas Andriuškevičius (15-4)
Liverpool's own Lee Chadwick will face off against Arunas Andriuskevicus in a light heavyweight bout. Chadwick has 14 submission victories in 41 professional fights. Arunas will enjoy a two inch height advantage, and the momentum from his current 8 fight win streak. Also worth noting that Arunas has not fought in well over two years.
Ilias Bulaid (2-0) vs Georges Sasu (5-1)
Ilias Bulaid is set to take on Gerorges Sasu in a featherweight bout, Ilias is an undefeated 26 year old who hails from Morocco. His two wins in Bellator have made fight fans realize that his ceiling may be much higher than previously thought. Georges Sasu will be making his Bellator debut on the back of a four fight win streak. He is the former 100% Fight world champion back home in Paris, but has not competed since November of 2018.
Ciaran Clarke (3-0) vs Jordan Barton (6-1-1)
Undefeated Irishman Ciaran Clarke will take on Jordan Barton in a featherweight bout. Clarke is yet another fighter out of SBG Ireland, and has earned himself a 3-0 record within Bellator. This is in contrast to his extensive amateur career which featured a nearly equal amount of wins and losses. His opponent, Jordan Barton, began his career undefeated through six fights, but lost his Cage Warriors debut back in 2019. Now the Englisman is looking to produce a winning streak to regain the momentum he once had.
Nicolo Solli (3-1) vs Bobby Pallett (5-0)
Nicolo "The Monkey King" Solli will take on Bobby Pallett in a welterweight bout. Solli will represent both Italy and SBG Ireland on Friday night, in what is just the fifth fight of his career. The 24 year old prospect is known for his submissions and was undefeated in his amateur career. Bobby Pallett is an undefeated fighter out of Wales, making him the only Welshman on this card. His last four victories have all been via stoppage, including a seven second KO via knee injury back in 2017.
Danni Neilan (4-0) vs Audrey Kerouche (6-6)
Danni Neilan and Audrey Kerouche will represent the only women's fight on this card. Neilan is an undefeated mixed martial artist fighting out of SBG Ireland. She will enjoy the home crowd energy in her return to the Bellator cage, as she fought once for the National Fighting Championship during the pandemic. Across the cage is Audrey "AK-47" Kerouche, who will be making her promotional debut. She also has not competed in over a year, and not earned a victory in over two years.
Asael Adjoudj (2-1) vs Keir Harvie (4-1)
Asael Adjoudj will face off against Keir Harvie in a featherweight bout. Asael is one of many frenchmen on this card, and he is also a member of SBG Ireland. Asael is currently in the midst of a two fight win streak including a guillotine submission and a TKO stoppage. This fight will be his return to Bellator as he fought once for UAE Warriors two months ago. Keir Harvie is the lone Scotsman on this card and is only 23 years old. He is coming off of an arm-triangle submission victory in Cage Warriors earlier this year.
Junior Morgan (3-0) vs Darragh Kelly (0-0)
Junior Morgan will take on Darragh Kelly in a featherweight bout. Junior is making his Bellator debut as an undefeated Englishman. Although, it is worth noting that he has not earned a victory since he won via disqualification back in 2019. Darragh Kelly will be making his professional debut on Friday night. The Irishman went undefeated as an amatuer, with five of his six wins coming by way of submission.
Stephen Costello (0-0) vs Yusuf Nazokatov (0-0)
Stephen Costello will take on Yusuf Nazokatov in a welterweight bout. Costello will be the first fighter on this card to represent SBG Ireland. He is also making his professional debut and gets to do so on home soil. Also making his professional debut is Yusuf Nazokatov. This will be the first fight on the preliminary card, making this the first Bellator fight in Ireland since the pandemic began in early 2020. Irish fans rejoice, Bellator is back this Friday night live from the 3Arena.