Andreeas Binder: "I want to put Galway on the map in Mixed Martial Arts."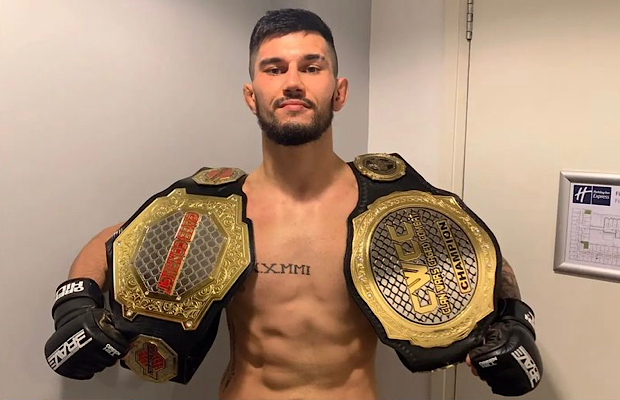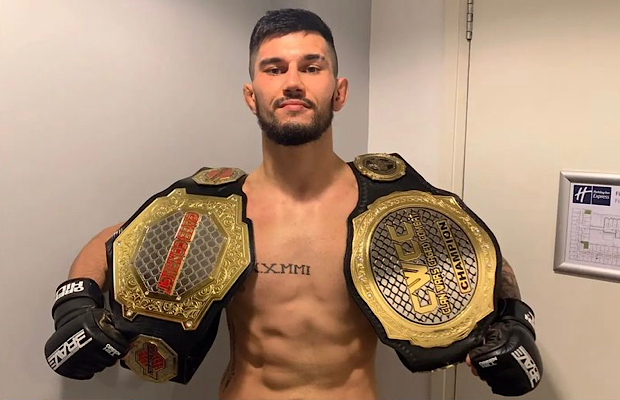 SBG Charlestown welterweight Andreeas Binder (4-1) has signed to Swedish promotion Superior Challenge. The Romanian born, Galway native is set to take on Raimundas Krilavičius (6-2-1) on Superior Challenge 24 which takes place on February 5, 2022. Superior Challenge has made the fight official today.
The fight announcement was broken by Andy Stevenson for MYMMANews.com.
Binder has had a very successful year in 2021, picking up three victories, with all of those wins coming by way of stoppage. With the pandemic and other obstacles, fights on Irish and UK shores are hard come by these days for professional athletes and that has prompted the SBG Charlestown stand out to seek fights out on the international stage.
"It was very difficult to get a fight in Ireland and the UK, we tried 6 or 7 times to be matched up and nobody wanted to accept the fight. I'm not talking bad on anyone in Ireland, it's just very hard to get a matchup right now so we had to look elsewhere. Some people saw my last fight against Jeanderson Castro and now they realise that I can take a smack as good as I can give one. I'm a tough cookie on the feet now, I'm not just a grappler, I can strike pretty well now too and I showed that in my last fight."
The Romanian born, Galway native has signed a one fight deal with Superior Challenge, a promotion that has been in operation since 2008, and is looking forward to starting off, as he calls it, the 'European Invasion'. Binder hopes that he can build good bond and continue to fight for the Swedish promotion for the foreseeable future.
"I'm really excited to get the chance to compete on a promotion like Superior Challenge. It's a great opportunity to for me to showcase my skills in Europe and there no better way to start my European invasion so to speak. I want to put Galway on the map in Mixed Martial Arts. We don't have many fighters that do compete out of Galway internationally so that is a huge plus for me. I will bare that flag with pride and put on a show that the Swedish fans will not forget and I'll be bring some of my own supporters along too."
"My contract is only a one-fight deal for now but I'll be trying my best to get on this show again. The promotion is run very professionally, we have had easy dealings with the promoters and we are building a good bond between Ireland and Sweden so it'll be good to keep that going."
Binder's next opponent is Lithuanian based fighter Raimundas Krilavičius, who has not tasted defeat in his last five encounters. Krilavičius competed on Superior Challenge 23 where he submitted Moraad Moreno by rear-naked choke just a few month back in September. Andreeas, who is on a four-fight win streak himself, sees his opponent as a tough challenge but a challenge that he is confident of overcoming. With a win, Binder is hoping to start off 2022 with a impressive win which will help him forge a path to his desired final destination in the UFC's welterweight division.
"It's a very good matchup for both myself and for Raimundas because we both match-up well stylistically in all departments. He is a good grappler, along with being a good striker. He is unbeaten in his last five fights but I'm unbeaten in my last four. It really is a very good match-up and I'm super excited for it. I wouldn't class this fight as a clash of styles because we both have similar styles, it's more about who can implement their grappling and striking better in this fight. I strongly believe that I will be victorious in this contest, I believe it will be my hand that gets raised at the final bell."
"I can see myself getting the finish in either the first round or early in round two, it's going to be via ground and pound or straight knockout. He is a very tough fighter and is on a good unbeaten run at the moment after fighter some good opposition. My skill set coming into this fight is just a bit better in regards to technical ability, my striking will be more crisp than his and so is my grappling so I feel all those aspects will lead to a first or second round stoppage. Right now I'm on a very progressive route of competing against better and better opponents each fight and my ultimate goal is to get to the UFC."
Superior Challenge 24 will be Superior Challenge's first full-capacity public event following the outbreak of the pandemic. The event will take place on February 5th, 2022 in the Annexet Arena in Stockholm, Sweden. The fight card will be available to stream on FITE TV.