Irish Junior & Senior National Championships Full Results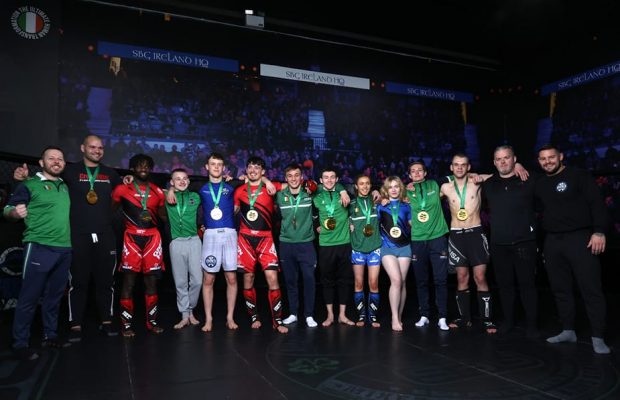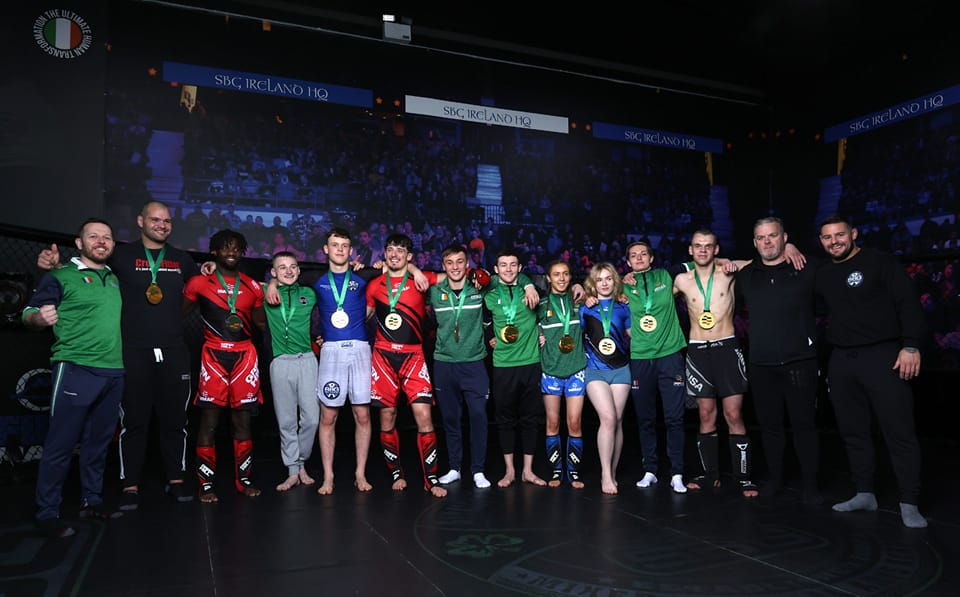 The inaugural Irish Junior and Senior National Championships are in the books. The historic event marks IMMAA's new format to decide the national team that gets sent to IMMAF events. Winners of the Senior categories for Women's Flyweight and Bantamweight and Men's Bantamweight through Heavyweight will earn a spot on Team Ireland for the upcoming MMA Super Cup.
"Irish Twins" Jamie and Nadine Abbott Bissett took home two gold medals each, both of them went up a division after there were no entries in their natural weight class.
Colin Meagher marked his return to the cage by defeating two highly touted prospects in his impressive run. The SBG Clonmel head coach suffered an injury in the first round of his final bout with Jordan Furey but bit down and showed incredible toughness to take home gold.
Kerry Ann Vernon and Sinéadh Ní Nualláin arguably put on the best fight of the tournament in a closely contested fight that was non-stop action. It was Cork's Kerry Ann Vernon that emerged victorious to book her slot on the team heading to Bahrain.
Following three days of action, the full results for the event are as follows.
Friday – 18/02
Junior Male Flyweight Final & Bantamweight Round Robin 1/3:
Aaron Henry (Ryano HQ) def. Kian McCarton (SBG HQ) via Submission (Armbar), R1
Senior Male Featherweight Quarter-Finals
Keith Keogh (CMAC) def. Ronan Deegan (SBG Tullamore) via Submission (Imanari Choke), R1
Lewis Byrne (Ryano HQ) vs. Ruairi Burke (SBG HQ) – Byrne advanced after Burke failed a medical examination
Senior Male Lightweight Quarter-Finals
Solomon Simon (Ryano Waterford) vs. Sean McCullogh (SBG Clonmel) – Simon advanced after McCullogh withdrew
Jack Thorne (Next Gen) def. Craig Croly (SBG HQ) via Submission (Triangle Choke), R1
Frank Meagher (SBG Clonmel) def. Paddy Moran (Ryano HQ) via Submission (Armbar), R1
Andrew Barrett (SBG Tullamore) def. Aidan Fegan (SBG HQ) via KO/TKO (Ground & Pound), R1
Senior Male Welterweight Quarter-Finals
Liam McGeogh (MMA Cork) def. Ethan Guerin (SBG Cork/Killarney) via KO/TKO (Ground & Pound), R2
Senior Male Middleweight Quarter-Finals
Tristan Barnett (SBG HQ) def. Mantvydus Vosylius (SBG Tullamore) via Submission (Armbar), R1
Brian Manning (MMA Cork) def. Ross O'Brien (Next Gen) via Unanimous Decision
Saturday – 19/02
Junior Male Bantamweight Round Robin 2/3
Kian McCarton (SBG HQ) vs. Jake Ngai (Satori BJJ) – McCarton withdrew due to injury
Senior Male Bantamweight Semi-Finals
Karl McConway (SBG Charlestown) vs. Patrick Symes (Ryano HQ) – McConway advanced after Symes withdrew
Jamie Abbott Bissett (Ryano HQ) def. Ross Quearney (CMAC) via Submission (Neck Crank), R1
Senior Male Featherweight Semi-Finals
Keith Keogh (CMAC) def. Ryan Keogh (SBG HQ) via Unanimous Decision
Jordan Bradshaw (CMAC) def. Lewis Byrne (Team Ryano) via Unanimous Decision
Senior Male Lightweight Semi-Finals
Solomon Simon (Ryano Waterford) def. Jack Thorne (Next Gen) via KO/TKO (Ground & Pound), R2
Andrew Barrett (SBG Tullamore) def. Frank Meagher (SBG Clonmel) via Unanimous Decision
Senior Male Welterweight Semi-Finals
Colin Meagher (SBG Clonmel) def. Conor McCarthy (SBG Naas) via Unanimous Decision
Jordan Furey (SBG HQ) def. Liam McGeogh (MMA Cork) via KO/TKO (Ground & Pound), R1
Senior Male Middleweight Semi-Finals
Dan O'Sullivan (SBG Cork/Killarney) def. Tristan Barnett (SBG HQ) via Unanimous Decision
Cameron Clements (OMMA) def. Brian Manning (MMA Cork) via Submission (Rear-Naked Choke), R1
Sunday – 20/02, Finals Day
Junior Male Bantamweight Round Robin 3/3
Jake Ngai (Satori BJJ) def. Aaron Henry (Ryano HQ) via Submission (Rear-Naked Choke). R1
Junior Male Welterweight Final
Jordan Scully (SBG Tullamore) def. Marco Cardillo (SBG Clonmel) via KO/TKO (Ground & Pound), R1
Senior Female Strawweight Final
Nadine Abbott Bissett (Ryano HQ) def. Lisa Houston (SBG Strabane) via Submission (Armbar), R1
Senior Female Flyweight Final
Mya Weafer (SBG HQ) vs. Eabha Cruise (SBG HQ) – Cruise won gold after Weafer failed a medical examination
Senior Male Bantamweight Final
Jamie Abbott Bisset (Ryano HQ) def. Karl McConway (SBG Charlestown) via Unanimous Decision
Senior Female Bantamweight Final
Kerry Ann Vernon (SBG Cork) def. Sinead Ni Nuallain (SBG HQ) via Unanimous Decision
Senior Male Featherweight Final
Keith Keogh (CMAC) vs. Jordan Bradshaw (CMAC) – Bradshaw won gold after Keogh withdrew
Senior Male Lightweight Final
Andrew Barrett (SBG Tullamore) def. Solomon Simon (Ryano Waterford) via Unanimous Decision
Senior Male Welterweight Final
Colin Meagher (SBG Clonmel) def. Jordan Furey (SBG HQ) via Unanimous Decision
Senior Male Middleweight Final
Cameron Clements (OMMA) def. Dan O'Sullivan (SBG Cork/Killarney) via Submission (Rear Naked Choke), R1