Bellator 277: The Line Up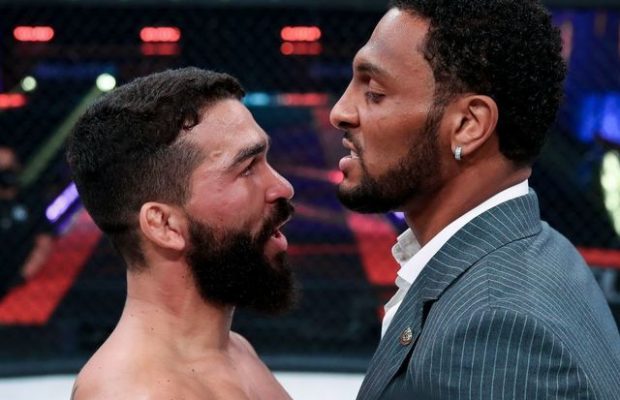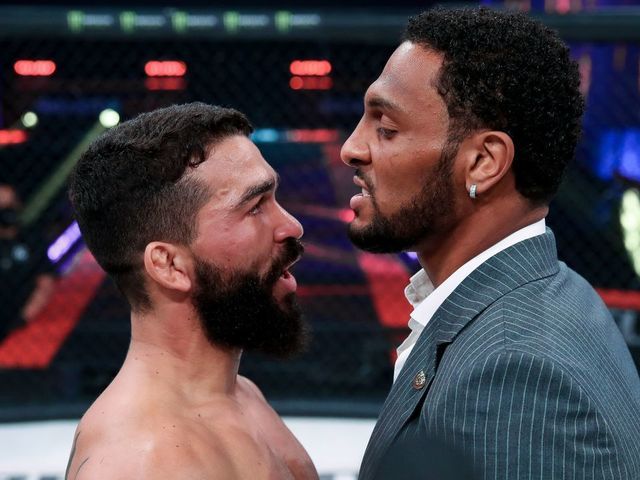 Main Card:
Featherweight World Title Main Event: (C) A.J. McKee (18-0) vs. #1-Patricio Pitbull (32-5)
The highly anticipated rematch between two of the best featherweights to ever compete within Bellator serves as the main event for this card. In their last meeting, AJ McKee realized his dream by capturing the Featherweight title over Patricio Pitbull via guillotine choke in what was an iconic moment in the division's history. Now, Patricio has the opportunity to regain the title and hand McKee his first professional loss. Not only that, but McKee and Pitbull are ranked 1st and 3rd in the promotion's pound for pound rankings, raising the stakes even higher. Both men have heavy hands and are extremely well versed in grappling. While their first fight did end rather abruptly, expect a more even back and forth in this rematch, the pair are just too evenly matched. This is the biggest fight of the year for Bellator thus far, and the rest of the card looks to serve as an action-packed appetizer.
Light Heavyweight Bout (C)-Vadim Nemkov (15-2) vs. #1-Corey Anderson (16-5)
Yet another sublime matchup is featured in the comain event when champion Vadim Nemkov meets number one contender Corey Anderson. This fight also marks the finale of Bellator's light heavyweight grand prix, pitting the fifth and eighth ranked pound for pound fighters against one another. Vadim trains alongside Fedor Emelianenko, who has been a massive influence in his career. He holds power in both hands and has the ability to take down anyone in the division.  Nemkov is well known as perhaps the best light heavyweight outside of the UFC, and Corey Anderson has gone undefeated since his UFC departure. Corey never quite realized his dream of capturing UFC gold, but he only lost to elite competition. He is currently on a revenge tour of sorts, looking to prove that he is one of the best light heavyweights in the world, despite what critics may say. Many are saying that this matchup presents the toughest challenge for Nemkov within Bellator, and it's hard to disagree.
Featherweight Bout: #4-Aaron Pico (9-3) vs Adli Edwards (9-1)
Surging young-gun Aaron Pico faces off against last minute replacement Adli Edwards in a featherweight bout. Well known as a dangerous knockout artist, Aaron Pico has been the focus of Bellator's development for quite some time now, and at 25 he seems to be really hitting his stride. He looked impressive in his most victory over Justin Gonzales, which was the first time he had been to a decision in his career. His adversary is Adli Edwards, who is stepping in for Jeremy Kennedy on eight day's notice. Edwards just secured a submission victory in his most recent bout, just 13 days before this one. The North Carolina native is riding the momentum of a seven fight win streak heading into his Bellator debut. 
Heavyweight Bout: #5-Tim Johnson (15-8) vs. #4-Linton Vassell (22-8)
Yet another top five matchup is on deck as Tim Johnson and Linton Vassell are scheduled to open up the main card. After taking consecutive losses to both Fedor Emelianenko and Valentin Moldavsky, Tim Johnson is looking to avoid what may become his longest losing streak of his career. The former UFC vet is 3-4 within Bellator since he debuted in 2018. Linton Vassell is on a three fight winning streak, with his most recent victory coming against Tyrell Fortune. The Brit holds an advantage in both height and range, and is one year older than Johnson. Both men have proved previously that they possess the power to end the fight at any time.
Preliminary Card:
140 pound Bout: Gaston Bolaños (5-3) vs Ali Jafri (4-3)
The featured preliminary bout is a 140 pound catchweight fight between Gaston Bolaños and Ali Jafri. Gaston "The Dreamkiller" has not fought since 2020 when he ended the year on a two fight losing streak. The Peru native has had a number of both Muay Thai and kickboxing fights, predominantly early in his career. At 29 years old, he has only fought professionally within Bellator. Ali Jafri has also not fought since 2020, but he will be making his Bellator debut. He is a year younger than Gaston and is on a two fight winning streak, both by submission.
Heavyweight Bout: #7-Tyrell Fortune (11-2) vs. Rakim Cleveland (22-14-1)
Rakim Cleveland will get a shot at being ranked in the heavyweight division when he faces #7 Tyrell Fortune. Fortune is a NCAA Division II national champion in wrestling, and that translates well to his fighting style. He lost most recently to Linton Vassell, and Rakim signifies the third unique opponent that he has agreed to fight on this card. Rakim "The Boogeyman" Cleveland is coming off of a kimura loss in his Bellator debut last November. You may remember Cleveland from his run in the PFl, where a four fight losing streak ended his time with the promotion in 2019. However, his next three fights were all victories by finish across three different promotions.
Middleweight Bout: Dovletdzhan Yagshimuradov (18-7-1) vs. Tony Johnson (9-3)
Dovletdzhan Yagshimuradov will face off against Tony Johnson in a middleweight bout. Yagshimuradov is on a two fight losing skid that began with a loss to now title challenger Corey Anderson in what was Dovletdzhan's Bellator debut. Before that, he had an 8 fight win streak in which his Sambo abilities were on full display. Johnson is six years his elder and trains out of the American Kickboxing Academy. He is a 15 year professional veteran who came up on the California regional scene. He'll look to keep this fight on the feet and use his hands to get the job done.
Welterweight Bout: #9-Kyle Crutchmer (8-1) vs Michael Lombardo (12-2)
Kyle Crutchmer faces off against Michael Lombardo in a welterweight bout. Kyle is a former two time NCAA All-American and two time Big 12 Champion for Oklahoma State University. He has only suffered one defeat in his career, which was a razor thin decision loss to Kemran Lachinov. He has been able to effectively mix his wrestling and striking since that loss, and is now on a two fight win streak. Michael Lombardo has an additional two years of experience over Crutchmer, and has fought for the PFL and Dana White's Contender Series multiple times. This will mark his first Bellator fight since 2017. Since then, the American Top Team product has gone 8-1.  
Bantamweight Bout: Bobby Seronio III (1-0) vs. Calob Ramirez (1-1)
Emerging prospect Bobby Seronio III returns to the Bellator cage for a bout against Calob Ramirez. With Kajukenbo as his fighting style, Seronio is a well rounded young fighter with loads of potential. "The Humble Warrior" is only 23 years old and coming off of a decision win in his Bellator debut. Ramirez is ten years his senior and also hails from California. After a four year, 16 fight amateur campaign, Calob debuted professionally back  in 2020. He has not fought since he lost via guillotine choke back in July of last year.
Welterweight Bout: Tyson Miller (2-0) vs. Rhalan Gracie (0-3)
Tyson Miller will return to Bellator to face off against Jiu-Jitsu ace Rhalan Gracie. "The Killer" Miller won his Bellator debut by leg injury TKO in 2019, then went on to win his next fight via decision outside of the promotion. His opponent comes from an iconic lineage of Jiu-Jitsu practitioners. Rhalan holds a black belt and is known as one of the better Gracie Jiu-Jitsu practitioners within the family. Despite his abilities, Rhalan has started his career 0-3.
Flyweight Bout: Edwin De Los Santos (1-0) vs Alberto Mendez (0-0)
Edwin De Los Santos will face the second test of his MMA career in the form of Alberto Mendez. Edwin comes from a Muay Thai background which allows him to open up with strikes in the cage. He won his Bellator debut by TKO, by dropping his opponent with a liver kick and following up with ground strikes. Mendez will be making his professional debut on this card, and he also has a Muay Thai base, no doubt he'll be willing to stand and trade with Edwin.
Featherweight Bout: Socrates Hernandez (0-1) vs Rogelio Luna (0-0)
Socrates Hernandez and Rogelio Luna will both look to earn the first win of their professional career. Hernandez was able to hold a .500 record in his amateur career, before being finished in his debut to the aforementioned Seronio III. He is a well rounded striker known for utilizing his length to his advantage. Rogelio Luna will be making his professional debut in this fight. Just like his opponent he is also a native Californian, which qualifies this as a San Jose vs San Francisco matchup.
Featherweight Bout: Laird Anderson (1-0) vs JT Donaldson (4-5)
Young-gun Laid Anderson will step up and face JT Donaldson. Laid is a Jiu-Jitsu specialist, having competed in Combat Jiu Jitsu Worlds last December, and won two of those bouts in overtime. The 23 year old won his Bellator debut in 2018, when he was only 19. JT Donaldson is six years his senior with a similar grappling background. "Grandma's Boy" Donaldson has fought some top level talent throughout his career, including the current champion A.J. McKee in 2015. This will be his second Bellator fight, as he went 3-3 outside of the promotion after that contest.
Light Heavyweight Bout: Theo Haig (0-0) vs Alan Benson (1-2)
Theo Haig will take on Alan Benson to open up Bellator 277's preliminary card. This marks Theo's professional debut, and his first fight since his lone amateur win in 2020. Like many of the competitors on this card (and his opponent), Theo is from California and came up through that regional scene. His lone amateur win is by submission. Alan "Beaston Benson has competed for Bellator once before, picking up a decision win at Bellator 226. He went on to lose his next fight by crescent kick KO in Cage Warriors.