ARES FC 8 Preview; 2 Title Fights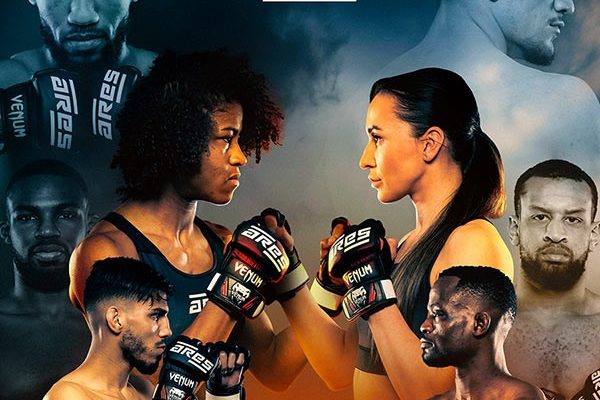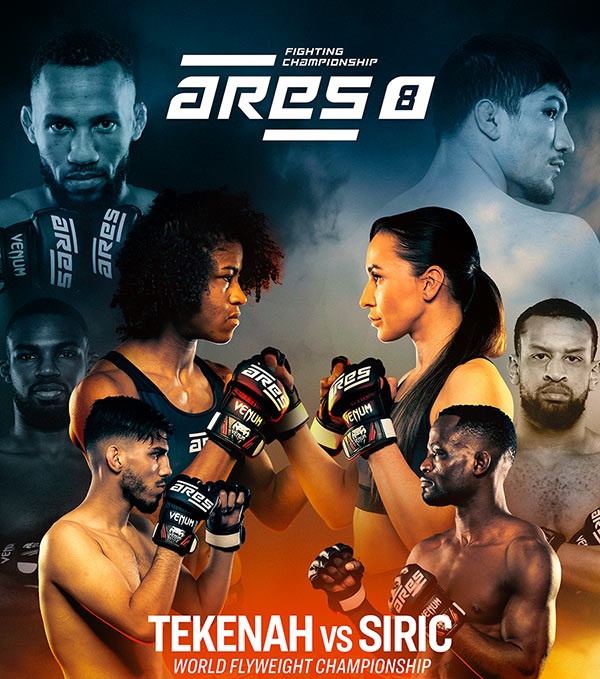 On Friday night, ARES FC will hold their eight show at the Dôme de Paris in the Javel neighbourhood of the French capital, just to the south of the River Seine. They are an Afro-French promotion and held their inaugural event in Sénégal. In the post-pandemic period, they've based themselves successfully out of Paris. ARES FC 8 will serve as the apéritif to the UFC's debut Paris show on Saturday. There will be ten bouts on the card, two for ARES championship belts.
A pair of undefeated prospects will compete in the main event for the inaugural ARES FC Flyweight Championship. Hometown favourite Alexandra Tekenah (2-0) has shown a fierce competitive nature in her pro career to date. She is a Sanda practitioner with the bravery to hang in the pocket to exchange shots. The Frenchwoman has one TKO victory to her name, landing a big right hand followed by a left hook against Iris Marmouset at ARES FC 3. Ivana Širić Petrović (4-0) has an even more impressive résumé. The Norwegian was a Cage Warriors Academy South East champion at both FlyW and BW at amateur level. She is a good grappler with heavy ground and pound, winning two of her bouts so far on the ground. Her last fight was a close split decision win over Marta Waliczek. Tekenah will likely want to keep this standing, whereas Širić will want to get this down to the ground. Wherever this fight goes, violence will follow.
The ARES FC Heavyweight Championship is on the line in the co-main event, and is contested by another couple of undefeated fighters. Azamat Nuftillaev (12-0-1) makes his promotional debut on the night. The 28 year old is one of the trailblazers of Uzbek MMA. "Dragon" is a quick starter and throws big shots from the get go. Uzbekistan is known for a strong wrestling game, and Azamat is no different. If he doesn't knock you out on the feet, he'll take you down and smash you with ground and pound. Slim Trabelsi (4-0) is his opponent. He trains out of Ankos MMA in Poznań, Poland. The Tunisian is a wrestler by trade who has shown to have big knockout power in his fists, including a win over Cork's Ryan Spillane. This will likely be over quickly with a big shot, or we could be in for a prolonged display of wrestling dominance. Azamat has the experience, Trabelsi has faced sterner opposition. All to play for.
Alioune Nahaye (11-3) was supposed to fight William Gomis on this card, however he's been called up the UFC to compete on Saturday. The Frenchman is in his tenth year as a professional. For most of that time, MMA wasn't fully recognised as a sport in France. He started out as a grappler early on, however he's developed more of a kickboxing game in the last few years, winning three of the last four by knockout. Training out of Obyfight in Vitry-sur-Seine, his fans should only need to take the metro a few stops to cheer him on. David Tonatiuh Crol (9-7) is the late notice replacement. He is a karate fighter who will be a lot of fun to watch. Born in France, Fight Move Academy in Neuchatel, Switzerland is where he calls his home. The UFC's Volkan Oezdemir is his best known teammate. Whilst he has fun on the feet, he has a very effective BJJ game and has a submission for every occasion. This should be a bit of fun.
Teddy Violet (11-4) is a veteran of the European scene and is in his eleventh year as a pro. U.K. fans should be familiar with the name as he's a former foe of Paddy Pimblett on Cage Warriors and Tom Duquesnoy on BAMMA. The Frenchman was victorious in his promotional debut, winning via ground and pound against Leandro Barbosa at ARES FC 6. He's a risk taker who likes to throw bombs, which sometimes leads him into giving up submission attempts. Ghiles Oudelha (13-5) is going to try and exploit that gap. The 28 year old mostly finishes his fights by submission, with the odd knockout. He's got a slick armbar and triangle to look out for. Violet is also not going to want to scramble with him as Oudelha has really long legs and arms. There is a seven inch height difference between the two men.
Igor Glazkov (6-0) is a newcomer. The undefeated Russian won gold at the 2018 and 2019 IMMAF Worlds, once as a junior and once as a senior. The Krasnoyarsk man is known for his dominant grappling and vicious ground and pound. The 23 year old will give up height most nights in the LHW division, standing at 5ft10in. Paulin Begai (2-1) trains under ARES owner Fernand Lopez at MMA Factory in Paris. He's predominantly a kickboxer. The only blemish on his pro record was a loss to surging Omar Sy at ARES FC 3. Before that, he'd scored two decision wins at Levels Fight League. The pair fought at the 2019 IMMAF Worlds at amateur, with Glazkov winning the decision.
Samir Faiddine (14-8) is a former Cage Warriors flyweight champion and was victorious in his first ARES outing against Leonardo De Oliveira. He's generally been a streaky fighter, going on winning runs before losing a few on the bounce. The 29 year old is another MMA Factory fighter and has a good all round game. Cardio is a big weapon for him, it allows him to outwork opponents in the striking and grappling exchanges. Finishes have been few and far between. Shajidul Haque (13-5) is another Cage Warriors veteran. Both men share a victory over current champion Sam Creasey. The Englishman has won his last three on the bounce at Almighty Fighting Championships, two by TKO. He's a well rounded veteran with a good ground and pound game. This is a low key fight of the night contender.
Baissangour Chamsoudinov (4-0) is one of the brightest prospects at the MMA Factory in Paris. Born in Chechnya and raised in France, he mixes the classic Caucus wrestling style with technical French kickboxing. The 21 year old has knockout power and the world at his feet. It's a tough one for him on Friday. Bobby Pallett (6-0) is called "The Body Snatcher" for good reason. The Welshman loves to end contests with strikes and occasionally submissions. Experience is on his side and has fought on Cage Warriors before, including a victory over Team Ryano's Ayo Daly at an academy show. Somebody's 0 has got to go.
Racim Batouche (4-1) is another promotional debutant. The Frenchman is a submission specialist and is looking to bounce back from his first career defeat last time out. The 25 year old has a good leg lock game and has a nasty guillotine so you better watch your neck in the grappling exchanges. Ammari Diedrick (2-0) is a kickboxer who loves a knockout. The Englishman won big last time out with a head kick at Levels Fight League. Before that was an impressive TKO victory over prospect Shakhbulat Abuev at ARES FC 4. This will be two up and comers looking to make a statement.
Mantas Kondratavičius (1-0) is a kickboxer who was recently signed from Almighty Fighting Championship. The Lithuanian won his MMA debut by TKO in round two against Jack Comby. He trains out of Fighter House in Kaunas, an affiliate of Roger Gracie Academy. The UFC's Julija Stoliarenko is a notable training partner. Ale Donatello (1-0) is also a kickboxer, training out of the MMA Factory. Born in Brazil and now flying the French Tricolor, he won his debut by TKO. It's hard to see this being anything but a standup affair.
Featherweights will get the card underway. Anthony Laurent (1-0) was victorious in his pro debut with a unanimous decision win. The Frenchman trains out of Kabuto Fight Club in La Rochelle, home of French-Irish prospect Martin McNulty. He'll take on Adel Cherifi (debut). He trains out of Submission Factory MMA in Scotland and is a purple belt in BJJ.
ARES FC 8 will be live and exclusive on UFC Fight Pass on Friday night. The prelims kick off at 19:00 BST, followed by the main card at 21:30 BST.