Bellator 285 Henderson vs Queally: The Line-Up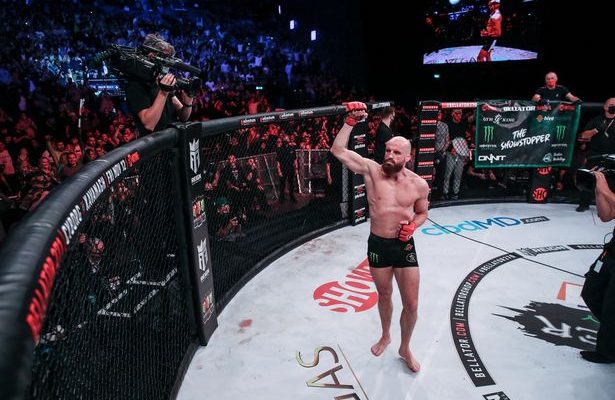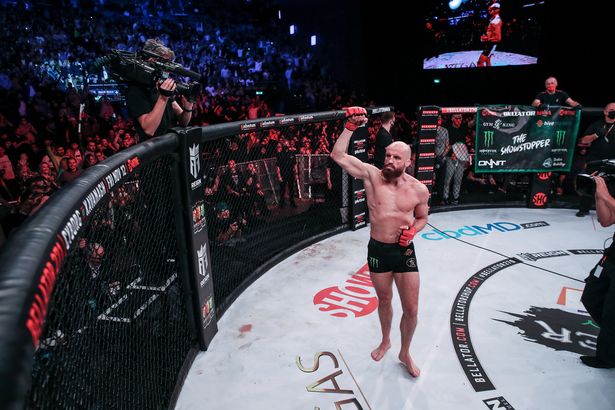 Main Card
Lightweight Main Event: #3-Benson Henderson (29-11) vs. #7-Peter Queally (13-6-1)
Third-ranked Benson Henderson will travel to Dublin to take on Peter Queally in the Bellator 285 main event. Henderson is a legend of the sport who formerly held titles in the WEC and UFC. He most recently won a razor-close split decision against Islam Mamedov at Bellator 273, marking his first victory since 2019. Benson also lost a grappling match to Demian Maia at Polaris 20 this past June.
Dubliner Peter Queally has the privilege of headlining his second straight card at the 3Arena. "The Showstopper" is a product of SBG Ireland and is 2-2 since joining Bellator in 2019. He most recently lost in a rematch to Patricky Pitbull for the vacant lightweight title. Queally is now 1-1 against Patricky and is the seventh-ranked contender in the lightweight division.
Light Heavyweight Co-Main Event: #7-Yoel Romero (14-6) vs. #9-Melvin Manhoef (32-15-1)
"Soldier of God" Yoel Romero returns to action to face off against Melvin Manhoef in the Bellator 285 co-main event. This pairing was previously scheduled for Bellator 280 until a hand injury forced Manhoef out at which point Romero faced Alex Polizzi. Romero made it look easy against Polizzi, constantly taunting the American until he earned the finish in the final second of the fight. This was Romero's first Bellator victory and his first overall win since 2018. He is a -700 favorite to defeat Manhoef on Friday.
Melvin Manhoef is a year older than Yoel at 46 and has more than double the experience in professional MMA. He most recently suffered a stoppage loss to Corey Anderson at Bellator 251 and is 2-3 in his last five fights. Manhoef has not won since 2019 and is coming off of a nearly two-year layoff.
Women's Featherweight Bout: #5-Leah McCourt (6-2) vs. #7-Dayana Silva (10-7)
Fifth-ranked Leah McCourt will look to defend home soil against Dayana Silva. McCourt is fresh off of a loss to her fellow countrywoman Sinead Kavanagh at Bellator 275. That fight marked the end of her six-fight winning streak and her first loss since 2017. Leah has a 50% finishing rate with a deadly submission game. She is also a member of SBG Charlestown.
Dayana Silva is fresh off of her first Bellator victory. She defeated Janay Harding at Bellator 279 back in April by unanimous decision. The Brazilian has been fighting professionally since 2009 and has only been finished once. She is also the former Shooto Brazil bantamweight champion.
Featherweight Bout: #3-Mads Burnell (16-4) vs. #5-Pedro Carvalho (12-6)
Third-ranked Mads Burnell will face off against Pedro Carvalho in a featherweight bout. Mads is coming off of a five-round war against Adam Borics at Bellator 276. The former Cage Warriors world champion broke his seven-fight winning streak with that performance but has also never lost two fights in a row in his career. Burnell also holds nine of his 16 victories by submission.
Pedro Carvalho is a Portuguese fighter who trains out of SBG Ireland. He is 1-3 over his last four fights but is 5-3 since joining Bellator in 2018. His last fight was a split decision loss to Piotr Niedzielski at Bellator 280. Pedro has been finished only twice in his career, most notably by Patricio Pitbull in a Bellator featherweight championship fight in 2020.
150-pound Catchweight Bout: Ciaran Clarke (5-0) vs. Rafael Hudson (5-3)
Drogheda's own Ciaran Clarke will look to light up the 3Arena once again when he takes on Brazilian Rafael Hudson to open up the main card. Clarke is an undefeated up-and-comer with a nasty submission game. He most recently won via retirement at Bellator 275 which marked his third stoppage victory under the Bellator banner. Ciaran currently holds a 60% finishing rate and has won by stoppage in his last two contests.
Rafael Hudson is stepping up on four days' notice to replace Georges Sasu in this fight. Hudson will be making his Bellator debut coming off of a year-long layoff. He is currently on a two-fight skid, most recently losing via submission in Brave CF. All five of his career victories are by stoppage.
Preliminary Card
Welterweight Bout: Dante Schiro (9-3) vs. Luca Poclit (7-1)
Dante Schiro will headline the preliminary card opposite Luca Poclit in a welterweight bout. Dante is 3-1 over his last four fights, with his sole loss coming to Bellator's interim welterweight champion Logan Storley. The Wisconsin native earned a stoppage victory over Scotty Hao in his last performance at Bellator 278. Schiro has also never been finished in his four-year career.
Luca Poclit is a Moldavan-born fighter representing SBG Ireland. He is on a red-hot seven-fight winning streak with five of those victories coming by way of stoppage. Poclit's last performance was a submission victory that only lasted 22 seconds. This fight will mark his Bellator debut after being scrapped from Bellator 270 & 275 previously.
Featherweight Bout: Asaël Adjoudj (3-1) vs. Jordan Barton (7-2-1)
Asaël Adjoudj will face off against Jordan Barton in a featherweight contest. Adjoudj will return to Bellator for the first time since 2020 following a successful two-fight stint in UAE Warriors. He is on a three-fight winning streak and most recently earned a decision win over Saleem Al-Bakri back in February of this year. The 23-year-old is a native Frenchman who has found a new home at SBG Ireland.
Jordan Barton is stepping up in this fight to replace the injured Adam Gustab. Barton is coming off of a split decision win over Fabacary Diatta at Bellator 280. You may also remember Barton from his Bellator debut in which he was submitted by Ciaran Clarke at Bellator 270. He is currently listed as a slight favorite in this matchup at -165
Featherweight Bout: Alex Bodnar (4-1) vs. Kenny Mokhonoana (3-0)
Alex Bodnar will take on Kenny Mokhonoana in a featherweight bout. Bodnar is a Slovakian-born fighter who will be making his Bellator debut. He is coming off of a decision win back in November and is 3-1 in his last four fights.
Kenny Mokhonoana is an undefeated Irishman at 25 years old. He is on a four-fight finishing streak and a five-fight winning streak overall. "Black Diamond" currently trains out of SBG Ireland and will be making his Bellator debut on this card.
Lightweight Bout: Georgi Karakhanyan (31-13-1) vs. Kane Mousah (13-4)
Georgi Karakhanyan will face off against Kane Mousah in a lightweight contest. Georgi has been fighting professionally for nearly sixteen years. He is 1-2 over his last three fights with his most recent bout resulting in a decision loss to Adam Piccolotti at Bellator 274. Georgi has fought a who's who throughout his career including stoppage losses to Patricio Pitbull and AJ McKee, but also a victory over Din Thomas.
Kane Mousah is coming off of a year-long layoff after suffering a defeat to Davy Gallon at Bellator 267. He was set to co-main the Bellator 275 card opposite Peter Queally until Queally was forced to withdraw due to injury. Kane will be searching for his first victory since 2020, and perhaps his first finish since 2018. Despite his fourteen-year career, Kane has only been stopped once.
Lightweight Bout: Darragh Kelly (1-0) vs. Kye Stevens (3-1)
Surging prospect Darragh Kelly will clash with Kyle Stevens in a lightweight bout. Kelly is on a ten-fight finishing streak, with eight of his victories coming by way of submission. He is only 24 years old and is the former Akuma FC champion. Darragh did the brunt of his work through the Clan Wars ranks and is fresh off of a submission victory over Junior Morgan at Bellator 275. Kelly also represents SBG Ireland and has been listed as high as a -500 favorite for this bout.
Kyle Stevens is an English fighter who is also just 24. He is on a three-fight unbeaten streak with a TKO stoppage in his last contest. Bellator 285 will mark Kyle's debut with the promotion, in what is undoubtedly the biggest fight of his life. "Kid Yeti" once held a six-fight finishing streak on the amateur scene.
Bantamweight Bout: Brett Johns (12-3) vs. Jordan Winski (18-3)
Brett Johns will take on Jordan Winski in a bantamweight bout. Johns is a proud Welshman who has been fighting professionally for over ten years. His last performance was a TKO victory over Khurshed Kakhorov at Bellator 275. This will be his third Bellator contest as he came over from the UFC after going 5-2 with the promotion. "The Pikey" also once held a 15-fight winning streak.
Jordan Winski is stepping in to replace James Gallagher on short notice. Winski is coming off of a decision win against Ryan Dela Cruz at Bellator 279 back in April. The Wisconsin native has gone 1-1 with Bellator since joining the promotion last year. Six of Winski's twelve wins have come by stoppage.
Bantamweight Bout: Brian Moore (14-9) vs. Arivaldo Silva (19-10)
Brian Moore will look to return to his winning ways against Brazilian Arivaldo Silva. "The Pikeman" has dropped his last two fights, including a decision loss to Jornel Lugo at Bellator 275. This marks just the second time in his eleven-year career that he has lost two fights back to back. Ten of his fourteen career wins are by stoppage with six coming by way of submission. The Wexford native also currently trains out of SBG Ireland.
Arivaldo Silva is riding a five-fight winning streak, which is tied for the longest of his career. Four of his last five wins have come by stoppage, which has earned him his first Bellator opportunity. Silva is currently listed as a +300 underdog coming into this matchup.
Light Heavyweight Bout: Karl Albrektsson (13-3) vs. Karl Moore (9-2)
Karl Albrektsson will face off against Karl Moore in a light heavyweight contest to open up the preliminary card. Albrektsson is on a four-fight winning streak and is 2-1 under the Bellator banner. His last fight was a decision victory over Dovletdzhan Yagshimuradov at Bellator 268. The Swede has fought some of the best 205ers in the world at just 28 years old, including Jiří Procházka, Vadim Nemkov, and Valentin Moldavsky.
Irishman Karl Moore will be looking to build off the momentum of his last performance, a split decision win over Lee Chadwick at Bellator 277. Moore is the former Cage Warriors light heavyweight champion and fell just short of double champ status when he failed to win the heavyweight title back in 2018. This will be his first fight in nearly three years.