Bellator announce hybrid MMA and Kickboxing show in association with Glory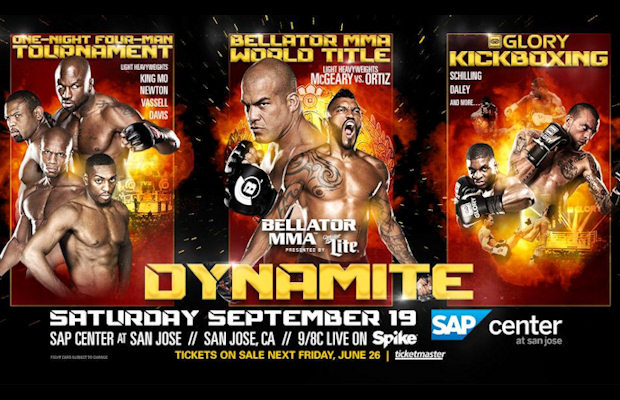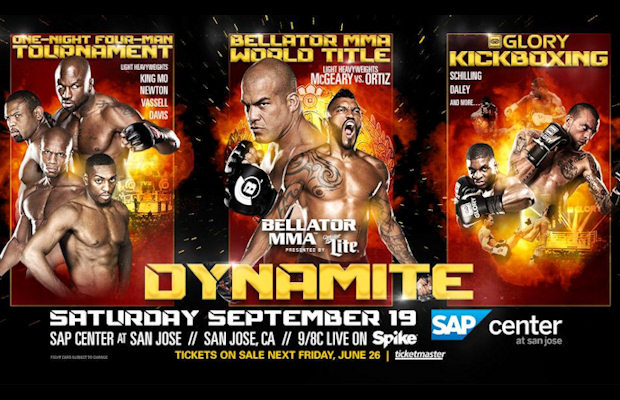 On the eve of Bellator's biggest show in recent times, MMA's second biggest promotion today revealed plans for their next big show and, it's probably fair to say, the announcement has brought with it much discussion and even more excitement.
The event, which will be named DYNAMITE, will take place on Saturday, September 19th in San Jose, California and, uniquely, features three combat sport competitions.
Firstly, in association with fellow Spike TV combat sports promotion GLORY, Bellator will hold kickboxing fights in a ring. Crossover fighters Joe Schilling and English star Paul Daley are likely to figure which should please both sets of fans.
Then, in an MMA cage, the Scott Coker-run promotion will put on a one-night, four-man light-heavyweight tournament. The participants in that will be former Strikeforce fighter "King" Mohammed Lawal, former Bellator champion Emanuel Newton, Englishman Linton Vassell and, most notably, former UFC contender Phil Davis. The winner of that tournament, in all likelihood, should be next up for a title shot.
Speaking of the light-heavyweight title, that's exactly what Bellator have on show in the third showcase of the night as current champion Liam McGeary defends for the first time against former UFC champion Tito Ortiz.
All in all, not much more can be asked from Bellator who keep putting on exciting, debate-inducing shows for the fans. It's different, fun and a great way to use what they have at their disposal. The Scott Coker era is now truly in full flow.
"I'm so proud and honored to bring this truly amazing event to my hometown of San Jose," said Scott Coker, President of Bellator MMA. "This mega-card will feature something for every combat sports fan- MMA legends, rising stars, a stacked tournament, plus many of the world's best kickboxers. It will be an unforgettable night for the thousands in attendance and the millions watching at home."