José Aldo blasts Reebok deal: "It's shit"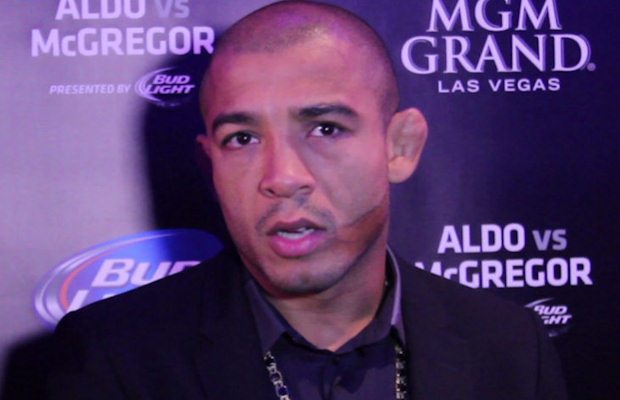 José Aldo has become the latest UFC fighter to express his contempt for the company's new Reebok deal.
Speaking with Brazilian MMA news outlet Combate on Saturday, the long-time featherweight champion didn't mince his words.
"First of all, it's shit. Everybody has been talking about it," said Aldo. "We, athletes, are losing a lot. They said we would be like NBA or NFL athlete, but that doesn't apply, because we are not paid monthly like they are. It doesn't matter how much we will be paid, all athletes who had sponsors are losing money.
"That's a huge setback for us. We live for each fight, we have to keep fighting and nobody fights more than three times a year. Not a champion, anyway. Even the value they measured doesn't match what our sponsors were paying us. That is great for the UFC, but not for the fighters. I see a lot of athletes losing too much."
Aldo, 28, feels that a union could be of benefit with respect to the fighters having their say in major promotional agreements such as the Reebok deal.
"If we are going to talk about something, that does not depend on just me being the champion, or [UFC heavyweight champion] Cain Velasquez, or any other champion," said Aldo. "If we had a union for fighters, and we were all together, like in the NBA, this would've been different, but fighters are not united.
"Today, I have a price the event is willing to pay to have me, but there are other fighters out there willing to fight for spare change if I don't want to. And that's not even their fault. The UFC brought the sport to where it is today; great. Credit to them for that. But if athletes were more united and had a union to protect them, I don't think this would happen."
Aldo spoke about his position as a dominant champion within the company and says he feels that a fighters union would be of most benefit to young prospects who have less of a voice and less bargaining power within the promotion.
"It gets really bad for up-and-comers or guys who are trying to reach the top," said Aldo. "I'm not talking about me, I'm all right, I'm the champion and I have a high price. Aldo hasn't become the champion now, he has been the champion for years. But for the beginners, it's really bad."
Aldo steps into the Octagon to face Conor McGregor at UFC 189 on July 11 at the MGM Grand Garden Arena in Las Vegas, Nevada.