Jose Aldo hoping for pre-fight brawl with McGregor before UFC 189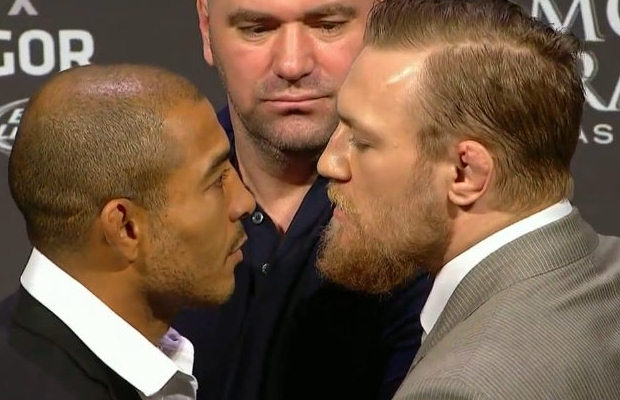 UFC featherweight champion Jose Aldo told media at a press conference in his gym on Tuesday that he is hoping for a pre-fight brawl with Conor McGregor in the lead up to their UFC 189 main event bout.
"We talked about a possible fine during the tour, but it is too expensive, and I couldn't afford getting fined," said Aldo in quotes transcribed by MMAFighting
"That was an issue because I couldn't do what I wanted to do. But the fight is around the corner now so we can do something more because nobody will do anything about it. It there's any trash talk, I know what I'm going to do.
"I already have in my mind what I'm going to do, but it's a secret,"
"It's going to be a different Aldo. There's no fine or suspension anymore. After everything they spent, they won't cancel this fight for anything. I'm sure he will come after me, but I guarantee it's going to be different this time."
"It would be great if there's a brawl. I hope that happens. That's what people want,"
"I'm paid to beat people up so, if that happens, it would be wonderful. I hope I can beat him up. The fun is over, it's going to be for good now. After this staredown, he will give up doing anything he was planning to do. You will see."
"I'm usually calm, he's the one trying to promote himself. We'll see when we're face to face, and I will let my hands do the talking for me," he said. "He can say whatever he wants, but he will feel my answer when the time comes. I'm sure he will be afraid, I felt that when I looked into his eyes. I'm going after him. He's never fought a guy like me before."