Gavin Kelly, Sean Tobin, John Redmond, Kieran Davern and Johnny Dargan added to BAMMA 22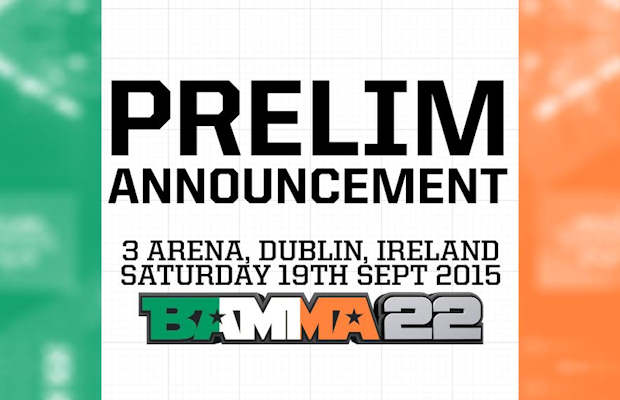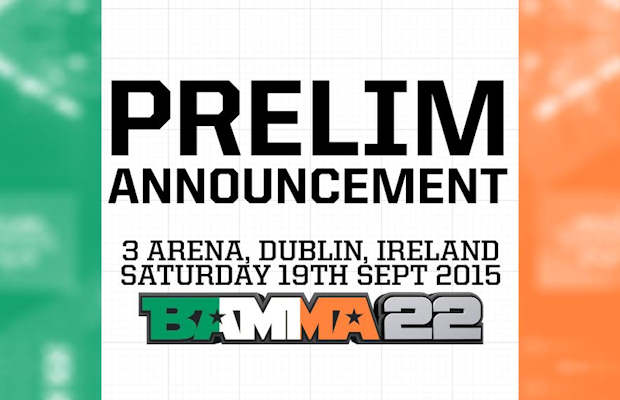 BAMMA have announced 3 more preliminary bouts for their upcoming Dublin show on 19th September 2015 in the 3Arena.
It was also confirmed yesterday that Tim Wilde will take on Phil Mulpeter at lightweight
Gavin 'Heamy' Kelly will face Sean Tobin, John Redmond is set to rematch Kieran Davern and Johnny Dargan will take on Ricky King.
Gavin 'Heamy' Kelly (6-3) fights out of Evolve MMA in Derry, Northern Ireland and will face Sean Tobin at BAMMA 22. Kelly steps into the BAMMA arena on the 19th September determined to get back to his winning ways.
​Sean Tobin (3-1) ​from Cork fights out of Trials Martial Arts Ireland and had a solid amateur career with 4 wins and 2 losses. His most recent victory came in March of this year over James McEarlen via unanimous Decision.
​It's Team Ryano Vs. SBG Ireland in the rematch for Redmond and Davern.​
John 'Johnny Jitzu' Redmond (5-9) stopped Davern in their previous bout at 1:57 of the first round when Marc Goddard called a stop to the bout for a tapout via way of guillotine choke. He has fought twice since then with the results not going his way, but he looks to once again put Davern away and move onto his next challenge.
Kieran Davern (2-7) is a black belt in kickboxing and Jiu Jitsu purple belt. Davern hasn't fought since his bout with Redmond in December of 2013 due to injury and is looking to come back out and prove a point. Redmond may have got the better of him last time, but as his team at SBG pointed out "It'll be different this time around"
​Ricky King (2-1) makes his second appearance for BAMMA after debuting at BAMMA 18 in Wolverhampton against Tom Aspinall. Since that bout he has gone on to beat Jamie Wroe in June. He now comes back to BAMMA for the event at the 3 Arena.
Jonathan Dargan (1-2) is a taekwondo black belt and is McGregor's taekwondo coach. He fights out of SBG, and he is coming to take the win for the Irish fans in attendance on the night. Dargan will be looking to give King his second loss on a BAMMA event by dominating proceedings and getting his hand raised in front of his home crowd.
BAMMA 22 Lineup (More bouts to be announced)
BAMMA FEATHERWEIGHT TITLE
Tom 'Fire Kid' DuQuesnoy (c) Vs. Brendan Loughnane
MIDDLEWEIGHT BOUT
Chris Fields Vs. Christopher Jacquelin
LONSDALE BANTAMWEIGHT TITLE
Alan 'The Apprentice' Philpott Vs. Regis 'The First' Sugden
LONSDALE LIGHTWEIGHT TITLE
Marc 'Bonecrusher' Diakiese (c) Vs. Rick Selvarajah
LIGHTWEIGHT BOUT
Jack 'The Pilgrim' McGann Vs. Jack Grant
LIGHTWEIGHT BOUT
Tim 'The Experiment' Wilde Vs. Philip 'Honeybadger' Mulpeter
LIGHTWEIGHT BOUT
Kane 'Danger' Mousah Vs. Myles Price
MIDDLEWEIGHT BOUT
Conor 'Da Crook' Cooke Vs. Paul Byrne
BANTAMWEIGHT BOUT
Sean Tobin Vs. Gavin 'Heamy' Kelly
WELTERWEIGHT BOUT
John 'Johnny Jitzu' Redmond Vs. Kieran Davern
HEAVYWEIGHT BOUT
Ricky King Vs. Jonathan Dargan
FEATHERWEIGHT BOUT
Stephen Coll Vs. Alexandre Liete
BANTAMWEIGHT BOUT
Adam Caffrey Vs. Dylan 'The Nuke' Tuke