Neil Seery is expecting no surprises from unorthodox Smolka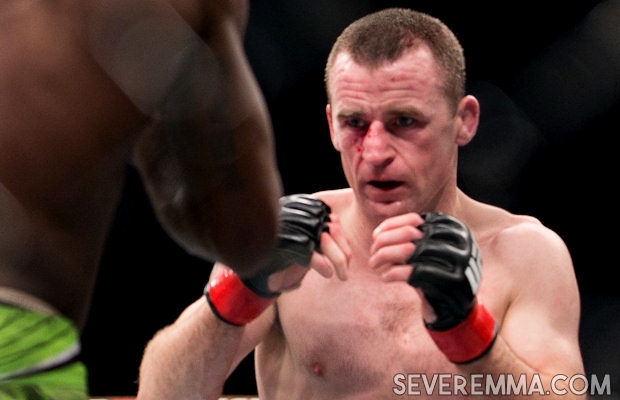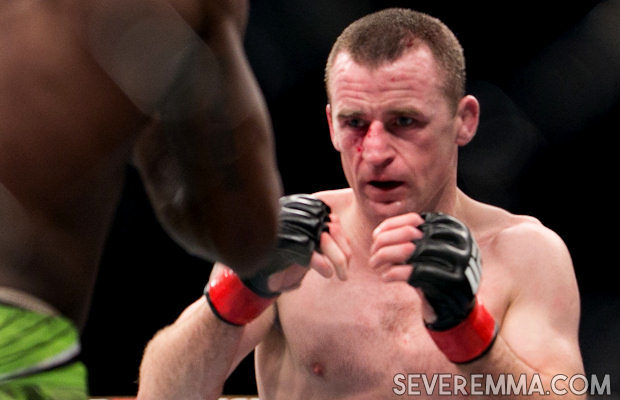 Despite some words exchanged over Twitter before the announcement of their July 11 meeting at UFC 189, Neil Seery is not worrying about any additional intensity when he faces off with Louis Smolka ahead of their contest next Saturday.
"I don't really give a fuck about them intense face offs or anything like that," said the Team Ryano flyweight. "I don't care about that stuff. He's not going to get into my head, I'm old enough and bold enough for any of that to happen. It's all about Saturday night for me. That's the question – who can perform on the night, on such a big stage? We're going to find out who the better fighter is on the night."
"2 Tap" explained how Ireland's recent hot spell has kept his weight low in the lead up to his North American debut. Although Smolka is a lot taller than him, Seery isn't expecting the Hawaiian to have any trouble making the 126 lbs limit either.
"I've only finished training and I was just saying to the lads, I went for a run with the dog last night and after that I was already at 60 kilos (132.5 lbs). I better start eating!" he laughed. "The heat over here at the moment is making it come off me quicker, but the weight isn't a problem at all, it never is. I'm full of energy and I'm good to go.
"I think Smolka is very professional, there's not many guys that come in over weight any more really. I think he has the weight cut down to a tee. He's a big lump of a fella. He's tall but he's quite thin, so I don't expect him to be suffering through a crazy cut.
"Just look at his last three fights, he didn't looked like he gassed in any of them, so I don't think that's going to be a factor in this fight. I don't think anything will matter in this fight apart from who has more of a will to win."
Smolka may be the toughest test of Seery's storied career. The Irishman has gone from strength to strength under the UFC banner, and his win in January over previously undefeated Chris Beal has really highlighted his ability internationally.
"Da Last Samurai" is no stranger to pulling unorthodox techniques out of the bag. However, Seery claims his preparation with Ryano teammates Patrick Wixted and Eric Nolan, as well as the sparring he has done with Jono Carroll in Celtic Warrior boxing gym, will have him more than ready when the action gets underway in the MGM.
"Patrick Wixted has been a key sparring partner of mine for years, he throws a lot of unorthodox stuff, so that's helping me a lot ahead of this fight. We've got a great range of different types of strikers down in Ryano. Young Eric (Nolan) has been helping me too, you saw him at BattleZone. He throws really flashy kicks and things like that.
"I'm sticking to what I always do. I've been back over at Celtic Warrior with Paschal Collins. I'm sparring top-level boxers like Jono Carroll, he's the Prizefighter champion. He's a southpaw, he can switch it up to orthodox, so I don't think Smolka is going to have anything that will surprise me. That doesn't mean that he can't catch me with something though," he said.
Seery expressed interest in competing in Dublin for UFC's return on October 24, but underlined the importance of staying focused on the task at hand with his next bout just over a week away.
"I've got a fight next week and I've got to concentrate on that. October is three months away. If I don't do well next week then everything is up in the air, so I don't want to think too far ahead. It's great that the UFC are coming back, it goes to show you the talent we have over here to be able to get them back again.
"Do I want to be on it? Of course I do. All the fighters want to fight on the Dublin card because of how good the crowd were last year. I'm going to concentrate on getting the win on Saturday week and then I'm going to try and get as many fights as I can. I'm feeling really good at the minute."
Having suffered a broken rib that ruled him out of his November meeting with Richie Vaculik, Seery maintained that he never expected Aldo to turn up for his July 11 meeting with Conor McGregor once the news of his injury surfaced.
With Chad Mendes stepping to fight 'The Notorious', Seery still thinks McGregor has what it takes to win the contest in three rounds.
"I never expected Aldo to turn up for the fight," revealed the former Cage Warriors champion. "The minute I heard it was his rib I knew he wouldn't leave Brazil. It's an unbelievably horrible injury.
"It's a different ball game if someone hurts their rib and they can go home and rest it for two weeks. In Aldo's case, he hurt his rib and then he still has to train and make weight to fight for a title – that's a different ball game.
"Every movement hurts – everything. Going to the toilet hurts, seriously. So, no, I didn't expect him to show up, as soon as I heard Chad Mendes I knew he would be fighting Conor.
"Is it a tougher fight? Who knows, but I think Conor can get rid of him in three rounds. I don't think he will do him in the first round like he has said he would, but if he does, that would be so impressive. It would be an unbelievable win for him. I can't see the wrestling of Mendes bothering him too either."
Holding down a full time job on top of his fighting career, Seery has never got too caught up with courting sponsorship deals. With Reebok's deal now in place with UFC, a lot of fighters seem to disapprove of the new scheme, but Seery just wants a free jersey and a pair of runners:
"I don't mind the Reebok thing at all, I just want one for free. People are moaning about this deal, but I don't care at all really – just give me a pair of runners and a jersey! I understand that some guys have built up relationships with sponsors over the years, but me, personally, I've never really had any so it doesn't really matter. I've never made money off sponsors. Everything is a bonus at this stage."
Finally, Seery gave his thoughts on whether Aldo's pull out will affect the night for the travelling Irish contingent.
"Conor is kind of damned if he does, and damned if he doesn't. If Conor beats Mendes they're gonna say he's not the real champ because he didn't beat the real champ. If he loses, everyone is going to say 'I told you he couldn't compete with a wrestler'. Conor is not in a win, win situation. Financially, of course he is.
"Do I think the crowd will be affected by Aldo pulling out? No. Do I think PPV sales will be affected by it? No. I think he's going to blow it all out of the water and prove a lot of people wrong," he finished.
@PetesyCarroll