Gunni Nelson: "This is MMA, you should be able to beat the bigger guys"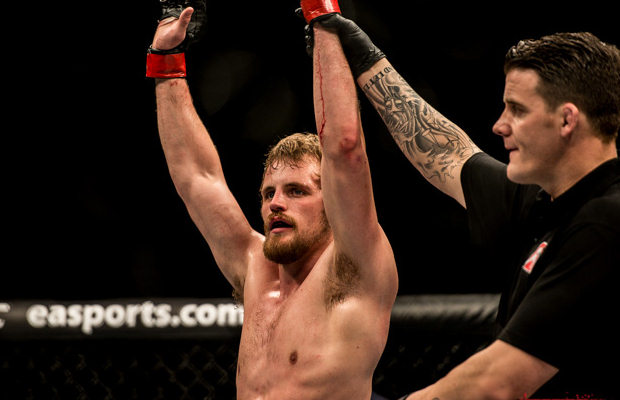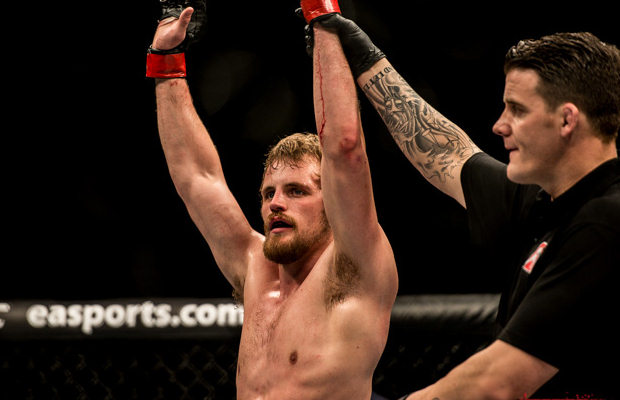 Gunnar Nelson has been a real team player lately. Travelling from Cathal Pendred's UFC 188 camp in Toluca, 'Gunni' made his way to Conor McGregor's Nevada base in preparation for his UFC 189 bout with Brandon Thatch. Having spent time in both camps, the Icelandic welterweight discussed the differences he has noticed between the two setups.
"There are some differences between the two camps, but mostly it's been the altitude, you know? We were up 3000 meters in Mexico, we were in a place called Toluca – it's a little town just above Mexico City," he explained.
"Another thing is, the guys over in Mexico were all slightly bigger. The guys here in Vegas are a much smaller size, but they're an awful lot quicker. There are still a couple of guys that are the same size as me though. The speed is the main difference here, but I feel like both camps were really good for me."
John Hathaway was originally meant to meet 'Gunni' on July 11 before Thatch stepped in to take the Englishman's place. Nelson, never a man to gear all of his preparation to a specific opponent, claimed that he has taken a look at some footage of Thatch and that he would be "very happy" if the fight goes to the ground.
"I've been looking for weaknesses everywhere, I'll be very happy if this fight goes to the ground. To be honest, I don't mind if we stay up on our feet either. I'm looking for any openings, it doesn't matter where the fight is taking place."
Nelson has never undergone the drastic weight cuts that MMA fighters have become known for. Thatch, one of the biggest welterweights on UFC's roster, will undoubtedly have a size advantage over the Mjolnir man when the action goes down on July 11.
According to 'Gunni', he stays away from the extreme cutting measures for health and performance reasons. He outlined that he is comfortable with being the "smaller guy" to avoid the "misery" of the weigh cut process.
He said: "I guess I stay away from the weight cut for health reasons and performance reasons. I just like to fight close to my walking around weight. I don't like the idea of these big cuts. I like fighting and I enjoy training. I want to continue to enjoy this game so the misery of cutting weight has never been something that appealed to me.
"The idea of being heavier, I don't know if you need it. This is mixed martial arts, you should be able to beat the bigger guys. I don't mind being a little bit lighter, it doesn't bug me. This is just my way and I like it this way.
"I think guys are used to the weight cutting now. I don't think it really even affects their performances too much to be honest. I believe that it definitely affects your training two weeks out from a fight. It gets a lot tougher. It's definitely not healthy though, it can't be a good for your health to drain your body of so much water.
"If you do that many times throughout your career, you will do a certain amount of damage to yourself. As I've said, the main issue for most people is getting the size advantage. They feel like they have to do it or else they will give up an advantage, but I don't mind being the smaller guy."
Nelson was greeted like a native when he walked out in Dublin last July, and he is looking forward to hearing the roars of the Irish fans in the MGM Grand next weekend:
"It's going to be an awesome night, I can't wait. I know there are going to be tons of Irish people out here. Obviously Conor is headlining the card, it's going to be a historic night for the Irish and I'm really looking forward to it."
Finally, Nelson discussed McGregor's mindset and the improvements he has shown ahead of his bout with Chad Mendes.
"He's very focused. We've been training very hard and his mind is set on one thing. All he's thinking about is getting that world championship around his waist.
"He's become way more flexible. His movement has taken another big leap and his focus on that aspect of the game is really paying off. He moves better in all directions. Conor is one of them people that is always getting better.
"I've really noticed it now because I've been at home for a while, I haven't got the chance to train with him until I came out here. So it had been a few months since I had trained with him and I could see these improvements so clearly. His flexibility and his balance are a lot better."
@PetesyCarroll