Opinion – Is Jose Aldo's omission from UFC 189 really all that bad?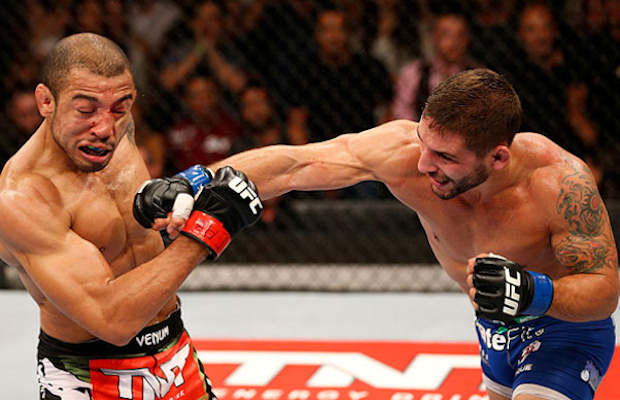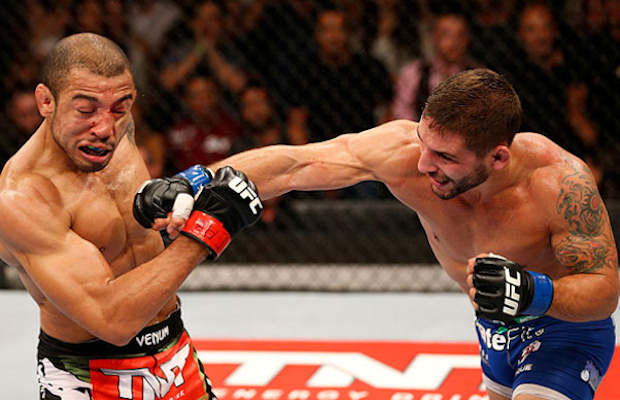 Ok, there is no point in sugar-coating it, this morning's news that Jose Aldo has withdrawn from UFC 189 was a metaphorical kick in the stones. Maybe no more so than for we Irish, especially for those who forked out serious sums of money to travel to Las Vegas and support Conor McGregor in his quest for the UFC featherweight strap.
It's not ideal, no argument here. However, all is not lost. First off, McGregor is still fighting, and for a title no less. The UFC deserve universal applause for placing Chad Mendes on standby when Aldo's rib injury first became apparent and, in stipulating this revised match-up be for an interim title, they've bestowed us with the next best possible scenario. It might just be the greatest contingency plan in the history of contingency plans.
Not only have they ensured the most hyped card of the year can remain almost fully intact, but they were able to inform the world as such with a completely straight face. Had they jettisoned in some mid-level fighter who just so happed to on weight, and then tried to convince us he'd be a daunting proposition for McGregor, all semblance of credibility would have been lost. Perhaps the only genuine gripe to be had is that they have not elevated the welterweight title fight between Robbie Lawler and Rory McDonald to main event status.
It might sound perverse, but maybe, just maybe, this unforeseen calamity is actually a grotesque stroke of good luck for all involved. That is, of course, for everyone except the UFC, whose pay-per-view projections have likely plummeted in the last 10 hours. They'll be alright; rumour has it they've amassed a tidy little sum over the last decade.
Let's consider the situation from Jose Aldo's perspective. The loss of a zero-laden cheque notwithstanding, he can't be too crushed right now. First off, why on earth would he risk fighting and losing to a guy who he viscerally despises, if he's carrying such an injury? No fighter enters the cage at 100%, and every bout at this level is a gamble of sorts, but rarely is so much pride, prestige and, let's be frank, money at stake.
Not to mention a title that he has held, WEC era included, for the better part of six years. Yes, he's pulled out of fights like this before, and yes, the true severity of his injury remains a source of conjecture, but we're talking about a lifetime of blood, sweat and tears.
Some of the accusations that have been levelled at Aldo on social media over the past week are so stupid that they barely warrant a second thought. Only those at the very centre of this situation know exactly what has transpired, the rest of us would be better served taking them at their word.
Moreover, no matter how the bout between McGregor and Mendes pans out, Jose Aldo is a winner. If McGregor is victorious, then the pair will almost certainly meet in a title unification bout in the autumn, which will generate an even greater scale of anticipation, hype and dollars. If Mendes prevails, a trilogy nobody in their right mind would miss will be in the offing.
Conor McGregor has probably drawn the shortest end of the stick. To be on the threshold of fulfilling a lifelong dream and to then have it taken away from you, must be nothing short of crushing. Not that you'd know. This 11th hour shift doesn't appear to have thrown him off his stride in the slightest.
It's not exactly a secret that McGregor garners adoration and derision in almost equal measure. There is a consensus among certain fighters, fans and media that he has been fast-tracked to the top and is undeserving of current status. Which is why a victory over an injured Aldo would have been irrevocably tainted.
The detractors would have a field day, and McGregor would have had his legitimacy as a champion incessantly called into question. There is no reason to doubt McGregor when he says that he doesn't care what anyone thinks, but it's difficult to imagine this not rankling an athlete of such diligence and integrity. Only a resounding victory in a re-match with Aldo would lay such ghosts to rest.
But here's the good part. Even many of McGregor's most strident naysayers were willing to concede his power and speed would have been too much for Aldo. And if it had, that tired old never faced a wrestler mantra would once more reared its head.
Well, Mendes is a two-time Division 1 NCAA All-American, and precisely the sort of foe the detractors claim the Dubliner should have navigated before getting a whiff of Aldo. And now so he must. Finally, the validity of these assertions will be put to the test.  If they are found to be unwarranted, heaven knows how the keyboard warriors will fill the hours.
Yet the evidence suggests Mendes may not utilise this aspect of his game. In his five fights sandwiched by the failed title tilts at Aldo, Mendes completed just 10 takedowns, seven against Nik Lentz and three on Clay Guida – admittedly the other three ended in first round knockouts. His metamorphosis as a striker under the tutelage of Duane Ludwig has been staggering, and the elite wrestling which was once his offensive bedrock has considerably dissipated.
Given his dislike of McGregor and the enticing opportunity to prove a point, it is well within the realms of possibility that he will seek to toe-to-toe. Only time will tell. One way or another, he also gets another chance at reaching a long-held goal.
As for the rest of us, we get to spend the next week and a half watching as this most singular of narratives reach its crescendo. Not too shabby.
By @oldmanrooney