Preview and Predictions – UFC Fight Night: Mir vs Duffee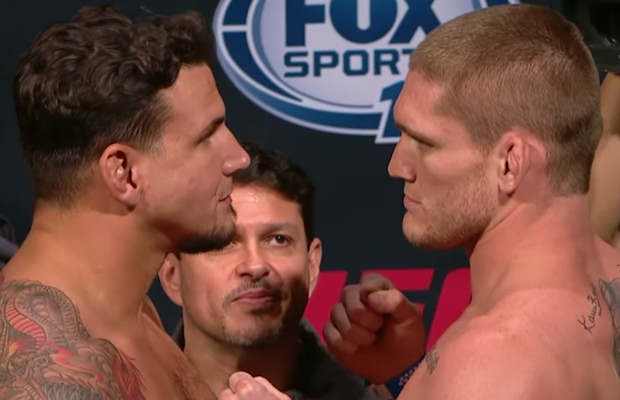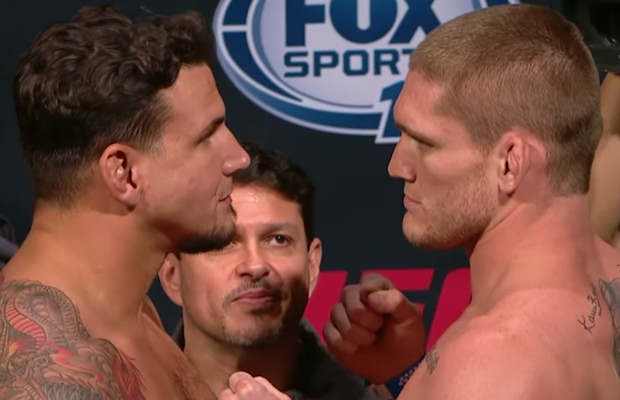 The UFC rolls into San Diego for this mid-week card headlined by heavyweights Frank Mir and Todd Duffee.
Frank Mir has over 20 fights in the UFC and one of the very best submission artists in the history of the heavyweight division. He has had a career with many ups and downs, including claiming the UFC heavyweight title in 2004 before having to relinquish it due to a motorcycle accident and then coming up short on future attempts to reclaim that crown against Brock Lesnar and Junior Dos Santos. Coming off the back of a four fight losing streak, Mir proved in his last fight that he still deserves to be talked about amongst the division's elite with a quick stoppage of Antonio "Bigfoot" Silva.
Duffee on the other hand is still relatively young in his career. He was hailed as the future of the division after a seven second knockout of Tim Hague in 2009 his career was derailed by a shock loss to Mike Russow in a fight he had been winning.  Shortly after that fight he was released by the UFC and proceeded to lose quickly to Alistair Overeem at which point he spent 18 months out of the sport. This wasn't the end of the setbacks for Duffee though, even after earning a return to the UFC and winning his first fight back he was diagnosed with Parsonage Turner Syndrome and again faced a lengthy spell out of action. Fortunately he was able to overcome it and he knocked out Anthony Hamilton in his last fight to set up this high profile encounter with Mir.
It is no secret that Mir will look to take this fight to the ground and threaten with his submission game. The big question mark against Mir here is whether he has declined physically and how this will affect his ability to get Duffee to the mat. Duffee is a superb athlete who has legitimate one punch knockout power but due to the short nature of most of his contests he is relatively untested in other facets of the game. Only twice in his career has Duffee been out of the first round. Duffee's abilities off his back and his cardio should he pushed into the later rounds are two big unknown factors in this fight. While Mir is the proven commodity, with wins against some elite heavyweights in his career there are also some unknowns attached to his potential performance this week. We don't yet know the extent of Mir's physical decline, the heavyweight division is currently seeing some fighters experience a renaissance in the later years of their careers and at 1-4 in his last five fights Mir certainly needs one if he is to stay relative.
In the co-main event Tony Ferguson takes on Josh Thompson at lightweight. Ferguson is coming into his own as a fighter and he currently rides a five fight winning streak with his latest win being a very impressive submission victory over Gleison Tibau. Ferguson is well rounded with a college wrestling pedigree and a fine array of chokes at his disposal but he prefers to work on the feet. He is a rangy fighter with strong combinations and good movement.
Thompson is the more experienced fighter having been a mainstay of Strikeforce but he is coming off two split decision defeats. Thompson shares some similarities with Ferguson in that they are both fine grapplers but prefer to strike but is in their striking where they differ. Thompson is more of a patient counter fighter with a very slick kicking game to compliment his quick punches. He looks to establish the low kick early and use it to set up kicks to the body and head as the fight goes on. Ferguson's pressure against Thompson's countering ability will likely be the main factor in this fight.
Elsewhere on the card, decorated boxer Holly Holm will make her second UFC appearance against Marion Reneau. Holm was underwhelming in her UFC debut but she is still relatively new to the sport and is capable of making big improvements in her game Opposite her is Reneau who is an excellent grappler and still a good athlete despite her age.
Fight Picks
Frank Mir vs. Todd Duffee – Duffee by early KO
Josh Thomson vs. Tony Ferguson – Ferguson to take a close decision
Holly Holm vs. Marion Reneau – Holm in another decision
Scott Jorgensen  vs. Manvel Gamburyan – Gamburyan decision
Kevin Lee vs. James Moontasri – Lee decision
Alan Jouban vs. Matt Dwyer – Jouban TKO
Sam Sicilia vs. Yaotzin Meza – Sicilia TKO
Jéssica Andrade vs. Sarah Moras – Andrade submission
Rani Yahya vs. Masanori Kanehara – Yahya decision
Igor Araujo vs. Sean Strickland – Strickland decision
Kevin Casey vs. Ildemar Alcântara – Alcântara decision
Andrew Craig vs. Lyman Good – Good decision
Start Times
Fight Pass prelims – Midnight BST (Irish and UK time)
Prelims – 1a.m. BST (Irish and UK time)
Main Card – 3a.m. BST (Irish and UK time)