Breese confident on continuing perfect finishing record against Pendred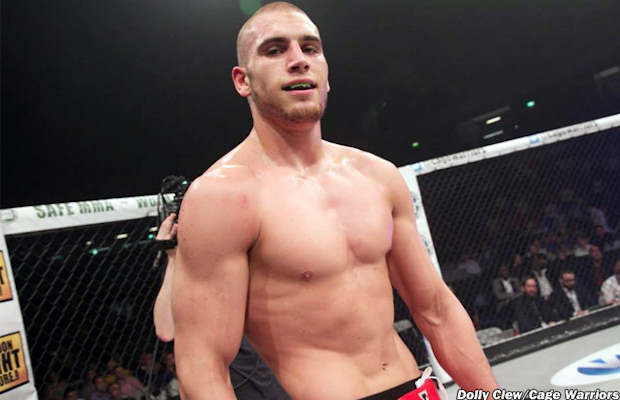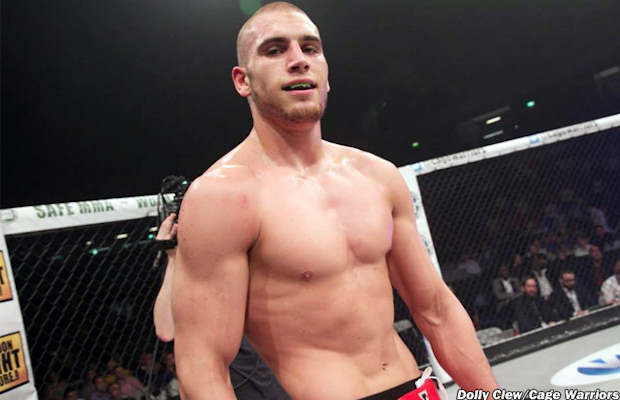 Tom Breese will face Cathal Pendred in is sophomore UFC outing on October 24 at Dublin's 3 Arena, and the Brit is confident that he can maintain his perfect finishing record that has seen him go 8-0 in his professional career thus far.
Despite his prediction of a stoppage victory, the 6'3'' Tristar welterweight is taking Pendred very seriously, insisting that the Dubliner is his "toughest challenge to date."
"It's a tough challenge, I think he's my toughest challenge to date," claimed Breese. "I think he's a very tough guy, but I do believe I am more highly skilled than him, and that I'm just a better fighter than him in general. It all comes down to who shows up on the night and I'm definitely not taking Cathal Pendred lightly. I'm going to train as hard as I can to guarantee that my hand is raised.
"I've actually been matched up with Cathal in the past just before my ACL surgery. I was due to fight him under the Cage Warriors banner, I was supposed to fight him for the title but Cathal went to The Ultimate Fighter house. Now it's finally happening and I'm looking forward to it."
When considering the matchup, Breese explained that he believes he holds the advantage in every department over the former Cage Warriors welterweight champion.
He said: "I believe I can beat this guy everywhere. I see big advantage in the striking department for me, I've got a lot of power in my left hand, in both my hands. I believe I can really hurt him on the feet.
"Cathal likes the clinch game, I'm aware of that, but I find that to be one of my strong points too. I think I will have the advantage in the clinch, in the wrestling stakes in general and I feel my jiu jitsu is better too."
Pendred's last stoppage loss came back in December 2010 when the SBG fighter succumbed to Lee Chadwick by TKO in round one of their meeting. Although the loss came in the Irishman's formative fighting years, Breese maintains that Pendred's granite chin will not be able to "stop the lights going out" should he connect with it accurately.
"He's got a good chin, but if someone is accurate I don't think there is any way to stop the lights going out. In one of his earlier fights with Lee Chadwick he got iced. The guy has been knocked out before, so it can happen again. That's something I'm looking to do.
"Another thing is, Cathal is a grinder and he has had some fortunate decisions. For me, I'll be very disappointed if this fight goes to the judges score cards. I want to go in there and seal the deal. All of my eight wins have come by stoppage and I'll be looking to make it nine finishes in nine fights in October," declared Breese.
Although fighting against a hometown favourite didn't seem to bother Breese when he claimed a first round TKO over Luiz Jorge Dutra Jr on the Brazilian's home soil back in May, he knows there are some things to be concerned about when he meets Pendred in Dublin.
"There are some things to be concerned about fighting someone in their hometown," he highlighted. "I could crack him with a really hard shot and the audience might stay silent, whereas he might throw a shot that just glances me and they could make a lot of noise. I'm looking to go in and take everyone out. I'm very proud of my record, I'm proud that I've finished everyone. I don't mind taking the extra boos once I go in and finish him."
The fact that Breese's matchup with Pendred will pit England versus Ireland will probably make for an even more electric atmosphere on October 24. However, Breese revealed that he has Irish relatives and would rather have not have the contest focus on the rivalry between the neighbouring countries.
"I've actually got Irish in my family, so I'm not buying into the whole Ireland versus England thing. I've got family in Dublin. To be honest, I'm looking at it like Tom Breese versus Cathal Pendred. I like the Irish people, I always have," said Breese.
"Hopefully I can impress them and then they can get behind me for the rest of my career. The Irish fans are probably the best fans in the world and it would be great to have them behind me. I've had a lot of Irish fans message me already, obviously they're fans of Cathal but they're fans of me as well and I really appreciate that. I just want to go in there and put on a good fight and a good performance."
Preparing alongside main eventer Joseph Duffy who takes on Dustin Poirier on the night, Breese gave an insight into what he has seen from the Donegal lightweight during his time at Tristar.
"Joe improves every week," said Breese. "From when he first came over up until now, his improvements have been huge. Literally every week I train with him I can see these massive changes, he's really putting the work in. I think this Poirier matchup makes for a very exciting fight. With Joe's skillset and will to win, I can see him stopping Poirier in the third.
"Poirier like to stand and Joe is the kind of guy who takes it as it comes. I think he is better than Poirier everywhere to be honest. He's a more skilled fighter and he always looks sharp when the time comes to fight."
@PetesyCarroll