The Ultimate Fighter: Team McGregor vs. Team Faber: Episode 1 Review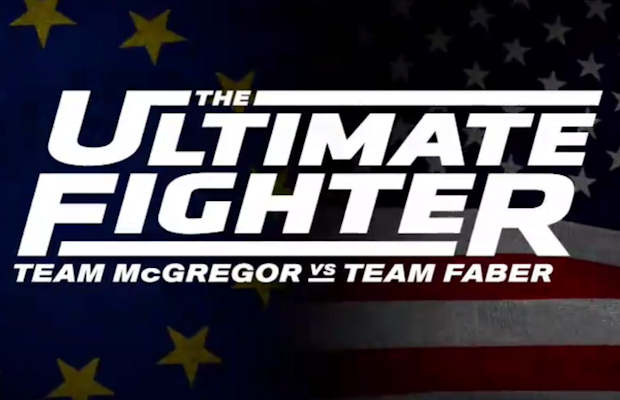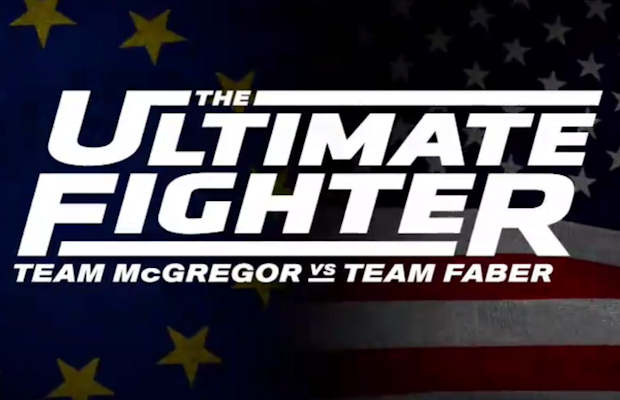 The twenty-second season of The Ultimate Fighter series – The Ultimate Fighter: Team McGregor vs. Team Faber – aired its opening episode last night on FOX Sports 1 in the United States.
This season will see Conor McGregor coach eight lightweight fighters from Europe to take on eight American fighters under the tutelage of Urijah Faber. Before the season can get under way, however, each fighter must fight to earn their spot in the house. So, the action-packed first episode features 16 fights – USA vs. USA, and Europe vs. Europe – to determine the eight fighters who will represent each team for the remainder of the season.
The first match-up featured Team USA's Johnny Nunez (5-1) taking on teammate Ryan Hall (4-1). This one didn't last long, with Hall dispatching Nunez early by way of heel hook. A disappointed Nunez shook Faber's hand on his way out of the cage, only to have Faber tell tell him, "If you look him up, that's what he's know for!". Ouch.
The second bout featured a European matchup between four-time Swedish Muay Thai champion David Teymur (3-1) and Frenchman Thibault Gouti (10-0). This was an exciting back-and-forth stand-up affair, with both fighters demonstrating high-level striking, but Teymur's elite Muay Thai and aggression proved too much for the previously undefeated Gouti.
The second showdown for the Americans saw Andres Quintana (8-1) take on Vietnamese-American Thanh Le (4-1). Again, both fighters impressed early on, but Le began to take over late in the first round. The New Orleans native landed some flashy strikes and finished his opponent by knockout in the second frame.
Next up for the Europeans was Straight Blast Gym product Artem Lobov (11-10-1), taking on Mehdi Baghdad (11-3) of Toulon, France. McGregor made no secret of who he was rooting for, standing cageside, and issuing instructions and encouragement to Lobov throughout the two rounds. Unfortunately for Lobov, McGregor's support wasn't enough, and he dropped a decision to the 29-year old French scrapper.
Julian Erosa (14-2) advanced for Team USA with a decision over Jason Soares (8-0), and Englishman Saul Rogers (10-1) impressed Dana White in submitting Paulo Boer (10-1-1) by rear-naked choke.
McGregor and Faber provided comic relief with banter back and forth between fights. At one point, Faber asks Dana White, "Where are the ring girls?", and McGregor fires back, "You should walk in there with a card and shake that chin", much to White's amusement.
In an interesting fight, Brandon Ricetti (7-1) had Billy Quarantillo's back mounted for the majority of the first round but failed to find a finish. Quarantillo (6-1) then managed to turn the tables in round two, taking Ricetti's back, and earning the TKO to advance for Team USA.
Swede Frantz Frank Slioa (4-0) dominated position on Scotsman Martin Delaney (10-1), before sinking in a rear-naked choke and advancing to the house.
In one of the most action-packed bouts of the bunch, Jason Gonzalez (9-2) took on Tim Welch (12-5). Welch out-grappled his opponent for the majority of the first frame but got caught with a liver shot in the second, and Gonzalez pounced to capitalise and earn the TKO finish.
Seasoned Spanish veteran and elite striker Abner Lloveras (19-7-1) advanced for Team Europe when his German opponent Vladimir Sikic (10-0) was forced to retire due to a dislocated shoulder.
New Jersey native Tom Gallicchio (19-8) pulled off a beautiful back-take, demonstrated impressive control of his opponent Mike Flach (7-1), and earned the submission victory by way of rear-naked choke in round one.
Martin Svensson (14-5) of Malmo, Sweden took on Mohamed Grabinski (10-1) of Dusseldorf, Germany in a back-and-forth ground battle. Svensson won the first round and almost pulled off an armbar at the end of the second, but the bout ultimately went to a third round. There, Svensson asserted his dominance and took the decision to become the second Swede to fight his way into the house.
Polish fighter Marcin Wrzosek (10-2) dominated his Dutch opponent Djamil Chan (19-2) for position and earned the victory by rear-naked choke, while Englishman Sean Carter (10-1) fell short against Sascha Sharma (8-2) of Stuttgart, Germany in a mostly uneventful affair.
Back with the Americans, Austin Springer (8-0), of Portland, Oregon started well but wound up taking a bit of a beating in the first round. The second round didn't get any better for Springer, and his opponent Chris Gruetzemacher (12-1) earned the TKO midway through the second round.
In the final matchup, a forgettable first frame was followed by arguably the best round of the entire day. After a wild back-and-forth brawl, James Jenkins (8-1), gets the nod over a game Brennan Sevin (7-1).
In the aftermath of an exciting day of fights, Team Faber won the coin-toss which means they get to select the first fight of the season between the teams. "The California Kid" throws down the gauntlet to McGregor: "Put your suit on and comb your beard because we're going to war".
The Ultimate Fighter franchise has taken a lot of flack in recent years and rightly so. It has grown stale, and last season's efforts to revamp the show fell horribly flat. Whether The Ultimate Fighter 22 will deliver remains to be seen, but the opening episode had more in terms of exciting fights and entertainment value than the entirety of last season.
Stay tuned to SevereMMA.com for updates on how the season plays out.