The Ultimate Fighter: Team McGregor vs. Team Faber: Episode 3 Review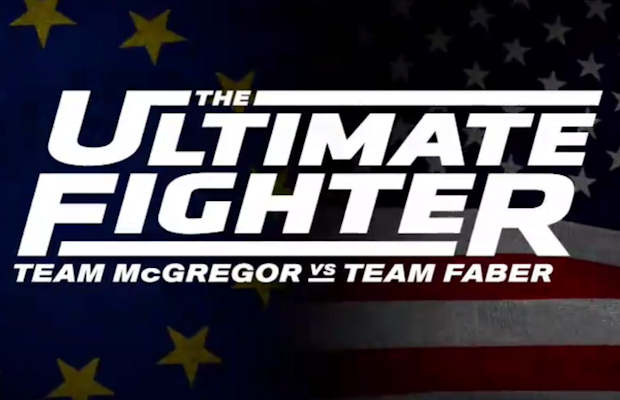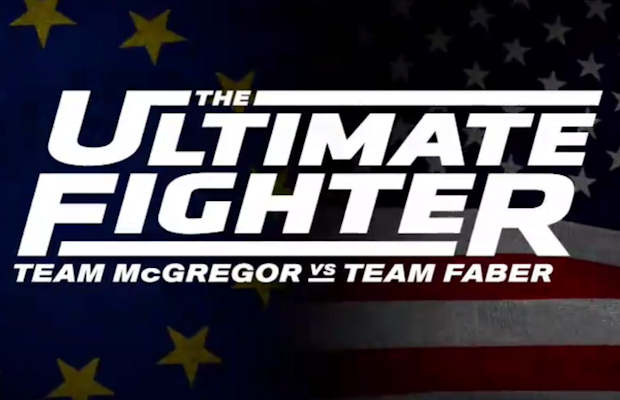 Ryan Hall put Frantz Slioa away last week, advancing to the quarter-finals and giving Team USA an early edge. Having retained control, Faber selected Chris Gruetzemacher (12-1) to take on Sascha Sharma (8-2) of Team Europe in this week's eliminator.
The episode gets under way with a look at each team's training methods. Team Europe trains twice a day, with a light morning session followed by more intense training in the evening. McGregor is not involved in the mornings, choosing only to participate in the more technical evening sessions. Much was made by Faber prior to the season airing about McGregor's lack of commitment. From the evidence so far, however, the Dubliner is taking a hands on approach. He seems involved in the training and invested in the fighters.
Team USA gather together with some members of Team Alpha Male to watch UFC on Fox: Dillashaw vs. Barão 2. Dillashaw dismantles Barão over three rounds before earning the TKO in the fourth, much to the delight and relief of all involved.
The teams assemble at the gym for the official weigh-in. Faber is in good spirits in the aftermath of Dillashaw's performance, but McGregor goes on the attack.
"I think you should man up and fight [Dillashaw] now… You said you brought him up and then Duane [Ludwig] took him from you. Now he's winning the world championship… That's your only fight now."
Faber looks uncomfortable but doesn't take the bait.
"Conor keeps trying to get me and T.J. to fight one another which, for me, is not something that's attractive… I'd rather fight Conor."
With the verbal sparring between the coaches out of the way, Gruetzemacher and Sharma make weight, and the fight is official.
Chris Gruetzemacher vs. Sascha Sharma
With McGregor in his ear to "be first" from the opeing bell, Sharma gets the striking under way with a stiff jab. Gruetzemacher responds with an overhand right that almost drops the German, but he manages to stay on his feet. The fighters clinch and exchange strikes for about a minute before Gruetzemacher executes a trip and winds up in top position. Sharma manages to lock in a triangle from the bottom but, despite McGregor's advice to "peel the arm across the body and hook the leg", the European allows his opponent to posture up and escape. Gruetzemacher lands a couple of big shots before Sharma scrambles back to his feet and immediately looks for the takedown. He presses the American against the fence and drags him to the mat. Gruetzemacher pops back to his feet swiftly, though, and lands a big knee to the body of Sharma, who looks for the takedown again. Sharma lands a couple of big knees in the clinch and then decides to pull guard with about 90 seconds remaining in the round. He attempts a very loose omoplata and lands a nice up-kick on the American. Gruetzemacher is on top now and works his way to side mount where he lands a couple of elbows. Sharma regains guard and attempts another omoplata, which is better than his first effort but ultimately unsuccessful. From his back, the German lands an illegal kick to the head of his grounded opponent. Referee Herb Dean warns him for this as the round comes to a close.
The second round begins at a frenetic pace. Sharma lands a couple of nice shots before shooting for a failed takedown attempt and falling to guard. Gruetzemacher pounces and lands a couple of shots from on top. 20 seconds into the round, Sharma is bleeding heavily from the top of his head. Gruetzemacher is dominating position and battering the German from on top now. Sharma scrambles back to his feet but immediately shoots for a sloppy takedown. McGregor is furious, yelling, "Stay on your feet! Stay on your fucking feet!", from the side of the cage. Sharma gives up an arm, and Gruetzemacher appears to have the armbar fully extended, but Sharma somehow escapes and ends up on top. Sharma loses position while attempting a submission and gets reversed. Gruetzemacher dominates the remainder of the round, staying on top and landing shots on a tired-looking Sharma. At the end of the round, the German appears completely spent.
Cageside, Dana White announces that the bout was scored a draw and would go to a third and deciding round.
McGregor's final words to Sharma before the round begins are to stay on his feet: "Don't go to your back Sascha! You on top!". Sharma ignores this advice and immediately shoots for a takedown and flops to his back at the beginning of the deciding frame. McGregor is livid. Gruetzemacher gets on top and continues as he left off in the second round, teeing off on his opponent from top position. The round continues to play out with the Team Faber representative on top and McGregor becoming increasingly frustrated cageside.
The decision goes to Gruetzemacher. Faber wastes no time in getting a sly dig in on an uncharacteristically quiet McGregor.
"I think you need to show up to morning practices from now on."
McGregor has little sympathy for Sharma and feels he is responsible for his own fate.
"Some people either want to get in here and fight, want to change their life, and want to good for their family and people back home, and others don't. Or they can't. They crumble under the pressure."
As the episode draws to a close, Faber makes his selection for next week's matchup. He chooses New Jersey native Tom Gallicchio (19-8) to represent Team USA against Marcin Wrzosek (10-2) of Team Europe.
Check back with SevereMMA.com next week to see whether Faber can make it 3-0, or if McGregor can initiate a comeback.