Preview and Predictions – TUF Finale: Frankie Edgar vs. Chad Mendes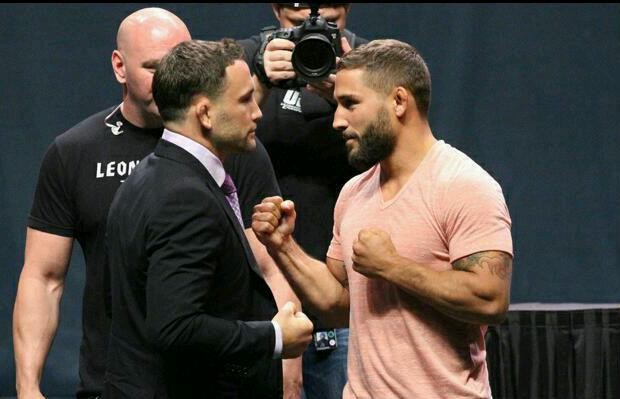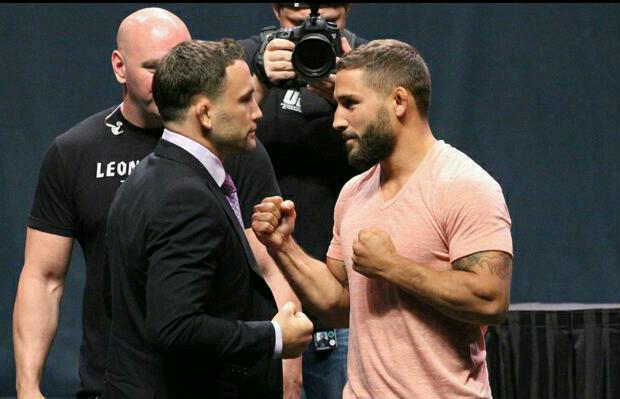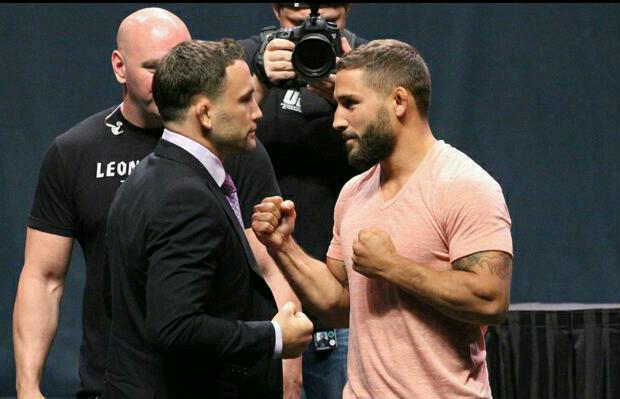 Unlike real life, the middle child of this week's trifecta of UFC events isn't the red-headed, annoying brat that nobody likes. Instead it's an absolute gem filled with talent hiding in the shadow of its older sibling just waiting to shine.
Main Event – Frankie Edgar vs. Chad Mendes
With the UFC featherweight championship belts being unified on Saturday night at UFC 194 when Jose Aldo fights Conor McGregor, it's the match-up to decide the next opponent for the winner at the top of the bill on Friday as Frankie Edgar and Chad Mendes meet in what should be a titanic battle.
A former lightweight champion of the UFC, Frankie Edgar has been pushing hard for a shot at Jose Aldo since losing to the Brazilian in a relatively close decision in 2013. In fact, with wins over Charles Oliveira, BJ Penn, Cub Swanson and Urijah Faber many people are of the mind that Edgar, and not McGregor, should have been the one in title contention last July when the Dubliner won the interim belt following Aldo's late injury withdrawal. On Friday, against the man who McGregor beat to win his strap, Edgar has the chance to end all the doubt.
For Chad Mendes, it's a much more grave position in which he finds himself. The Team Alpha Male trained wrestler is obviously one of the very best in the world but three losses in title fights, against McGregor once and Aldo twice, have made this possible number one contender fight with Edgar a huge, must-win. Emerge victorious on Saturday and he could be right back in the title picture, lose and it's to the back of the ever growing line for the long-time number one ranked 145 pounder.
With so much on the line this one is building nicely to be a really exciting scrap between two elite featherweights who have both development into extremely well-rounded MMA practitioners over the years.
Edgar is the quicker more nimble of the pair. The New Jersey native is very active with his movement as he throws large numbers of kicks and punches from all angles while timing his takedowns extremely well.
Mendes, conversely, is more about power than pace and loads up with his big right hand often. Behind that comes a pretty left hook which he also uses to set up his strong double leg takedown game.
Starting out here you'd expect Edgar to have the best of the early goings as Mendes gets the timing of Edgar's constant movement down. Once that happens look for him to up the power-striking output to expose the defensive weakness Edgar has shown during brief spells in fights against hard hitters like Jose Aldo and Gray Maynard.
If Mendes is to win here he'll need to hit hard early and finish the job as Edgar has a history of taking damage but fixing the holes as the fight goes on. For me, an Edgar decision wouldn't be a surprise at all here but the power with which Chad Mendes hits is something Edgar has rarely faced. That might just be his downfall.
Miscellaneous Ramblings
Like the big card on Saturday night, this Friday warm up is also absolutely stacked with talent. Fights like Joby Sanchez vs. Justin Scoggins, Ryan LaFlare vs. Mike Pierce and Joe Lauzon vs. Evan Dunham should be hot fire while the co-main event – between lightweight stand-outs Edson Barboza and Tony Ferguson – has classic written all over it.
Currently on a six-fight win streak, the #7 ranked Ferguson jiu-jitsu whiz, who was due to fight the perennially injured Khabib Nurmagomedov on Friday, looks to be the next man in contention for the title contested between Rafael Dos Anjos and Donald Cerrone later in the month – should be get a win.
To do that, he'll have to get past the toughest opponent of his career in #6 ranked Muay Thai technician Edson Barboza. Who himself will be looking to climb the currently very unsteady division. Add their respective exciting styles into the mix and you have a pretty much nailed on fight of the night on your hands. Expect fireworks.
Before that, though, there is big Irish interest on the card as SBG Ireland's Artem Lobov takes on Ryan Hall to determine who becomes the winner of 'The Ultimate Fighter' season 22.
A long time veteran of the European MMA scene, Russian-Irishman Lobov entered the TUF house as Conor McGregor's pick after UFC president Dana White gave two men who lost in their initial fight to enter the house a reprieve.
Once there, Lobov was ultra impressive and put three knockout wins together to earn this spot in the final. On Firiday he will face jiu-jitsu ace Ryan Hall who replaces Saul Rogers (who had issues getting a visa to fight) in the show's finale after himself losing in the house despite an impressive showing throughout.
As a fight this one should be really exciting wherever it goes.
On the feet Lobov is an unorthodox, wild and aggressive, yet effective, striker who hits with ungodly power and should have the advantage. On the ground conversely you'd have to favour 50-50 expert Ryan Hall who possesses one of the most dangerous submission games in the business. Either way, it should be a really enjoyable fight for the Irish fans in Vegas to check out.
FULL FIGHT PICKS
Frankie Edgar vs. Chad Mendes – Edgar's chin doesn't hold up through the early Mendes onslaught
Edson Barboza vs. Tony Ferguson – Back and forth battle ends in a close Barboza decision
Artem Lovov vs. Ryan Hall – Lobov is dangerous on the feet but I think Hall can get the sub
Joe Lauzon vs. Evan Dunham – Another potential barn burner, Lauzon submission
Ryan LaFlare vs. Mike Pierce – Nice to see Pierce back but I have LaFlare here
Tatsuya Kawajiri vs. Jason Knight – Kawajiri
Gabriel Gonzaga vs. Konstantin Erokhin – Erokhin
Joby Sanchez vs. Geane Herrera – Sanchez
Marcin Wrzosek vs. Julian Erosa – Erosa
Abner Lloveras vs. Chris Gruitzemacher – Lloveras
BET OF THE WEEK
Not a great card for betting but Edson Barboza via decision at 9/2 looks like good value
START TIMES
Early Prelims – 12.30am on Fight Pass
Prelims – 1am on BT Sport 2
Main Card – 3am on BT Sport 2