Analysis, Picks and Betting Tip – UFC on FOX: Holm vs. Shevchenko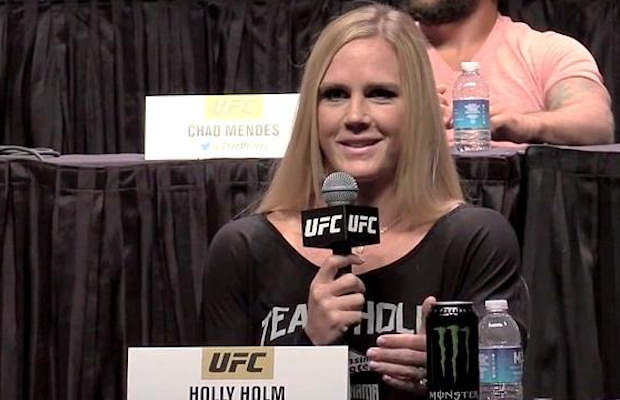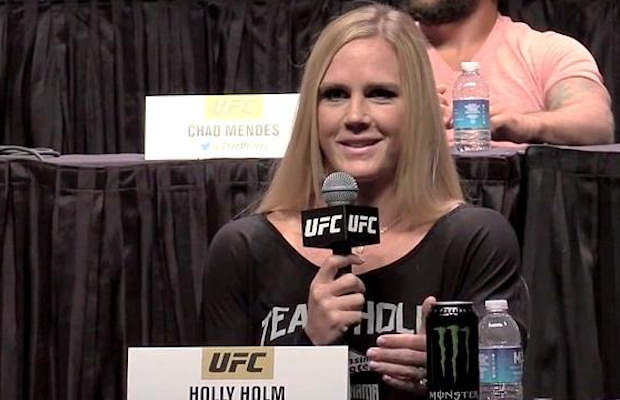 After taking centre stage during international fight week, it's women's MMA in the spotlight again this Saturday night as UFC on Fox 20 goes down at the United Center in Chicago.
Leading the charge this time is former bantamweight title holder Holly Holm who takes on European striker Valentina Shevchenko with possible title implications to be decided.
Hailing from, and fighting out of, Albuquerque, New Mexico, Holly Holm was one of the most decorated female boxers of all time before transitioning to mixed martial arts. In 2011 she made her debut inside the cage and immediately made her mark with a series of big knockouts. One fight in Bellator came before a settled period with Legacy FC saw Holm take their promotion belt.
That victory lead to the UFC attaining her services but it was somewhat of an unimpressive move initially with two lacklustre decision wins kicking off her time inside the octagon. Nevertheless it was enough to earn her a title shot against Ronda Rousey which she famously won in vicious fashion. And although her title run was quickly ended by Miesha Tate last March, a win on Saturday could see her bounce immediately back to the top.
In her way will be another decorated striker Valentina Shevchenko. Born in Kyrgyzstan but now fighting out of Lima, Peru, Shevchenko ammased multiple world titles and over fifty fights as a kickboxer before and after her MMA debut in 2003.
Like Holm, Shevchenko had a smashing start to her career with a series of stoppage wins but, with women's MMA still very much on the backburner to the men's, her outings inside the cage were very inconsistent until recently. Wins in Fusion FC and Legacy FC seemed to catch the eyes of UFC matchmakers, though, and she was signed in 2015. An impressive win over Sarah Kaufman kicked off her career while a loss to current champion Amanda Nunes last time out has her looking to get back into the win column.
As fighting practitioners, these two women are amongst the very best in their field today.
Shevchenko is a very technical, extremely careful muay-thai based striker who likes to fight in the pocket. She fights with her hands high and is very much of the "hit and don't get hit" way of fighting. Her head movement is outstanding behind that high guard and she uses it to entice her opponents in before letting go with strikes. As a southpaw, along with her effective jab and cross, she has a big lead and counter right hook which she uses very well. Along with some improving takedown defence, in the clinch she is strong and will cause a lot of damage with elbows given half the change.
Holm, similarly, is quite an intelligent fighter when it comes to giving and taking blows. Her favoured range is at long distance which in the past has caused her some problems against opponents who aren't dead set on closing the distance. Even though her output is high, a lot of her strikes are from too far out to matter. But when she can close that distance, it can be devastating. Holm possesses some of the slickest boxing in her division and will follow it up with her now trademark high kick if given half a chance. Her takedown defence has also improved a lot but is still a question which might need to be answered in the future.
As a match-up this one could go two ways.
1. Someone will take it upon themselves to close the distance and we'll have a thunderous firefight.
Or
2. Nobody will close the distance and well have five rounds of solid, technical and, possibly very boring, MMA.
For me, the latter is almost inevitable.
This one should be very cautious early with Holm feeling her way in with the jab as Shevchenko keeps her hands up and looks for counters. If those counters don't come, and if Shevchenko doesn't go and attack Holm, I wouldn't expect a lot to change. Holm will keep doing her work, she'll throw in the odd high kick (which could get the finish) and she'll probably win the unanimous decision.
And although there's a high possibility that the main event won't be a classic, I think there's a high probability that the co-main event will as lightweight fan-favourites Edson Barboza and Gilbert Melendez meet for the first time.
Although he is 4-3 over the last two years, Edson Barboza seems to have turned a corner in his career of late. Losses to the like of Donald Cerrone and Tony Ferguson have kept him from the title picture but his performances have kept him in the mix. The best of those arguably came last time out when he beat down former champion Anthony Pettis over three rounds to earn this bout against another former champion.
Melendez, the former WEC and Strikeforce lightweight champion, was a huge force in the aforementioned Strikeforce and went seven fights without a loss before jumping over to the UFC in 2013. Since then it has been a very mixed bag for the scrap pack member. Two title fight losses sandwiched arguably the greatest fight of all time against Diego Sanchez before a loss to Eddie Alvarez and a failed drug test put "El Nino" on the sidelines for over a year.
Although I promised a classic earlier on, I think Gilbert Melendez might have different plans from the start. In the past, he has been known to shove opponents against the fence and use his wrestling to get takedowns early on. Against Edson Barboza, that sounds like a logical thing to do.
Barboza, though, is improving all the time in that area and should be able to get separation and keep it standing.
Then the fun starts.
Barboza is a technical magician with wild power. He'll ossify legs and movement with his thunderous kicks while jabbing hard and throwing bombs with his fists.
If he has to, Gilbert Melendez will answer back. The past has shown his boxing is of a fairly high standard and that, when push comes to shove, he can exchange with the best of them.
Edson Barboza, though, is literally the best of them when it comes to lightweight striking and faces Melendez when he's possibly a little past his best.
In 27 fights, Gilbert Melendez has never been knocked out. On Saturday night, I think that changes.
Outside of that this one isn't packed with quality but Felice Herrig vs. Kailin Curran should be fun and Frankie Saenz vs. Eddie Wineland could be very good while a personal favourite of mine, Francis Ngannou, fights again on his inevitable road to the heavyweight championship!
FIGHT PICKS
Holly Holm vs. Valentina Shevchenko – Drab, boring decision win for Holm
Edson Barboza vs. Gilbert Melendez – Barboza makes a statement
Francis Ngannou vs. Bojan Mihajlović – Ngannou impresses again
Felice Herrig vs. Kailin Curran – Toughness wins Curran this late
Frankie Saenz vs. Eddie Wineland – Saenz
Darren Elkins vs. Godofredo Pepey – Elkins
Kamaru Usman vs. Alexander Yakovlev – Usman
Michel Prazeres vs. J.C. Cottrell – Prazeres
Alex Oliveira vs. James Moontasri – Oliveira
Héctor Urbina vs. George Sullivan – Sullivan
Jim Alers vs. Jason Knight – Alers
Luis Henrique vs. Dmitry Smolyakov – Henrique
BET OF THE WEEK
Barboza via KO at 5/2
START TIMES
Early Prelims – Fight Pass at 9.30pm
Prelims – BT Sport 2 at 11pm
Main Card – BT Sport 2 at 1am