Home
/
Fight Picks
/
Preview, Picks And Betting Tip: UFC 202 – Diaz vs. McGregor 2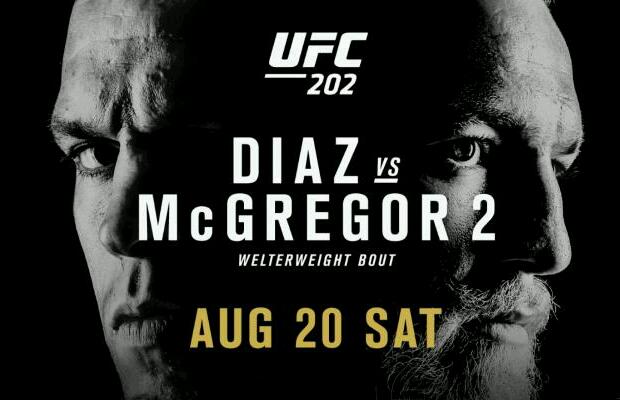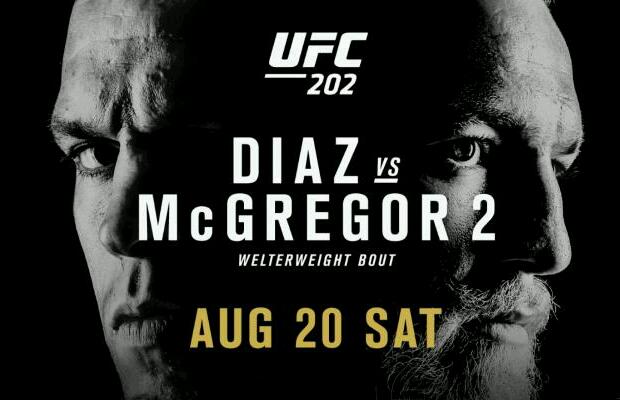 After the somewhat underwhelming UFC 200, it's this Saturday night which looks like stealing the mid-year MMA memories as UFC 202 brings together a fantastic card of fights filled from top to bottom with recognisable names and intriguing match-ups.
In the main event, one of the most talked about rematches in the history of the sport will take place as Nathan Diaz takes on current betting favourite Conor McGregor having already beaten the Irishman at UFC 196.
Now I've already done a BIG BREAKDOWN of that fight so I won't bore you with those details again. Instead, let me look at how I think the fight might actually turn out.
As I mentioned in my breakdown, I fully expect McGregor to have an exponentially smarter gameplan this time around. I fancy him to have plenty of success attacking the lead leg and body early as he uses his footwork and movement better to keep range and stay on the outside of Diaz.
On the other side of it, Diaz will be checking those leg kicks and attempting to get his boxing off in the pocket. While doing that, he'll also be watchful of the power of McGregor and will be happy to play the long game where the clinch and takedown also become integral to his attempts.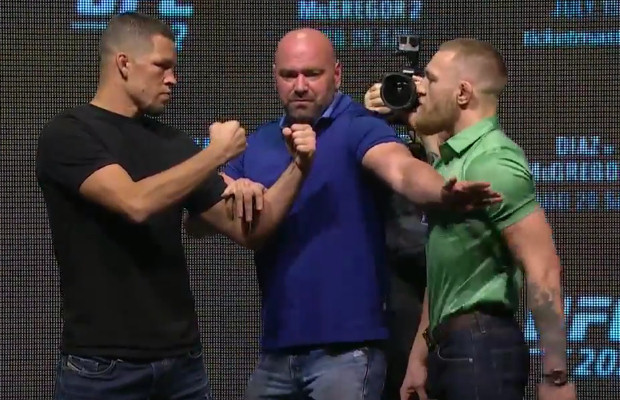 The question is then, can McGregor play the long game? That's, as of right now, just something we don't know yet.
Now I certainly wouldn't rule out an early finish for McGregor, despite all the talk of Diaz being able to take everything, or an early Diaz finish for that matter, but I really see this one coming down to durability and staying power.
All the talk from McGregor's camp has been about great strides in that area, and if that is correct we are in for a fight of the year candidate here.
Assuming it goes past the halfway point of the fight, expect a lot more trading with hands and maybe even a prolonged portion of clinching as the natural tiredness for both men sets in. At that stage it's whoever has taken the less damage, whoever can get the upper hand and whoever can sustain that towards the end of the fight.
I've gone back and forth on this one but the suggestion of a more measured approach by both men makes it look like this one could be going into deep waters. For me, as of right now, Nate Diaz is the more proven fighter there. Questions over McGregor's ability to stay the distance as a featherweight fighting at welterweight also could play a huge factor in this one as it goes on.
With that said, I think that one will be extremely tight if it goes to the judges with McGregor winning early rounds and Diaz winning late. That, with both men's ability to get it done early, makes the pick very tough here. But, for me, the unending cardio, unbelievable durability and expert ground game of Nathan Diaz will seen him win late.
After that, the #1 contender for the light-heavyweight title currently held by Daniel Cormier will be decided as two atomic hitters throw down when Anthony "Rumble" Johnson takes on Glover Teixeira.
Having both lost their one and only title opportunity so far, this one is of huge importance to both mem. Teixeira, who lost to Jon Jones in 2014, has won his last three in a row while Johnson has won two on the bounce since losing to Daniel Cormier just over a year ago.
That makes this one a meeting of two in-form, high-level light-heavyweights – which is quite a rarity due to the shallowness of the division.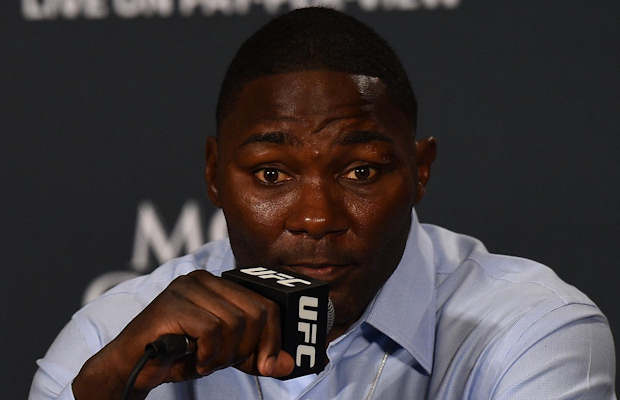 Johnson, training out of the Blackzilian camp, is your stereotypical fast knockout artist. He likes to come out of the stalls like a greyhound and throws everything he has got all at once. And usually that works for him. He has titanic power in both hands and the technique controlling that is becoming more and more refined fight by fight.
The same could be said for his wrestling and general grappling since he brought in renowned coach Neil Melanson to recent camps after that area was shown up to be an obvious weakness in previous fights, especially against Daniel Cormier.
And although Glover Teixeira possesses many of the same traits, they come at maybe half a revolution of cadence slower. He has wicked power in his hands which he lands beautifully in a slick manner with both leads and counters. His wrestling has also become a real x-factor in his game of late and when that is successful his jiu-jitsu is very hard to live with.
So basically what we have here is a fast starter against someone who needs to weather the storm and play the long game. Sounds familiar, doesn't it?
Johnson will come out head hunting like he always does and will land hard shots. The question then is can Teixeira survive that and get his own game going? If he does, look for him to push Johnson against the fence and make him feel his weight. Teixeira is a deceivingly strong man and will need all of that to produce a winning gameplan here. If he can't hold Rumble down, or if he can't take him down, despite his very good boxing, it'll be a tough night for the Brazilian.
If this one was over five rounds Teixeira would definitely be my pick but over three rounds Johnson can let loose early without having to worry about the later stages. For that reason, I think he'll get the KO or at least win the first two rounds against a very durable Teixeira.
Then, on the televised prelim section of the card, there is even more Irish interest as Russian born Dubliner Artem Lobov takes on newcomer Chris Avila over three rounds.
Avila, a teammate of the Diaz brothers, makes his UFC debut against McGregor-teammate Lobov after his camp called for the fight to be made in the build up to the main event.
And it should be a pretty fun one.
Lobov, who is currently on a two-fight skid and likely fighting for his place in the UFC, is nothing if not exciting. He comes out, hands down and throws bombs from the hip from the very beginning and throughout.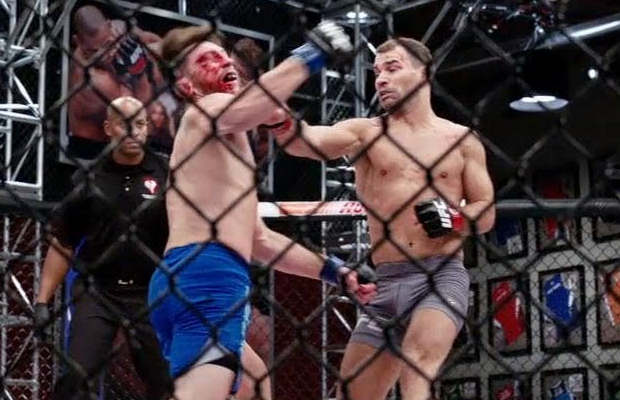 Avila, on the other hand, is a more orthodox fighter and has a very powerful right hand but isn't the finished article yet. Avila, who has a very nice jiu-jitsu game, will probably be looking to take Lobov down and finish him but he proved against Ryan Hall that that isn't too easy to do.
For me, this one will end early with someone getting knocked out. Due to the fact that Lobov is very unpredictable and Avila really only has that one big dangerous weapon, I fancy "The Russian Hammer" to come out on top here.
Outside of that I think Cody Garbrandt will push himself towards the title with an early knockout of Takeya Mizugaki while Neil Magny vs. Lorenz Larkin should be a three-round battle for the ages.
The same could (maybe) be said for the meeting of Rick Story and Donald Cerrone at welterweight. On his day, Story is a horrid match-up for anyone in the sport and I think that might just be the case here on Saturday. Expect lots of clinching and pressure from Story, some frustration from Cerrone and probably a close decision to end it all.
FIGHT PICKS
Nate Diaz vs. Conor McGregor – Could go either way but I'm picking Diaz to win late
Anthony Johnson vs. Glover Teixeira – another close one, Rumble just
Rick Story vs. Donald Cerrone – I'm going for a Story decision
Hyun Gyu Lim vs. Mike Perry – Going out on a Lim KO here.
Tim Means vs. Sabah Homasi – Tim by any Means necessary
Cody Garbrandt vs. Takeya Mizugaki – Cody
Raquel Pennington vs. Elizabeth Phillips – Raquel
Artem Lobov vs. Chris Avila – Artem
Colby Covington vs. Max Griffin – Colby
Randa Markos vs. Cortney Casey – Randa
Alberto Uda vs. Marvin Vettori – Vetorri
Neil Magny vs. Lorenz Larkin – Neil
BET OF THE WEEK
Cody Garbrandt via 1st round KO at 2/1
START TIMES
Early Prelims – 11.30pm on Fight Pass
Prelims – 1am on Fight Pass or BT Sport 2
Main Card – 3am on BT Sport 2
For more analysis on this weekend's event check out the Severe MMA Podcast:
Related
Podcaster, lead MMA writer and analyst for SevereMMA. Host of the SevereMMA podcast, out every Sunday. Economics and Mathematics graduate from UCC. Also write for Sherdog. Previously of hov-mma and fightbooth. As heard on 2FM, Red FM, Today FM and more. Follow me on twitter for updates @SeanSheehanBA and on Facebook Facebook.com/seansheehanmma
Advertisement

Top Stories

Latest Severe MMA Podcasts
Copyright © 2022 SevereMMA