Michael Conlan: It's great to see boxing and MMA co-existing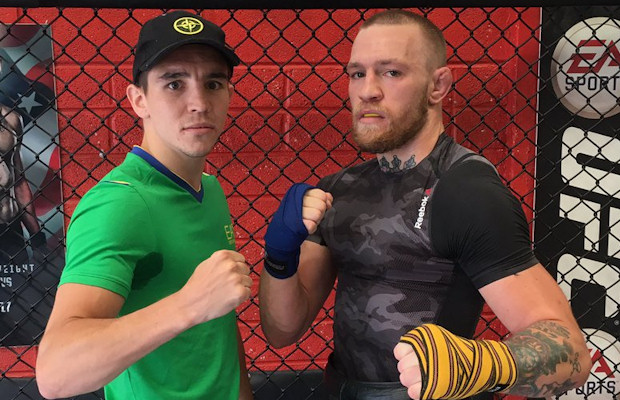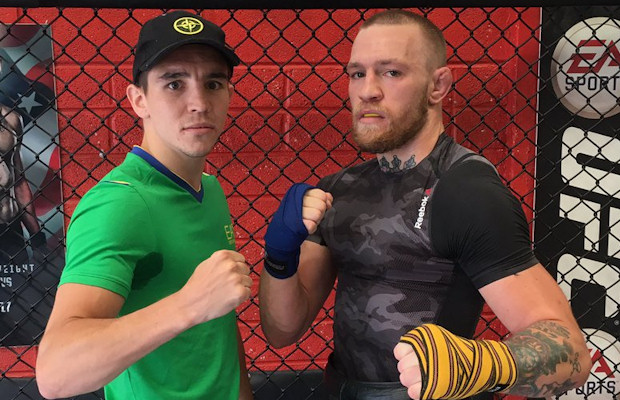 Michael Conlan will make his pro boxing debut tonight in Madison Square Garden, with UFC superstar Conor McGregor carrying the Irish tricolour by his side for his grand entrance into the iconic venue.
After his Olympic exit last year, a devastated Conlan stuck his middle fingers up at the ringside judges and lambasted their decision in a post-fight interview that was laced with colourful language and disdain. An Olympic gold medal would have been the perfect platform to launch his pro career from, but his outspoken antics have provided him with one of the best deals for a debuting pro in recent memory.
With promotional powerhouse Top Rank providing Conlan with a huge stage at The Garden in New York on St. Patrick's Day to begin his journey as a pro, the Belfast man admits that he can look at his Olympic ordeal as a blessing in disguise now.
"Now, it feels like a blessing in disguise," he said. "Even if I had won the gold medal, there is a chance that I wouldn't be in the same situation as I am now.
"I'm on the verge of having this massive debut. The promoters, the media, and the fans all loved the controversy that came from that. It's definitely put me in a great position to start my professional career.
"An Irish guy, competing in Madison Square Garden in his first professional fight, which takes place on St Patrick's Day; you can't ask for much more than that."
During his promotional visits to New York in the lead up to his six round clash with Tim Ibarra, Conlan found himself motivated by the pride that the New Yorkers take in their Irish heritage.
"I went to New York two weekends ago and the reception was unbelievable. The people there, they're more proud of being Irish because they're away from home.
"Even though I've only been away for two months, I can feel that too. Since I've been over here, I feel like I appreciate seeing Irish people so much more. I get where they are coming from with the pride that they have.
"I'm very aware of how big my debut can be. I know how big it's going to be.
"There's so much hype already. When I was in New York I was doing a bit of a tour to do some promotion, but I really didn't have to do anything because everyone I met was buzzing for it!
"I'm so focused and so driven. Seeing that atmosphere in New York has only helped me with that. I'm very grateful for that kind of support."
McGregor's undertaking for Conlan's pro bow has brought a lot of attention to the fight. The 25-year-old revealed that 'The Notorious' has given him a lot of advice about his career already, and insisted that he is very grateful for any time that "one of the biggest stars in the world" has for him.
"I'm a huge fan of his. I've spoken to the guy on a number of occasions and I can't tell you how much I've appreciated the words and advice he has given me.
"He's someone who I look up to. He's taken over combat sports. He's not only one of the biggest stars in combat sports at the moment, he is one of the biggest stars in the world in all walks of life.
"Obviously, he's somewhere that I would like to be. If he has any advice for me I will always want to hear it because he has such a good mind for the fight business. It's scary, really."
Conlan being walked out for his pro debut by McGregor is further evidence that boxing and MMA are beginning to co-exist. Ahead of her own pro-debut, Katie Taylor claimed that she wanted to be the "Ronda Rousey of boxing", and Mayweather and McGregor's proposed bout has continued to spark interest among fans of both sports.
As far as Conlan is concerned, he hopes that the two sports continue to co-exist.
"Listen, there's no point in having a competition between two sports. I can remember when people used to think that if they liked one sport they would have to dislike the other. That's complete nonsense.
"I'm gonna be honest, I didn't really know anything about MMA until Conor McGregor came on the scene. He was the only reason I came to watch it. That's just the truth.
"That being said, I don't have any ill feelings towards MMA.
"I like it as a sport. I like to watch it. Even the technical aspect of it, especially when you watch Conor fight, it's unbelievable. His stand-up game is so impressive and the boxing he brings into the cage is second to none.
"I'm a fan of both sports, so it's great to see them co-existing. I hope it continues."
Conlan will have six rounds to dispatch Ibarra tonight, a man who has had twelve weeks to prepare for the debutant, which is rare for an opponent of a debuting pro.
The Irishman hopes that his predicted stoppage victory will allow him to hit the ground running with his goal of claiming a world title within three years.
"It's just gonna be me going in there and putting on a performance; it's as simple as that.
"In fairness, this guy has four wins and four losses. Usually, you see guys getting matched with guys who have forty-odd losses when they're making their debut and they never get a training camp.
"This guy's had a full camp. He's coming to fight, so I think it's going to be a knockout."
Michael Conlan v Tim Ibarra will be available tonight on BoxNation in Ireland and the UK. Coverage starts at 12am GMT and the Conlan vs Ibarra bout is expected to begin at about 2am GMT
@PetesyCarroll