Keys to Victory for Gunnar Nelson against Santiago Ponzinibbio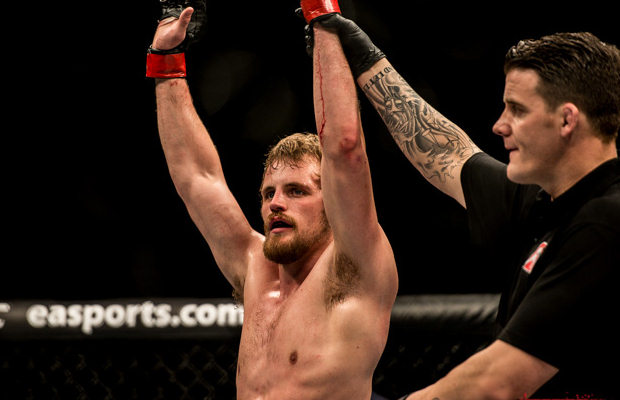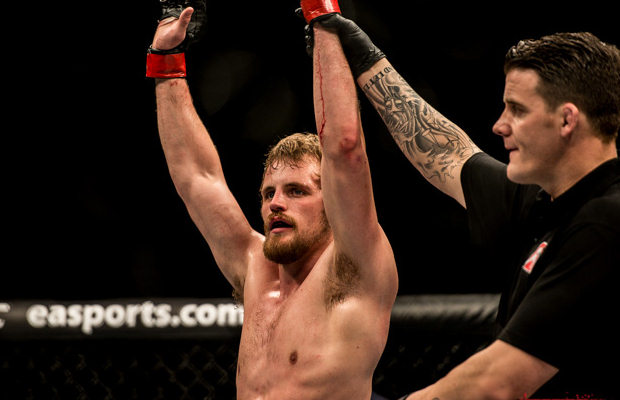 Sunday night July 16th we have an excellent technical and strategical matchup in the welterweight division between Icelandic (and adopted Irish) mixed martial arts fighter, Gunnar "Gunni" Nelson and Argentinian fighter Santiago Ponzinibbio.
This fight is extremely important for the division. Tyron Woodley is firmly established as the champion and is dominant, if not particularly well liked or exciting. The top ten isn't nearly as stable and a big win in a division in transition can be very beneficial.
For "Gunni" a win here, in my opinion, puts him in position to challenge for the title immediately, worst case scenario he is the next to challenge for the title after number one ranked Demian Maia challenges. For Santiago, there isn't as much certainty; but a win over Gunnar firmly inserts him into the top five and puts him in the conversation of legitimate contenders for the belt.
Today I am taking a look at the five steps Nelson needs to take to win on Sunday night, but before I break down what he should do to win, I am going to examine his opponent and what has created this three fight winning streak and what makes him so dangerous to Nelson.
Based on the amount of fights, number of promotions and variety of opposition (in regards to experience, ability and skill), Ponzinibbio is a very seasoned, veteran fighter with a somewhat limited but clearly defined and developed skill set, in simpler terms he is a fighter with an established identity.
Santiago isn't particularly gifted in terms of his physical ability, he is more a good athlete than great one. There are two areas where he shines in regards to his physical tools. The first is his power, while not elite, it is real, having won half of his total mixed martial arts fights won by stoppage.
The second area and the one where he flirts with first tier ability is his pace/cardio, in a division full of fighters whose calling cards are volume Santiago Ponzinibbio stands out. These two physical tools work hand in hand, as his ability to generate a ton (and a wide range) of offense maximizes his power with volume, on the other end his power enhances the effect of his volume as it does legitimate damage (unlike lighter hitters who rack up points without doing much harm) which breaks down his opponents mobility and will. That results in him pulling away from or running over opponents who are either tough enough to stand up to his powers or defensively skilled enough to avoid the big (fight ending) strikes.
This segues into the most important tools used by Ponzinibbio, Santiago doesn't just throw a series of strikes, he throws combinations, alternating between attacking the legs, body and head, transitioning ranges outside, range, inside and vice versa, switching between tools as well going from punch to kick, kick to punch, punch to knee, knee to elbow and so on.
The amount of techniques, the variety of targets and the number of strikes all force opponents to expend energy trying to read and react to what is being thrown at them. It also has the effect of mentally wearing on opponents as they have to not just defend his attacks but try to counter and attempt to initiate their own offense to limit or cut into his. Physically the effects are quickly observed as fighters are forced to fight at a pace they can't maintain, nor break from, as well as being systematically broken down due to the number of targets being attacked with an extremely high volume of techniques and weapons.
The second tool is his pressure, Santiago's first, middle and last name is pressure. He likes to come forward forcing exchanges, and putting his opponents on their back foot (kryptonite for most mixed martial arts fighters), trapping them on the cage where their ability to escape or create angles for counters with footwork are greatly reduced. Ponzinibbio likes to get (and stay) in your face and to take full advantage of the various strikes and ranges he is effective working with and in.
The final tool that makes Ponzinibbio so effective is his footwork, it essentially allows him to maintain his stance which is very hard when you're a forward moving pressuring fighter who throws a lot of volume. This stability in stance limits opportunities to be caught out of position or off balance, it also allows him to transition from tool to tool and range to range. The footwork is the foundation upon which the other tools have been built, it allows them to be used and more importantly it allows them to be used without subjecting the user to unwarranted risks.
So we have taken an overview of the physical, technical, strategical things that define Santiago as a fighter and are the driving force behind his success. Now we are going to take a look at what Gunnar must do to assure victory.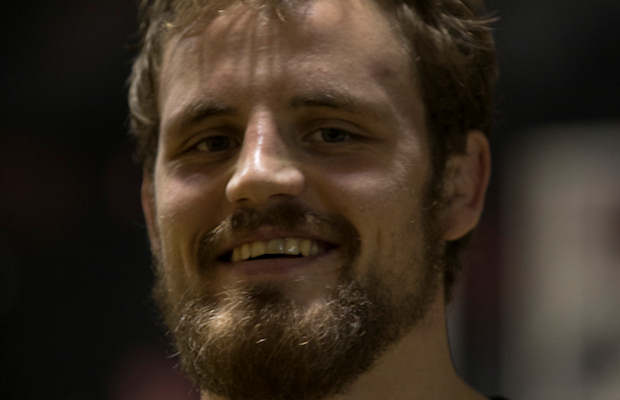 4) Take the initiative – "Gunni" by nature is a distance fighter with an emphasis on single, deft, powerful counter-strikes (i.e. potshots) which has been very effective, but has been repeatedly exposed by guys who are willing and able to apply a lot of pressure and volume (Tumenov, Story).
To offset some of this requires Nelson to take the initiative in striking exchanges and in takedown attempts, by forcing this type of fighter to react, you take away the strength of their game pressure and activity. They aren't able to generate offense as freely, and by striking first you either halt their forward momentum or better yet push them back. Gunnar could stay true to his counter-striking. He could just be aggressive, in drawing out something to counter instead of waiting for an opponent to make a mistake or give him something.
This essentially neutralizes the majority of their tools and physical talents, Gunnar doesn't have to be all pressure and aggression but dictating the terms of engagement only improves his chances at winning by interrupting Santiago's ability to get into his rhythm.
If Nelson is able to do this and Ponzinibbio isn't able to dictate the pace and place of the fight and instead gets into an extended technical deliberate fight, he will be picked apart and finished. Or if Nelson can make Santiago try to assert himself he can run him into a big counter (Strike or takedown).
3) Use clinch attempts and takedowns as weapons – Nelson being one of the very best grapplers in mixed martial arts would of course like to get the fight to the ground and given his array of trips from the clinch and ever evolving ability to penetrate on shots and chain takedown attempts together the likelihood of getting to the ground has improved exponentially.
Nonetheless he is not a top end wrestler meaning they won't always succeed and chasing them will waste more energy than it will save but even the attempt, when used intelligently and bailed out on in a similar fashion, can be used as a weapon.  Takedown and/or clinch attempts can break the rhythm of a fighters striking, resulting in Ponzinibbio having to regain spacing, timing and setups for offense. This would allow Nelson opportunities to counter and/or lead much more effectively as a result of the threat of the takedown and his ground game.
These attempts also allow a fighter to take away some of the explosiveness or cardio of a busy pressure opponent by repeatedly forcing him into explosion stealing and activity lowering grappling exchanges (repeatedly). Finally take down and clinch attempts can be used to get out of tough spots or to reposition an opponent taking them from position of aggressor to defender.
Fighters like Phil Davis and Lyoto Machida have made careers off disrupting superior strikers with takedown attempts or the threat thereof to control the output and aggression of an opponent. A text book example of this is Miesha Tate v Holly Holm, where the threat of the takedown limited the offense of an athletic volume fighter and also created lanes for clean counters, as well as limiting leg kicking opportunities which have been a source of distress for Nelson. Jouban, Tumenov and Story are some of the recent fighters who have been able to land them at will on Gunnar and none of them are as busy, accurate or powerful with them as Santiago.
2) Avoid extended striking exchanges – Don't create extended striking exchanges. For all his efficiency, accuracy, distance management and movement, Nelson is a fairly limited striker in strategy, technique and style. A lot of his success is a combination of people's unfamiliarity with traditional martial arts striking and his top end athleticism.
Though his striking is effective, the true strength of his game is his grappling. His striking sets the table for it and he needs to not get away from that. When opponents have been able to force extended striking exchanges, Nelson hasn't fared nearly as well as he has on the ground. Fights with Rick Story, Albert Tumenov and Alan Jouban have recently proven this to be true. When able to get the fight to the ground he dominates, when engaging on the feet it's 50/50 at best or in the worst case scenario (experienced with Story) it's 75/25.
The second part of this is to not get caught in middle range whether attacking, retreating or looking for an opening. In multiple fights Nelson has been blasted with hooks, leg kicks, body shots and body kicks as a result of "hanging" around in the middle range. Nelson effectiveness striking is being all the way in or out, using his stance, unique footwork and timing to accomplish that. At mid-range he has nothing for his opponents and that has been proven again and again. If you want to know why you don't get stuck in mid-range then watch Pearson vs Hooker from last week.
1) Sidekick -"Gunni" has no jab, head movement or midrange game. The sidekick will act as an extra layer of defense, a tool to maintain distance, to disrupt offense/cardio when used consistently and to control when and where exchanges occur.
In part two we take a look at Gunnar Nelson's game as a whole, what makes him effective and what defines his style. Then we will address the things that Santiago Ponzinibbio needs to do to make Nelson less effective and hopefully (for him) deliver him a victory.
Click here for Part Two – Keys to Victory for Santiago Ponzinibbio against Gunnar Nelson