Jan Błachowicz: An Underdog Story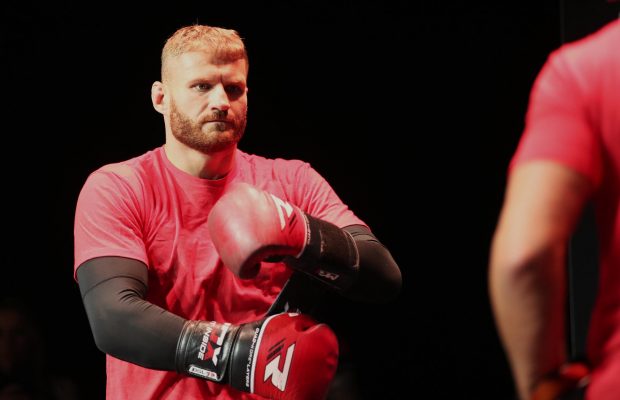 Poland's Jan Błachowicz (27-8) makes the first defence of his UFC Light Heavyweight Championship at UFC 259. His opponent, the undefeated UFC Middleweight Champion Israel Adesanya (20-0) is getting most of the attention in the lead up to Saturday night's showdown. The New Zealand based Nigerian is aiming to become a multi weight champion, a feat only achieved by 7 fighters, with only 4 of them holding two belts concurrently. It is a showcase fight that very few people would have predicted Jan to be in. How did he end up here?
Błachowicz was signed to the company after racking up numerous accolades in KSW, one of the biggest promotions on the European scene. He won two prestigious KSW tournaments and left as their Light Heavyweight Champion, a belt he defended twice before getting the call.
Jan goes into the fight as an underdog, a position he is used to finding himself in under the UFC banner. It is a title he has grown to enjoy. He had a rocky beginning to his tenure. Following an impressive quick TKO victory over Ilir Latfi in his debut, Jan went on to win just 1 of his next 5. He had taken a gamble by switching things up coming into the UFC, including a change of gym. After his defeat to Pat Cummins at UFC 210 and with his future on the line, it was time to go back to the drawing board.
It was decided that Jan would go back to his roots and return to Warsaw under the tutelage of Robert Jocz at the WCA Fight Team. Jocz was an MMA pioneer himself, a judoka with an impressive 21-8 career. There isn't a discipline used in martial arts that doesn't have an expert on the infamous yellow mats. Olympic wrestlers, pro boxers and kickboxers, BJJ and judo black belts. They also host a great mix of body sizes in the gym, meaning Jan gets plenty of work with big heavyweights and quicker welterweights and middleweights. You will see an example of this on fight night with former pro boxer and recent MMA convert Izu Ugonoh in Jan's corner.
Jan would go on a 4 fight win streak following his homecoming. He choked out Devin Clark in the second round, won a pair of decisions against Jared Cannonier and Jimi Manuwa (avenging an earlier loss) and then submitted Nikita Krylov with a head and arm choke. He would then suffer a defeat at the hands of Thiago Santos via a third round TKO. To Jan, this was just a blip. Mentally he was on the right road, even if the experts couldn't see it.
Next up was Luke Rockhold, with the cocky American moving up from middleweight. Rockhold was expected to roll over Jan and make a move towards the title. Jan knocked him out early in round 2. After that, was another 185 pounder moving up in weight, Ronaldo "Jacare" Souza. He was meant to dominate Jan on the ground but in the end the judges awarded Jan the victory via split decision. Corey Anderson was expected to do the double over Jan, instead he met the "Legendary Polish Power". A big right hand knocked the American out midway through the first round, Jan had avenged another loss.
Błachowicz was awarded a shot at the vacant Light Heavyweight title at UFC 253 after that win. He was assigned the blue corner and was billed as the B side in the lead up to the fight. His opponent that night was Dominick Reyes, a man who had brought the previous champion Jon Jones to the brink in a bout many pundits felt he had won. There were big expectations that Reyes would come out victorious. Instead, he became another victim of the "Legendary Polish Power". Jan wobbled him with a big shot near the end of the second round and finished off with some ground and pound. The win moved him to 8-1 since returning to Robert Jocz, picking up 5 Performance of the Night awards along the way. He had achieved his dream, he became the first Polish male UFC champion. His celebrity rose sharply in Poland as a result, including coming 7th in the Sportsperson of the Year awards.
Israel Adesanya is the betting favourite on Saturday night and you can understand why. He is one of the most skilful strikers to ever set foot in the Octagon. His control of distance is unparalleled and his speed would trouble any fighter. He has been a breath of fresh air. However, this is a closer fight than the betting line would suggest.
Błachowicz has a huge size advantage. The big Pole typically walks around at 230lbs, whereas Izzy is rumoured to clock in at 190lbs. Jan is the superior grappler and holds a BJJ black belt, however in order to use it, he will need to do what others have struggled to do and that is to take Adesanya down. Izzy will have the kickboxing advantage, however Jan is a seasoned kick-boxer in his own right. There should be no surprises for him on the feet, he has won world kickboxing titles, albeit at a lower level to Adesanya. The game changer is the power. Each man that has come up from Middleweight has struggled to deal with it.
One thing we have learned is that you can never count Jan Błachowicz out. Keep that in mind before submitting your bets.