PFL 2021 #4: Regular Season Preview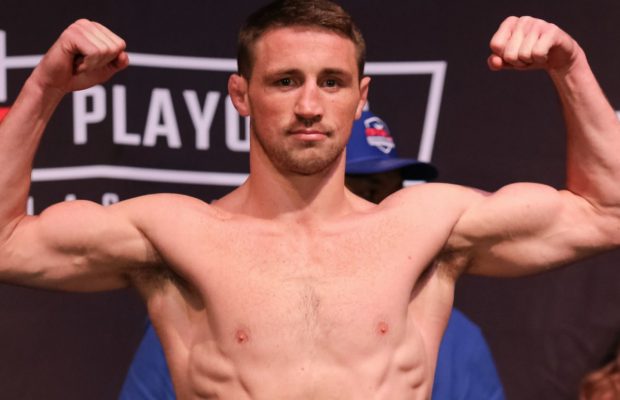 The PFL go back into the bubble for the second round of regular season matchups from the Ocean Casino Resort in Atlantic City, New Jersey. The featherweights and lightweights will compete for a spot in the post season playoffs this Thursday night. In addition, there will be one feature bout outside of the tournaments.
Claressa Shields (0-0) makes her much anticipated MMA debut on the card. She is up there with Katie Taylor in terms of the best boxers on the planet. She won gold medals at the London and Rio Olympic Games. She is a two time amateur world champion. Once she turned pro, the accolades kept piling up. She has an 11-0 professional record and has won world titles in three different weight classes. She is the only boxer in history to hold the WBA, WBC, IBF and WBO titles in two weight classes simultaneously. MMA is a totally different ball game. Opponent Brittney Elkin (3-6) has been doing grappling competitions in the lead up to this and holds a huge experience advantage in professional MMA. She's going to try and take this one to the ground. Let's see what Claressa can do with an expanded rule set.
The Lightweights
Anthony Pettis (24-11) vs Alex Martinez (8-0)
Pettis will likely need a win and a finish in this one following defeat to Clay Collard last time out. He will hold a significant experience advantage over Martinez, who has never fought anyone of this level before. Martinez is a strong grappler, however that may play into Pettis' under appreciated submission game. He will also need to pressure Pettis to neutralise his spectacular striking style. The longer Martinez stays in the striking exchanges, the worse his night could get. Pettis is known to pull a rabbit out of a hat. This is a big fight for Pettis and one he'll need to make a statement in.
Akhmed Aliev (20-6) vs Loik Radzhabov (13-3-1)
This fight should be a whole lot of fun. Aliev is a heavy hitting striker. His kick game will pose questions and he times his level changes very well. Radzhabov will march you down and throw plenty of volume. Like his opponent, he's not adverse to a good level change. Radzhabov needs the win more having lost a split decision in the first round.
Marcin Held (27-7) vs Olivier Aubin-Mercier (11-5)
This is a battle of UFC veterans. Held beat defending tournament champion Natan Schulte in a unanimous decision the last day. Aubin-Mercier has yet to compete for the PFL after pulling out with an injury in the first round, therefore he badly needs a win here. Poland's Held is a decorated BJJ black belt and a submission expert, specialising in leg locks. He is capable on the feet, albeit with little threat of a knockout. Aubin-Mercier has a judo background and is an expert at taking the back and locking in a rear naked choke. This will be a fascinating contest.
Natan Schulte (20-4-1) vs Raush Manfio (12-3)
Both men lost their opening matches so we are in the must win territory here. Schulte is out to rediscover the form that won the 2018 and 2019 tournaments. He'll likely use his striking to make an opening for a takedown. From there he can use his impressive BJJ skills. Manfio comes in as a late replacement for the second time this year, replacing Mikhail Odintsov. The pair know each other well, having trained together. He has heavy top control and mixes in ground and pound. His striking is decent. The biggest issue here will be Schulte's familiarity with his game. Schulte is that bit better at Manfio's strengths so it's going to be tough going.
Clay Collard (19-8) vs Joilton Lutterbach (34-9)
Collard upset the bookies in the open round with an impressive win over Anthony Pettis. It's a role he's grown accustomed to in recent times having had some success in the pro boxing world. Brazil's Lutterbach is likely to stand and bang with him. He's a man who's fought just about everywhere in the word, with a mountain of experience. He has concrete in his hands and if he connects clean, it's generally night night for his opponent. If he wants to advance to the playoffs, he needs to connect clean.
The Featherweights
Brendan Loughnane (20-3) vs Tyler Diamond (12-1)
Loughnane has been the star of the regular season so far. He looked spectacular in knocking out Sheymon Moraes in just over two minutes. Nobody else in the weight class even has a finish yet. He is a very exeperienced and well rounded martial artist. Where he really excels is on the feet. If you don't take him down, he's going to outstrike you. He has power, precision and accuraucy. He's like a shark, when he smells blood he'll finish you. Diamond poses a grappling question. He's good in the clinch and throws sharp elbows and knees. The question is can he take him down? Many have tried before and failed. If he can't, PFL bosses should think about writing Loughnane's name on the $1m cheque now.
Bubba Jenkins (15-4) vs Bobby Moffett (13-5)
Jenkins comes in hot after beaten reigning champion Lance Palmer in week one. Jenkins is a suffocating grappler who doesn't give you an inch. He's good at setting up takedowns with his striking. Moffett makes his first tournament appearance. He is a UFC alum and is a submission expert, with a particular fondness for D'arce chokes. The slightest mistake could mean disaster in this one.
Chris Wade (18-6) vs Arman Ospanov (11-3)
Wade was victorious against Anthony Dizy back in April. He has nice footwork and a high output on the feet. He doesn't have that much power so may need to lean into grappling against the heavier hitting strikers. He's too comfortable when his back hits the mat. Kazakhstan's Ospanov is one of those great strikers. He's a fantastic kick boxer and doesn't tend to need the scorecards. He can get you with knees, punches and kicks from any angle. He will be pushing hard for a finish after coming into the tournament late.
Movlid Khaybulaev (16-0-1) vs Sheymon Moraes (11-5)
Undefeated "Killer" Khaybulaev won his opener against Lazar Stojadinovic. He constantly walks his opponents down, throwing heavy shots as he goes. If he gets you back to the cage, he'll try and get you down and destroy you with brutal ground and pound. Moraes needs to make something happen. He will be looking to use his kickboxing to keep Khaybulaev off him and utilise his footwork to keep off the cage. He allowed himself to get backed up against Loughnane, he simply can't do so again. His best route to victory is on the feet.
Lance Palmer (22-4) vs Jesse Stirn (11-4)
It's must win territory for Palmer if he wants to keep his hopes of a third $1m cheque alive. He is a dominant wrestler and has a massive experience advantage in this one. Stirn is also a grappler and this is his first fight in a major promotion. He carries a submission threat, however with Palmer's experience, it'll be hard to catch him. I'm expecting this to be comfortable for Palmer and we'll likely see him reel back the years to his WSOF/early PFL days and win via rear naked choke.
PFL 2021 #4 is live on Thursday night from 23:00 and is available on ESPN and ESPN+ in the USA, on MMA TV (PPV) in the U.K. and on YouTube / Eir Sport (on delay) in Ireland.