The Rejuvenation of Dominique Wooding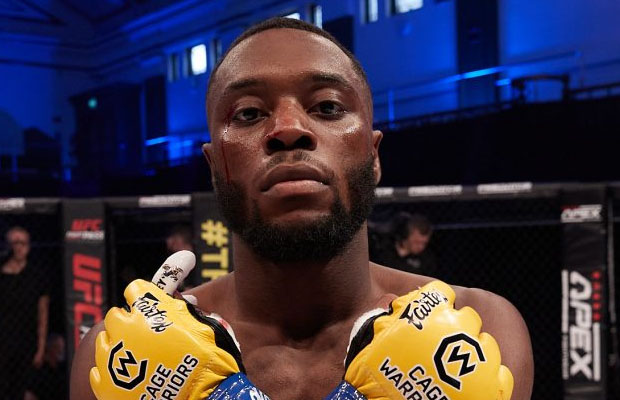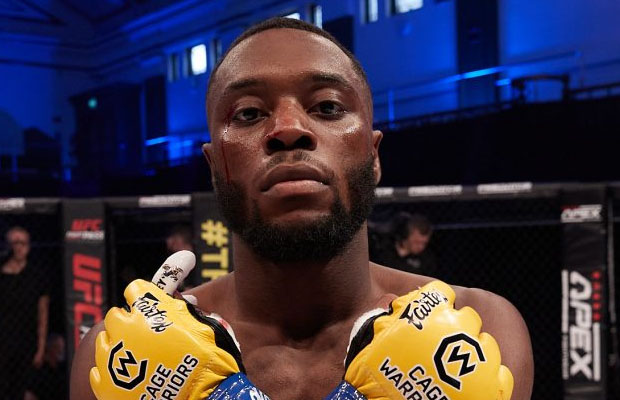 Careers and stories in mixed martial arts are never as straightforward as the fairytale fighters try to follow. The bumps in the road are many and very seldom is it a case of a streamline to success and stardom.
When Dominique Wooding (7-4) left the amateur ranks in 2015, he was one of the brightest British talents and was touted to reach a lot of success in his professional fighting tenure. While that may have been the case for the first three outings as Wooding was silencing doubters, the victories also silenced his flyweight career and left him at a standstill.
Dominique was knocking on the front door of 125, but nobody came to answer.
"Nobody wanted to fight me," 'The Black Panther' informed. "It was so hard to get matched and was ending up fighting once a year. I had to resort to calling people out and ended up getting my first world title shot against Andy Young, which brought my first hiccup."
A world title fight against the vastly more experienced Andy Young, the then-reigning BAMMA world bantamweight champion at BAMMA 28, was a case of too much, too soon for the young 135-pound newcomer. Following his first professional defeat however, Wooding would bounce back in promising fashion: two knockouts in back-to-back, thunderous fashion.
This is where Dominique's bantamweight form began to be found. Much like the previous situation versus Andy Young, the Great Britain Top Team representative found himself with another setback to UK standout Dean Garnett, much to the chagrin of his own performance.
"I still believe I won that fight on ACB," Wooding stated. "Even the home bases were telling me at that time that I won, but I think the judges were looking out for their boy. A lot of people thought so. I didn't give a bad account of myself, clearly, because after that I got signed to Bellator. Before Bellator, I was going to sign with ACB, but I don't think it was the right move for me to make there and then following the Garnett fight."
Following the Garnett bout, Wooding was out on the sideline for a year until Bellator came through. Responding again in frantic fashion, bantamweight striker saw himself on the winning side of his Bellator debut with a first round stoppage to boot.
Once again, just as momentum began to build and Wooding's buzz returned, two big setbacks followed in tough opposition, coming up short to Frans Mlambo (10-5) and Frenchman Fabacary Diatta (7-0). The way Wooding sees things, everything happens for a reason.
October 10th, 2020 was a big learning curve for 25-year-old. It was his first time losing back-to-back bouts professionally and work, changes and lifestyle assessments had to be mended. Wooding tells that there were a lot of things going on behind the scenes that involved with training, management and being pulled in different directions.
As a young combatant with some steam behind you, it's easy to believe in your hype and stop for far too long to smell the roses. You wait just a minute to long and your moment in the sun has passed on to the next big player. Now, older and wiser, Dominique believes he knows what the score is.
"I've changed a lot of things up now included my team and my management," the 11-fight veteran discussed. "Everything is getting done professionally now. After my last Bellator fight, I've changed. I've watched it, maybe, maximum of ten times. I look back at it and it's just not me. I didn't turn up that night. You know when you've got sand in your hand and it's just slipping through your fingers, that's how I look at it. I had to make some serious changes after that fight."
Fast forward to June 25th, 2021 and a whole new Dominique Wooding was introduced. Swapping black gloves for yellow, Wooding reintroduced himself under the Cage Warriors banner against Cameron Hardy (6-3). A performance that was an instant addition to the highlight reel.
Dominique knew many people were writing him off following his last showings, but rising from the ashes like a phoenix, the former has announced himself as a major contender in one of Europe's strongest divisions.
"I was back like I never left," the scrapper cemented. "A lot of people were writing me off after those two losses. People were losing their belief in me, which I expected. I had to go through the rough patches to get to the light and now, with Cage Warriors, this is where I get everything right; taking everything seriously and doing it the right way.
"My record at 7-4, it definitely doesn't match my ability. A lot of people would avoid fighting me, still. The way I've fought and who I've fought, that's what matters. After that last Bellator loss, a lot of changes had to be made. I'm a young vet in this game. I've been here ten years, since I was a fourteen, fifteen-years-old kid. I had to have a few conversations with myself and say, 'Listen Dom, if you really wanna do things in this game, you're gonna have to change up a few things.'
"I had to pinpoint where I was going wrong within my training and outside my training. I had to switch it all up. My attitude towards training itself, you can ask my coaches at GB Top Team. Some are old teammates too. You can ask them and they'll tell you I'm a changed man. Back then, I was just that young kid going around the gym expecting stuff. Now I'm on the right track and acting professionally about it.
"As I said, my debut with Cage Warriors; that's one. Nathan Fletcher's gonna be two.'
Since that fateful come-to-Jesus talk with himself, Wooding and those around him have noticed a significant attitude adjustment; more driven; harder working and Dominique as well as his team firmly believe now is when he will begin to reap the rewards of such commitment.
On September 30th in York Hall – a venue synonymous with Wooding's career; seeing his final, awe-striking amateur performance and the same for his Cage Warriors debut – the 'Black Panther' returns to action. Following former champion Jack Cartwright relinquishing the bantamweight gold, Dominique finds himself booked with fellow prospect and undefeated fighter Nathan Fletcher (6-0) in a battle for all the marbles.
Despite the youth of both competitors, Wooding sees his journey thus far with the better of the experience, lessons and preparation for such an opportunity as Cage Warriors gold.
"Nathan Fletcher is a good prospect," the knockout artist admitted. "But the thing is, I've had the trials and tribulations in my career already. He hasn't. He's only lost once and that was back in his amateur career. He's 6-0 and has big hype with him running with Cage Warriors and Next Gen – they've all got big hype. Listen, none of that fazes me.
"I've been there. This is his big shot. His first time in this light – nothing new to me. I've had world title fights in the past. I've fought in big arenas on big shows. Nathan hasn't. I'm just going to go in there and crush him and Next Generation's wave. Just crush it."
The talk of the accolades is not something Dominique gives a damn about it and has no qualms about saying it. In this rekindled spirit, the London native pulls no punches.
"I'm going in there cold. Colder than before. You've seen my debut and I'm going to do the same thing with Nathan. He's a good opponent and has good skills, but he hasn't faced no-one – I mean no-one – like me. I've come up against his style of fight numerous times. It's nothing new to me. He's never come up against someone that's as pinpoint as me.
"It's typical 'Striker versus Grappler.' Everyone knows the gameplan on both sides. Everyone knows he's going to try and take me down, pin my back to the cage, take my back and get a rear-naked choke, but I've been in these positions in fights and learned from it. You can see the progression in my fights and how I've defended them. He's not come up against an elite striker like me. It only takes one touch, y'know what I mean? One touch.
"He can think that 'he ain't gonna touch me' or whatever, but listen, with me it only takes one touch. I'm a marksman. If I touch you good, that's when you're going to start panicking and you're going to see that with Nathan. He's going to be shooting for dear life when I crack him with one good solid shot. Once we get into an exchange and he thinks he can stand with me, that's where you'll see it change. You'll see him think 'Oh shit I gotta get this guy down.'
"I haven't got anything against the kid, he's just not had his trials and tribulations yet and this is where they begin."
It has been some time since a debut, as clinical as Dominique's was, has received instant gratification in the form of a title shot. Dom, however, wastes no bones about it. These opportunities were in his plans. Something of a self-manifestation.
"I was expecting a title shot by December. I was thinking of fights in June and September, with a title fight by the end of 2021. You can lose so much and gain so much so quickly in this game and this is how things have panned out. You have to be ready at all times, but I'm not surprised at this opportunity. My talent cannot be denied."
Last time, it was an emphatic, ice cold statement issued with a warning of 'that's one.' Next week, Wooding intends to make it two – with a championship over his shoulder for good measure. His mind; bulletproof. His attitude; changed. His demeanor; solid. Even with his newfound brazen, Wooding will humbly testify that this is his biggest bout to date.
"Without a doubt it's up there. I've fought all over, but the opportunity that comes with winning the Cage Warriors gold is real. In that sense, it's big. I can't wait for it. My head is in a totally different mindset and direction now. I know exactly what's going to happen and vice versa, but he's going to realise it won't be so easy and that's where I'll capitalise."