Ireland at the IMMAFs: Day 1 Recap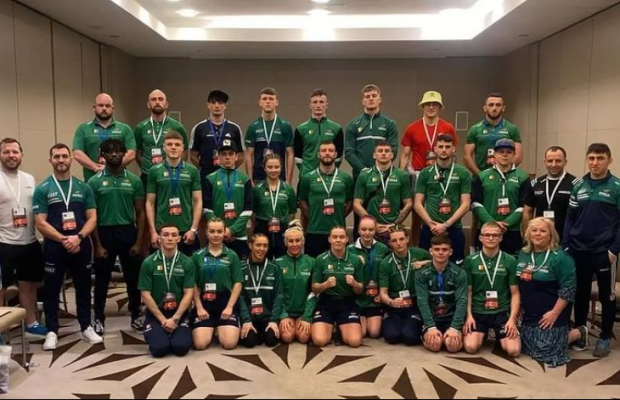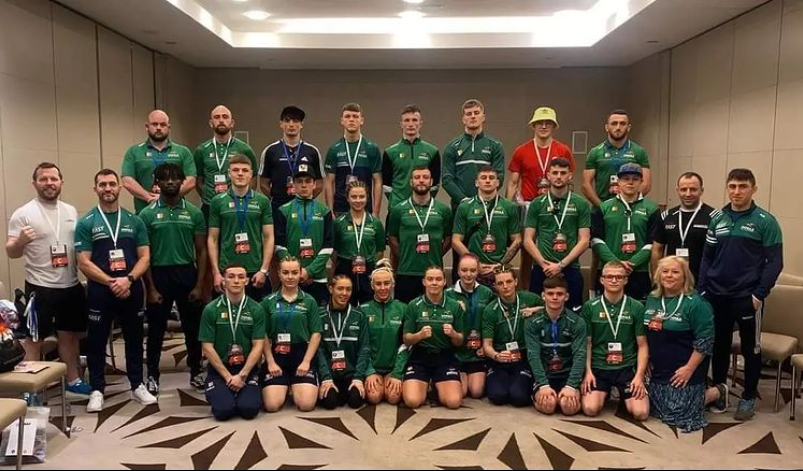 The 2021 IMMAF World Championships got underway today at Jiu Jitsu Arena in Abu Dhabi. With gold, silver and bronze medals available across 16 male and female weight categories in Junior and Senior divisions, the International Mixed Martial Arts Federation's nations tournament will play out across up to 4 cages over 6 days.
With 7 fighters competing on Day 1, it was a mixed bag of results for Team Ireland. The combined Republic of Ireland and Northern Ireland contingent went 4-3 overall, but there was plenty to get excited about and reasons to be optimistic as the team moves forward in the tournament.
The team got off to a losing start as SBG Ireland's Ryan Keogh lost a Unanimous Decision to Tajikistan's Manuchehr Rioev in the senior featherweight division.
Rising amateur star Max Lally scored the first win of the tournament for Team Ireland. The 2021 IMMAF Youth World Champion submitted Estonian Caspar Vahemets with a rear-naked choke in the second round of their junior lightweight contest. The win advances Lally to the last 16 of the tournament, where the SBG Charlestown fighter will face Mongolia's Bat-Ochir Batsaikhan.
Holohan Martial Arts fighter Adam McEnroe scored a second-round TKO over Guyana's Corwin D'Anjou to push Team Ireland to 2-1 on the day. It was a dominant display from the 23-year-old welterweight. Round 1 ended with "Joxer" on top raining down shots, but D'Anjou was saved by the bell. McEnroe put a stamp on his performance in round 2, booking a date with one of the tournament favourites, Bahrain's Murad Guseinov, in the last 16 of the senior welterweight division.
It wasn't to be at this tournament for OMMA fighter Cameron Clements, who lost a unanimous decision to Russia's Abdayla Aliev. Clements fought hard to survive to see the judges' scorecards, but it was a dominant performance by the Russian.
Damien McKenna got Team Ireland back to winning ways with a flurry of uppercuts that earned the OMMA fighter a thunderous first-round KO over UAE's Saeed Alhosani. McKenna will next face Finland's Miro Honkanen in the last 16 of the senior featherweight division.
Team Ryano's Taylor Quinn went crashing out of the tournament on day 1 after succumbing to a rear-naked choke to Belgium's Movsar Ibragimov in round 1.
In the final Irish fight of the day, SBG Cork City / SBG Killarney fighter Ethan Guerin finished Lebanon's Elie Mansour in the second round with a foot lock to set up an Ireland vs England showdown in the round of 16 where he will face Teddy Stringer. Guerin's win finished the day with a total record of 4-3 for Team Ireland.
That's it for Day 1. There will be plenty more action throughout the week, and we will keep you updated on the Severe MMA website and social media channels. Our man Caoilte de Barra is on the ground in Abu Dhabu, and he will be posting regular updates throughout the tournament in addition to capturing some great behind-the-scenes footage of Team Ireland. Make sure to follow the Severe MMA Instagram to stay up to date with that!
Don't forget that all the action from the 2021 IMMAF World Championships can be viewed on the IMMAF website, with the full tournament package costing $9.99. In addition, you can see the fixture list and tournament brackets over on MyNextMatch.
In addition, check out Harry Powell's interview with Team Ireland fighter Gary Rooney, who competes tomorrow. And if you're still not satisfied, get a full preview of the IMMAF tournament (including an interview with head coach Andy Ryan) by watching the first episode of our brand new Irish MMA podcast "The Auld Triangle".