Bellator 275: The Line Up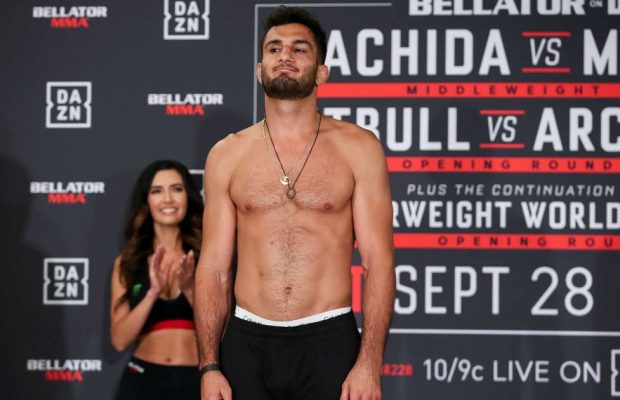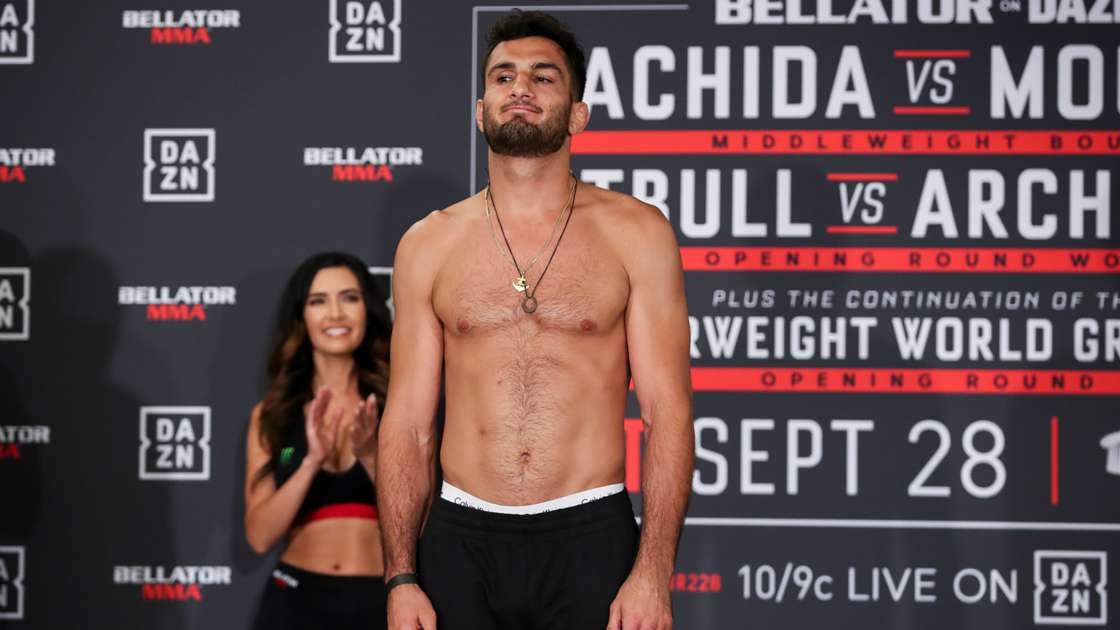 Bellator MMA will return to the 3Arena in Dublin, Ireland as Showtime Sports presents Bellator 275: Mousasi vs Vanderford. The main event features a middleweight title defense for Gegard Mousasi in the form of Austin Vanderford. In the co-main, fan favorite Sinead Kavanagh returns to fight in Dublin for the first time since 2017. Keep your eye out for newly appointed main card fighter Khasan Magomedsharipov who some are calling one of the brightest prospects in the sport. We'll also get an opportunity to view some of the best up and coming talent from the Irish scene, namely Ciaran Clarke, Darragh Kelly, Nathan Kelly, and Lee Hammond. Here's the lineup:
Main Card:
(C) Gegard Mousasi (48-7, 2 NC) vs #1 Austin Vanderford (11-0)
The Bellator Middleweight World Championship will be on the line in the Bellator 275 main event headlined by champion Gegard Mousasi vs the number one contender in the division, Austin Vanderford. Mousasi is well known for being a dominant grappler, as he leaned heavily on that part of his game to earn the belt in the first place. He became the first fighter in history to become both Strikeforce and Bellator world champion when he defeated Rafael Carvalho at Bellator 200, and has since defended the belt twice. After defeating Rory McDonald, Gegard lost the belt to Rafael Lovato Jr, only to reclaim the title a year later after it remained vacant. His last fight was a successful defense against John Salter, and he'll now look to add his fifth title win under Bellator. His opponent, Austin Vanderford, is an undefeated mixed martial artist with five straight victories with Bellator. Since not earning a contract despite winning on Dana White's Contender Series, Austin has worked his way up the middleweight rankings of Bellator and positioned himself nicely for a title shot here. His last contest was a unanimous decision win over Fabian Edwards at Bellator 259.
#5 Sinead Kavanagh (7-5) vs #4 Leah McCourt (6-1)
Sinead Kavanagh will make her first cage walk at the 3Arena since 2017 when she fought on the Bellator 187 undercard in the comain event of Bellator 275. Sinead is a durable fighter who has really honed in on her boxing skills. As a long time athlete for SBG Ireland, Sinead is sure to receive a warm ovation here. We last saw Sinead when she was defeated in a featherweight title fight against Cris Cyborg at Bellator 271 by KO. Across the cage, Leah McCourt is representing SBG Charlestown and fighting out of Northern Ireland. She is on a six fight win streak, including five straight victories under the Bellator banner. "The Curse" won her last fight at Bellator 267 via unanimous decision.
Ciaran Clarke (4-0) vs Abou Tounkara (7-2)
One of SBG Ireland's most promising prospects is none other than local fan favorite Ciaran Clarke. Ciaran is one of nine undefeated fighters on this card and he's only fought within Bellator as a professional. As a strong ground fighter, Ciaran was able to pull off a RNC submission victory over Jordan Barton in his last fight at Bellator 270. Abou Tounkara is a Frenchman who will be making his Bellator debut. Abou has only been to the judge's scorecards once in nine professional fights. This fight was elevated to the main card after news broke that Peter Queally was forced to withdraw.
Khasan Magomedsharipov (6-0) vs Jose Sanchez (11-1)
21 year old Russian sensation Khasan Magomedsharipov (brother of Zabit) finds himself in a big spot on the main card after news broke that comain fighter Peter Queally was forced to withdraw due to injury. Khasan is undefeated with five of his six wins coming by finish. He is a deadly submission artist with powerful strikes to go with that. This will be Khasan's second fight with Bellator. His opponent, Jose Sanchez is an eight year veteran of the fight game and is coming off the first loss of his career. The Spaniard holds a 70% finishing rate, with his only loss coming by way of submission due to a guillotine choke.
Brian Moore (14-8) vs #9 Jornel Lugo (7-0)
Brian Moore is a gritty, homegrown fighter that fans love to watch. He wears shots well and has no problem returning them, all while not giving up control of the cage amongst the chaos. "The Pikeman" is a Wexford native fighting out of SBG Ireland. He had his three fight win streak snapped in his last outing at Bellator 269 where he lost to Nikita Mikhailov via unanimous decision. Jornel Lugo is an undefeated professional fighter training out of American Top Team. He currently holds three consecutive victories under the Bellator banner, including his most recent victory over Keith Lee by rear-naked choke at Bellator 265.
Preliminary Card:
Brett Johns (17-3) vs Khurshed Kakhorov (8-0)
After losing to perennial elite fighters Aljamain Sterling and Pedro Munhoz, Brett Johns ended his UFC run on a two fight streak before joining Bellator. Even before his UFC days, Brett earned the status of becoming the Cage Warriors and Titan FC bantamweight champion. Now coming off of a loss in his debut at Bellator 259, he's got a tough bounce-back fight in the form of undefeated fighter, Khurshed Kakhorov. Khurshed is a powerful striker that is very capable of catching his opponents by surprise with his explosiveness. He currently holds eight professional wins with six of them coming by knockout.
Charlie Leary (17-11-1) vs Davy Gallon (19-7-2)
Charlie Leary is an Englishman who has been fighting professionally for over a decade. He has neat boxing ability which he will look to display in what will be his 30th professional fight. Charlie was last seen defeating local fan favorite Kiefer Crosbie by doctor's stoppage at Bellator Euro Series 9. His opponent, Davy Gallon, is currently riding a 3 fight win streak, including his most recent win in his Bellator debut at Bellator 267. He's a 2nd degree black belt in Judo and proudly represents France. You may remember Davy from his rolling thunder kick KO over Ross Pearson in 2019.
Danni McCormack (5-0) vs Stephanie Page (5-3)
Danni McCormack (formerly known as Danni Neilan) is an undefeated SBG Ireland fighter from Dublin. Danni is a suffocating fighter to deal with on the ground, she rains down vicious ground & pound whenever she gets an opportunity on top. This is her third fight at the 3Arena since she turned professional, and her second consecutive bout there as well. Her opponent, Stephanie Page, is a former Muay Thai and Kickboxing world champion. She is loaded with experience, as she has over 100 Muay Thai fights to her name and from that she has developed a strong, aggressive kicking game. Stephanie last competed at Bellator 269 where she lost a unanimous decision in her Bellator debut.
Darragh Kelly (0-0) vs Junior Morgan (3-0)
Darragh Kelly will be making his long awaited professional debut on this card. Darragh is yet another top level prospect to come out of SBG Ireland and he is only 23 years old. He has a wicked submission game and began his amateur career with five straight submission victories. His adversary, Junior Morgan, is thirteen years older and making his Bellator debut after a two and a half year layoff. Junior is, however, undefeated in his three professional fights in which each bout ended via stoppage.
Vladimir Tokov (7-1) vs Daniele Scatizzi (11-5)
Vladimir Tokov is a Russian member of FedorTeam. He has not fought since he took his first career loss at Bellator 244. At just 26, Vladimir has developed a highly efficient offensive wrestling style, where he often gets his opponents against the cage before taking them down. Italian Daniele Scatizzi is a highly talented grappler with seven of his eleven wins coming by finish. His strength and ability to control his opponents from the top are what contribute to his confidence on the ground. The SBG Ireland fighter even picked up a win at Bellator 270 with a unanimous decision win over Brian Hooi.
Gokhan Saricam (6-1) vs Kirill Sidelnikov (13-6)
Bellator heavyweight Gokhan Saricam is known for his fast hands and accurate ground & pound finishing ability. He trains with many high level fighters, including main eventer Gegard Mousassi. He now has five first round knockouts, including his win over Charlie Milner at Bellator's most recent Dublin event which he earned in 15 seconds. His opponent, Kirill Sidelnikov, is a Russian member of FedorTeam; as this is the case, he gets to train with some of the best heavyweights that Bellator has to offer. Even as a heavyweight that typically weighs over 260 pounds, he has a unique combination of speed, power and endurance.
Nathan Kelly (3-2) vs Scott Pedersen (1-2)
Nathan Kelly will be making his Bellator debut this weekend as he will be yet another fighter hailing from SBG Ireland. Kelly is just 24 years old and enjoying a three fight winning streak. You may remember Nathan from when he won the Clan Wars featherweight title in his last fight by KO in the first round. He also holds a victory over Ciaran Clarke back when they were both amateurs. Across the cage, Scott Pedersen is a Welsh fighter who has only fought professionally for Cage Warriors. His last fight resulted in a loss for him via rear-naked choke in the second round last December.
Lee Hammond (1-0) vs Jamie Hay (2-0)
Lee Hammond will take on Jamie Hay in the opening bout of the night. Lee is a 25 year old SBG Ireland product and a former amateur world champion. He was always known for his submission skills in the amateur scene, but showed an evolution in his game when he stopped his first professional opponent with strikes in the first round. His opponent, Jamie "The Haymaker" Hay is 11 years his senior and fights out of Manchester, England. He has not fought since before the pandemic, but to his credit he holds a two fight win streak which started with an 11 second knockout.