Bellator 276: The Line Up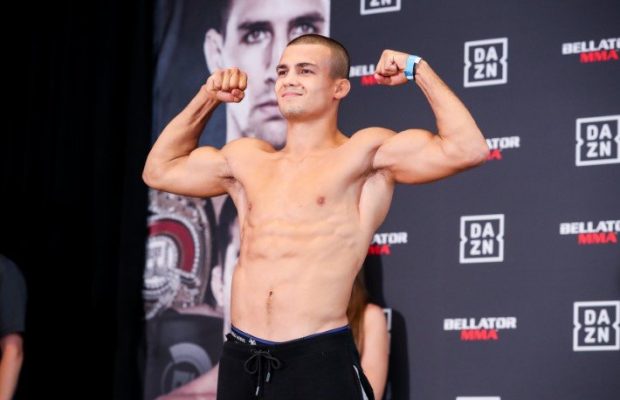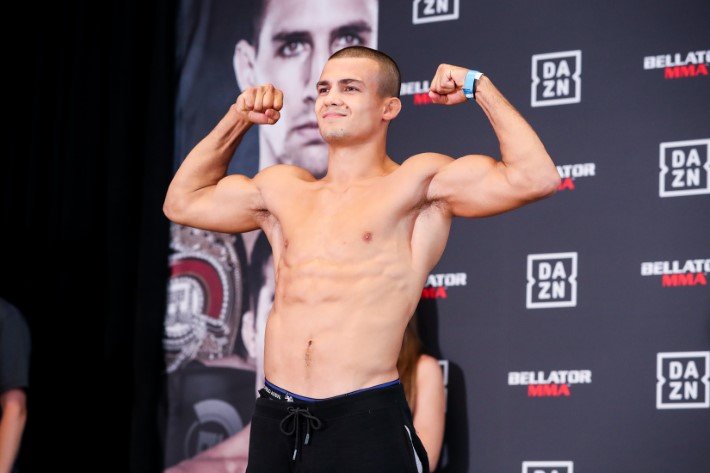 Bellator MMA is back in action this weekend as Showtime presents Bellator 276: Borics vs Burnell live from the Family Arena in St. Louis, Missouri. This will mark Bellator's first trip to the "Show me" state since Bellator 197 back in April of 2018. The main event features both second ranked fighters in the featherweight division, Adam Borics and Mads Burnell. Ahead of the upcoming featherweight title bout, one would assume this fight is critical in determining the next challenger to the throne. The same sentiment goes for the light heavyweight co-main event between Phil Davis and Julius Anglickas, as well as the featherweight bout between John Salter and Johnny Eblen. Several of Bellator's top ranked contenders, new comers, and Missouri-born fighters will be featured on Saturday night's card. Here's the lineup:
Main Card
Featherweight Main Event: #2-Adam Borics (17-1) vs. #2-Mads Burnell (16-3)
Adam "The Kid" Borics will enjoy the first Bellator main event assignment of his career when he faces off against fellow second ranked featherweight contender Mads Burnell. Borics is a 28 year old Hungarian talent fighting out of Sanford MMA. His only career loss came at the hands of Darrion Caldwell at Bellator 238 in 2020 by way of rear-naked choke. Since then he has won three consecutive fights by decision, most notably to the now seventh ranked contender Jeremy Kennedy. His opponent, Mads Burnell, shares the second spot in the featherweight rankings with Borics. Burnell is a former veteran of the UFC and Cage Warriors, and he is on a seven fight win streak. The Xtreme Couture fighter has not fought since last summer, where he defeated Emmanuel Sanchez via unanimous decision at Bellator 263.
Light Heavyweight Co-Main Event: #2-Phil Davis (23-6, 1 NC) vs. #4-Julius Anglickas (10-2)
The Co-Main event of Bellator 276 features a light heavyweight clash between the second ranked contender at 205 in Phil Davis and the fourth ranked Julius Anglickas. Phil "Mr. Wonderful" Davis has fought a who's who throughout his now nearly 14 year professional career. The list of names includes Ryan Bader (2), Vadim Nemkov (2), Glover Texeira, Lyoto Machida, Alexander Gustaffson, Rashad Evans, and so on. His only losses within Bellator have come to undisputed champions Bader and Nemkov. He is coming off of a victory over Yoel Romero at Bellator 266. Anglickas is fresh off of his main event loss to Nemkov in October at Bellator 268. That fight marked the first loss for Julius in nine straight fights. That stretch included his fight at Dana White's Contender Series, in which his submission victory did not earn him a contract. His only losses have come by submission.
Middleweight Bout: #1-John Salter (18-5) vs. #3-Johnny Eblen (10-0)
Johnny Salter will attempt to secure a shot at undisputed gold when he challenges the surging Johnny Eblen in a title eliminator bout. Salter is the number one contender at 185 pounds and he most recently lost to champion Gegard Mousasi. Salter was on a 3 fight winning streak before that loss, and he competed in the ADCC North American Trial this fall to keep active. He also competed in the UFC for three fights in 2010 before he was not re-signed. Across the cage, Johnny Eblen is entering the most important fight of his life. Eblen is an undefeated mixed martial artist representing American Top Team. His powerful punching ability and sublime shot selection have made him a must watch fighter for Bellator. Ebeln also benefits from his wrestling background, as he qualified for the NCAA Championships during his senior year. He has a 60% finishing rate, and most recently won via TKO over Collin Huckbody at Bellator 272.
Lightweight Bout: Jay-Jay Wilson (8-0) vs. Gadzhi Rabadanov (16-4-2)
Jay-Jay Wilson puts his undefeated record on the line in the opening fight of the main card when he takes on Gadzhi Rabadanov. Wilson is just 24 years old fighting out of New Zealand with six Bellator fights under his belt. "The Maori Kid" holds an 88% finishing rate and is coming off of a TKO victory over Pedro Carvalho at Bellator 257. His adversary, Gadzhi Rabadanov, is a Dagestani fighter with a 69% finishing rate. Rabadanov has a combat sambo background and is coming off of his promotional debut, which resulted in a win over Daniel Carey at Bellator 263.
Preliminary Card:
Light Heavyweight Bout: #8-Alex Polizzi (9-1) vs. Jose Augusto (7-3, 1 NC)
Light heavyweights Alex Polizzi and Jose Augusto get the pleasure of headlining the preliminary card of Bellator 276. Alex Polizzi made his way to Bellator as an undefeated LFA fighter. After taking his first career loss at Bellator 251 to co-main eventer Julius Anglickas, Polizzi has produced a two fight winning streak, most recently winning a tight decision against Grant Neal at Bellator 266. Jose Augusto is a Brazilian fighter training with Pitbull Brothers Martial Arts. He has been fighting for a decade, holds a 1-1 record under the Bellator banner and lost his last fight via KO to Anthony Johnson at Bellator 258.
Middleweight Bout: #8-Romero Cotton (5-0) vs. Freddy Sandoval (5-6, 1NC)
Middleweight Romero Cotton will face a new opponent on just ten day's notice in the form of Freddy Sandoval. Cotton is an undefeated fighter representing the American Kickboxing Academy. He has only fought professionally with Bellator, dating back to his debut in 2017. Looking to earn his first win since 2020, Romero has also only been to the judge's scorecards once. His opponent, Freddy Sandoval, is taking this fight on short notice. Freddy will be fighting for the first time since 2009, and this will also mark his promotional debut. All 11 of his fights have ended in a finish.
Flyweight Bout: #9-Diana Avsaragova (4-0) vs. Kyra Batara (8-4)
Diana Avsaragova and Kyra Batara will be the lone female fight on this card. Diana is undefeated at just 23 years of age, making her one of the top female prospects in the sport. She spent some time on the Russian and Georgian scene before making her Bellator debut last year, but is now quickly the ninth ranked contender in her weight class. On Tuesday, we learned that Ashley Deen was forced to withdraw from the bout which created an opportunity for Kyra Batara to slide in. Batara has 12 fights on her record, competing most recently in 2019. The former atomweight/strawweight fighter will move up to 125 pounds for the first time in her career, most recently competing at 115 pounds. She is a seven year veteran of Combate Global promotion, carrying the momentum of a three fight winning streak into this bout.
Featherweight Bout: Cody Law (5-0) vs. James Adcock (7-4)
Undefeated featherweight Cody Law meets James Adcock who steps in on 9 day's notice. Law is one of Bellator's brightest prospects, holding a 5-0 record with the promotion as well as an undefeated amateur career. The 26 year old's last two wins were first round knockouts. Late replacement James Adcock will be making his promotional debut. Adcock has competed at both bantamweight and featherweight for three different promotions throughout his career which dates back to 2014. None of his 11 professional bouts have gone to the judge's scorecards.
Welterweight Bout: Roman Faraldo (6-0) vs. Kelvin Rayford (5-3)
Roman Faraldo will look to remain undefeated when he takes on Kelvin Rayford. Faraldo is a 28 year old who is now three years into his professional career after also finishing his amateur career undefeated. Two of the American Top Team product's three Bellator victories have come by way of flying knee KO, most recently at Bellator 271. All six of his victories have been by KO, and only two have lasted past the first round. His opponent, Kelvin Rayford, is 8 years his senior. Rayford has never fought for Bellator, and has actually competed for seven different promotions. The Oklahoma native will enjoy an additional two inches of height advantage.
Bantamweight Bout: Jordan Howard (10-5) vs. Trevor Ward (6-5)
Jordan Howard will face off against Trevor Ward in a bantamweight bout. Missouri native Jordan Howard has not fought since 2018, when he lost his second straight Bellator fight in a split decision. Now at age 31, Howard is looking to make up for lost time from his four year hiatus. Jordan has never been finished in his five losses. Trevor Ward will also be fighting for the first time since 2018. Ward has never fought for Bellator and is also 31 years old. He has an 83% finishing rate through six professional victories.
Lightweight Bout: Dan Busch (4-1) vs. Josh Augustine (5-2)
Dan Busch will open up the preliminary card when he takes on Josh Augustine in a lightweight bout. Dan is a Missouri native who will be making his Bellator debut. He has been fighting since 2016 and his only loss came by way of submission. He is coming off of a 2021 KO victory that saw him end a two year hiatus. His adversary, Josh Augustine, is also a Missouri native. All five of his victories have been knockouts, and he is fresh off of a first round TKO victory back in January. Augustine was also undefeated as an amateur, and began his career with four straight submission victories.