Cage Conflict 6 Preview & Full Card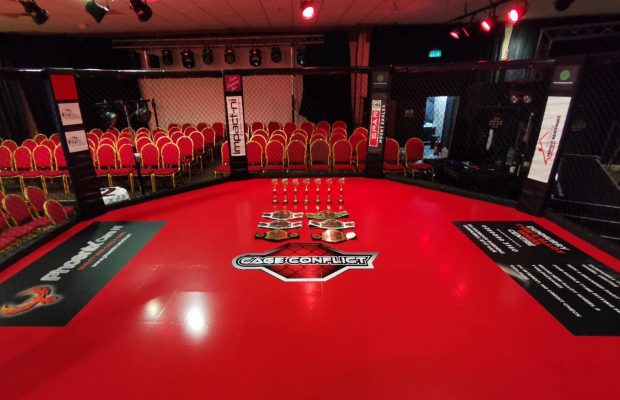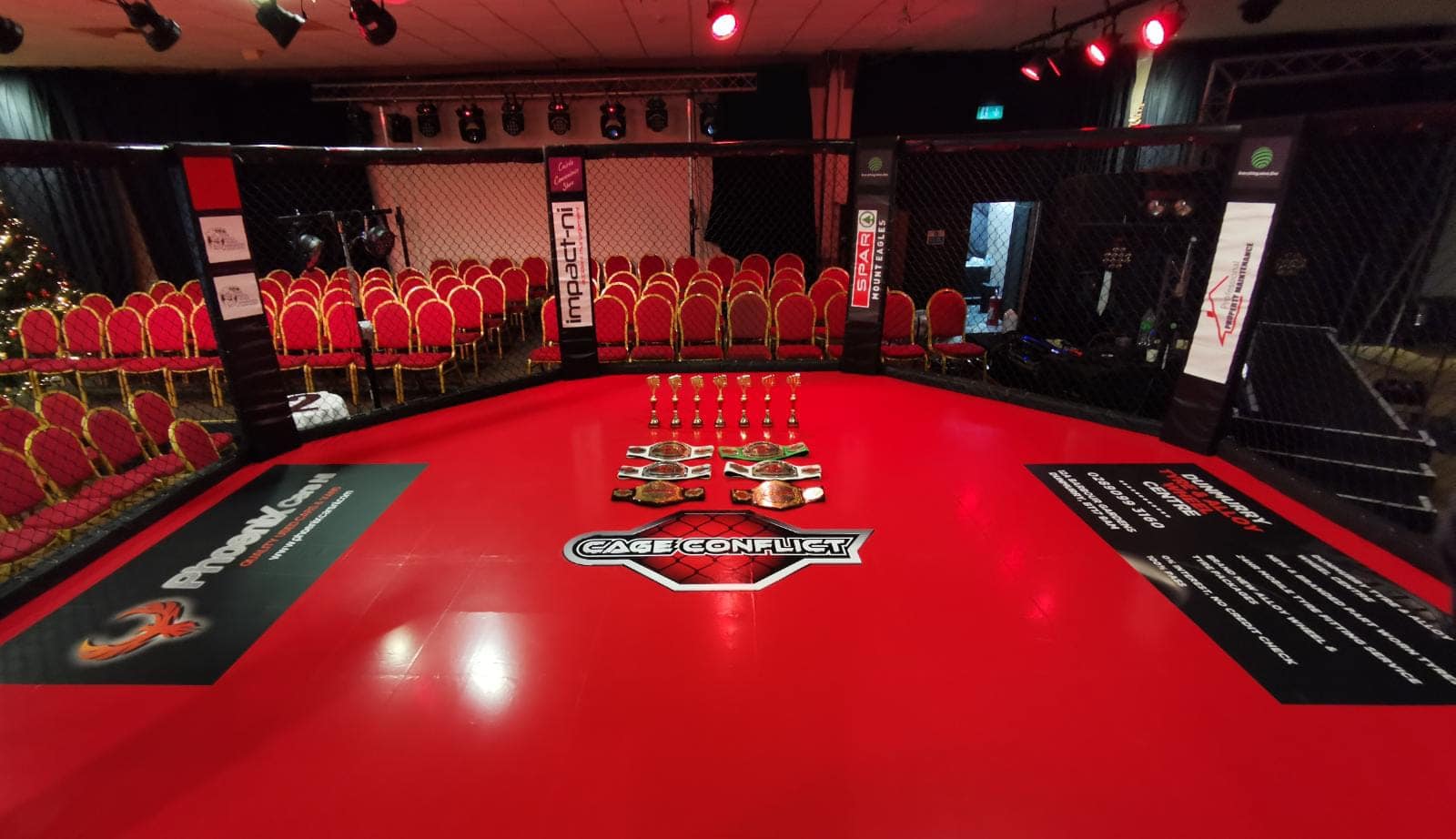 On March 5th Cage Conflict returns for their first show in 2022 following a stellar year in 2021. The event is set to take place in The Devenish, Belfast and boasts 7 pro fights along with a stacked undercard. Titles on the line at both amateur and pro with the flyweight bout between Ger Harris and Ciaran Mulholland topping the card.
In the Main Event, Mulholland enters the bout after going undefeated in 2021, winning three fights in six months. In his most recent bout he picked up the Cage Conflict belt that he will look to defend on Saturday. Harris on the other hand is going big for his pro debut jumping straight into a Main Event title fight. His extensive amateur career included success at IMMAF tournament including a Junior Gold Medal at the 2018 Junior World Championships. Both men have hyped this fight up quite a lot as two of the most highly touted Flyweights in Ireland go toe to toe. This is one you do not want to miss.
FAI fighters fill out quite a bulk of the card with Matthew Elliott, Sean McCormac, Gerard Burns and David Piotrowicz all competing in pro bouts. The latter two will be making their pro debut. Elliott and McCormac each have a pro fight. McCormac picked up a debut win via decision over Vadim Kolesnikov back at Cage Conflict 4. Elliott earned his first win over Scott Pederson back at Cage Warriors 120, he was then left disappointed for the rest of the year after two bouts fell through. He will return against BJJ black belt Michel Da Silva in the Co-Main Event.
Another man making his pro debut will be SBG Charlestown's Scott Harvey. He is returning to the cage for the first time since 2019 and will face Ciaran Breslin. Breslin made the successful switch to pro in December with a TKO/KO win over Mark Andrew.
Team KF's Taka Mhandu will have his first pro bout in Ireland following two fights in South African based promotion EFC. The Bantamweight prospect will be hoping to put his most recent loss behind him by defeating Italy's Ozbazaje Meraj. Mhandu's teammates will feature on the prelim card with Julian Rennau and Ben Hughes competing for an amateur titles in two highly anticipated amateur matchups.
The card will be available via PPV here or tickets can be bought here. The full card for the event is as follows.
Main Card
Professional Fights
Flyweight title fight
Sponsored by Phoenix Cars NI
Ger Harris – SBG Charlestown Debut vs Ciaran Mulholland – FAI (3-2)
Featherweight fight
Sponsored by EDM Solutions
Michel Da Silva – Shaolin MMA (2-0) vs Matthew Elliott – FAI (1-0)
Featherweight fight
Sponsored by The Pizza Place
Scott Harvey – SBG Charlestown Debut vs Ciaran Breslin – ZKJ (1-0)
Heavyweight fight
Sponsored by FAI Ignite
Oliver Basil – Brigg Kickboxing (0-1) vs David Piotriwicz – FAI Debut
Bantamweight Fight
Sponsored by Fáilte Feirste Thiar
Meraj Ozbakzayi – Team Thaiboxe Torino (1-0) vs Taka Mhandu – Team KF (1-1)
Middleweight fight
Sponsored by Platinum Preservation NI
Petru Plesa – Fantom MMA (0-2) vs Sean Mc Cormac – FAI (1-0)
Flyweight fight
Sponsored by Cairde Convenience Store
Robbie Brown – Team Fish Tank (1-1) vs Gerard Burns – FAI Debut
Preliminary Card
Amateur Fights
Bantamweight Title
Sponsored by Peterpan Taxi's
Karl McConway – SBG Charlestown (8-7) vs Eoin McDonald – FAI (3-1)
Featherweight Title
Sponsored by Féile an Phobail
Keith Keogh – CMAC (4-0) vs Julian Rennau – Team KF (2-0)
Welterweight Title
Sponsored by Shredded Meals
Blaine McGill – Kombat Jiu Jitsu (4-0) vs Troy Gibson – FAI (8-1)
Lightweight Title
Sponsored by GDC Fire & Security LTD
Ben Hughes – Team KF (3-1) vs Aodan Devlin – FAI (5-3)
Undercard
Amateur Fights
Featherweight Fight
Ruari Burke – SBG Clonmel (2-2) vs Craig Mc Gratten – Team KF (2-0)
Featherweight fight
Oisin Keoghan – SBG Drogheda (1-2) vs Youcef Oukacine – Holohan Martial Arts (2-2)
Flyweight fight
Matthew McGarrigan – PHK Debut VS Ciaran Coogan – FAI (0-0-1)
60kg Catchweight Fight
Rinald Semjanovskis – Morris Martial Arts Debut vs Ciaran Heaney – FAI (2-2)
Middleweight fight
Jamie Dyas – SBG Drogheda Debut vs Stephen McConnell – FAI Debut
73kg catchweight Fight
Sean Nolan – CMAC (1-0) vs James Hughes – FAI Debut
Middleweight Fight
Luke O'Sullivan – SBG Drogheda (0-1) vs Matthew O'Rourke – Ryano Kilkenny (1-1)
73kg catchweight Fight
Conor Nolan – CMAC (1-0) vs Jack McAvoy – FAI (1-1)
Lightweight Fight
Aodhan Duffy – Kyoujin MMA Debut vs Michael Shields – FAI Debut
Bantamweight Fight
Alanah McArdle – SBG Drogheda Debut vs Toni Taylor – Ryano Kilkenny Debut
Featherweight Fight
Pierce O'Callaghan – Kyoujin MMA Debut vs Ferghal Shivers – FAI (1-0)
Featherweight Fight
Brad mcSeventy – Ryano Causeway (0-1) Vs Joshua Allen – Samson Martial Arts Debut
Bantamweight fight
Rory Donnelly – Samson Martial arts Debut vs James Wallace – FAI Debut
Bantamweight fight
Raquel Garcia – Fantom MMA (0-2) vs Ciara McGuirk – Team KF Debut
Teen Flyweight Fight
Charlie Stone – SBG Charlestown (2-2) Vs Damien McGuigan – FAI (2-1)