Troy Gibson vs. Jordan O'Neill set for Light-Heavyweight Title at Cage Legacy 15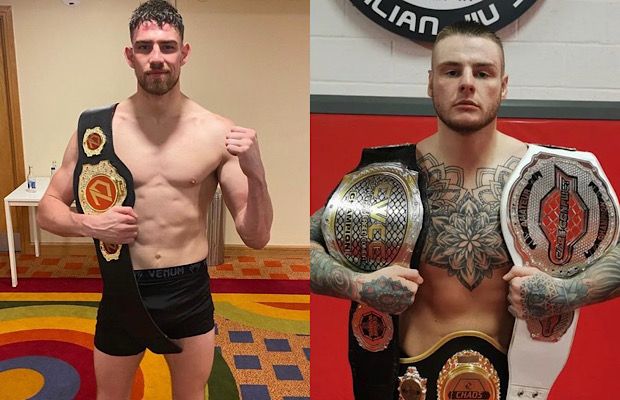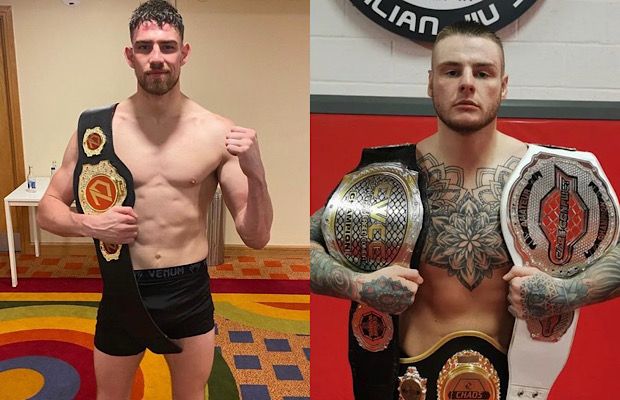 Troy Gibson will go up against Jordan O'Neill for the light-heavyweight title at Cage Legacy 15 on April 10th.
Gibson, who fights out of Fight Academy Ireland, is the current Cage Legacy super-welterweight champion after defeating Maga Zurabov last October,he also holds titles for both Clan Wars and Cage Conflict promotions. "Big Hot Tub" picked up the Cage Conflict welterweight title recently when he beat Blain McGill by technical knockout in round 3 in early March. Gibson will now move up to the 205-pound division to take on Jordan O'Neill.
Fighting out of Kombat Jiu Jitsu, Jordan O'Neill has also picked up a slew of titles so far in his amateur career. Not only has O'Neill picked up multiple titles, but he has done so in multiple weight-classes. "Jumbo" was crowned the Clan Wars heavyweight champion in August 2021, he was awarded the middleweight belt when he beat Gareth McCormac last December and he also captured the Chaos Fighting Championship light-heavyweight strap with his most recent win over Denis Perry in February. Gibson and O'Neill will compete for more gold at St. Mary's GAA grounds in Tallaght on the stacked Cage Legacy 15 card on April 10th.
Tickets for the event are available here and the event will also be available to stream on PPV. See the card in full below.
Fight Card – Not Running Order – Subject To Change
---
Shauna Bannon (HMA) V Kelly Isom (Phoenix MMA) – Pro Strawweight
Jordan O'Neill (Kombat Jiu Jitsu) V Troy Gibson (FAI) – Light Heavyweight Title
Mario Ditofano (SBG HQ) V Solomon Simon (Ryano Waterford) – Lightweight Title
Gary Rooney (SBG HQ) V Paul Nolan (Ryano Kilkenny) – Flyweight Title
Alex Josan (Full Power) V Ryan Keogh (SBG HQ) – Interim Featherweight Title
Karl McConway (SBG Charlestown) V Ross Quearney (C-MAc) – Bantamweight
———————————————————————————————————–
Aaron Boyle (Compound) V Carl Byrne (Dublin City MMA) – Lightweight
Tristan Barnett (SBG HQ) V Liam Tuite (Sanda MMA) – Welterweight
Paddy Symses (Ryano HQ) V Ruairi Burke (SBG Clonmel) – Super Bantamweight
Damien McKenna (OMMA) V Jamie Nolan (Satori) – Featherweight
Nathan Brennan (Ryano HQ) V Geroid McDonagh (Strange Wolves) – Lightweight
Mark Gardiner (The Shed MMA) V Killian Lawlor (Honeybadger Academy) – Lightweight
Josh Allen (Samson) V James McHughes (FAI) – Lightweight
Sean Black (Full Power) V Jordan White (HMA) – Bantamweight
Anatol Bacal (Fantom) V Ciaran Coogan (FAI) – Flyweight
Mihail Golvan (Fantom) V Manu Mauresan (Ryano Waterford) – Featherweight
Paul Fitzpatrick (SBG naas) V Jack McAvoy (FAI) – Welterweight
Tomas Zonla (Full Power) V Dave Conway (Samson) – Lightweight
Cian McCarton (SBG HQ) V Dan Forde (Compound Ryano) – Flyweight
———————————————————————————————————–
Ben Harding (Full Power) V TBA – Bantamweigh Teen Belt
Eoin Hennessy (Ryano Waterford) V Michael Shields (FAI) – Featherweight Cadet
Leah Bennett (Full Power) V Rachel McGuigan (FAI) – 58kg Cadet