Oktagon 36 Preview; Eckerlin v de Oliveira 2, Hathaway returns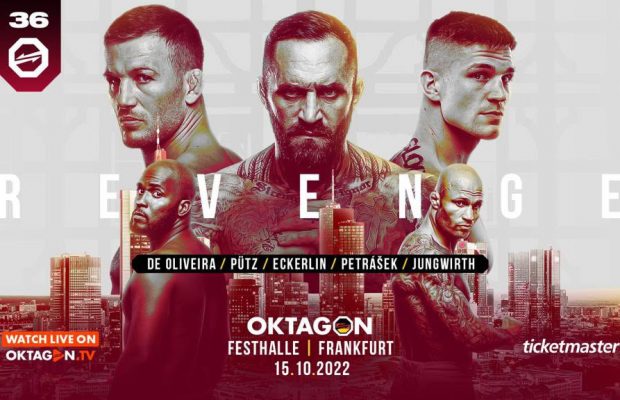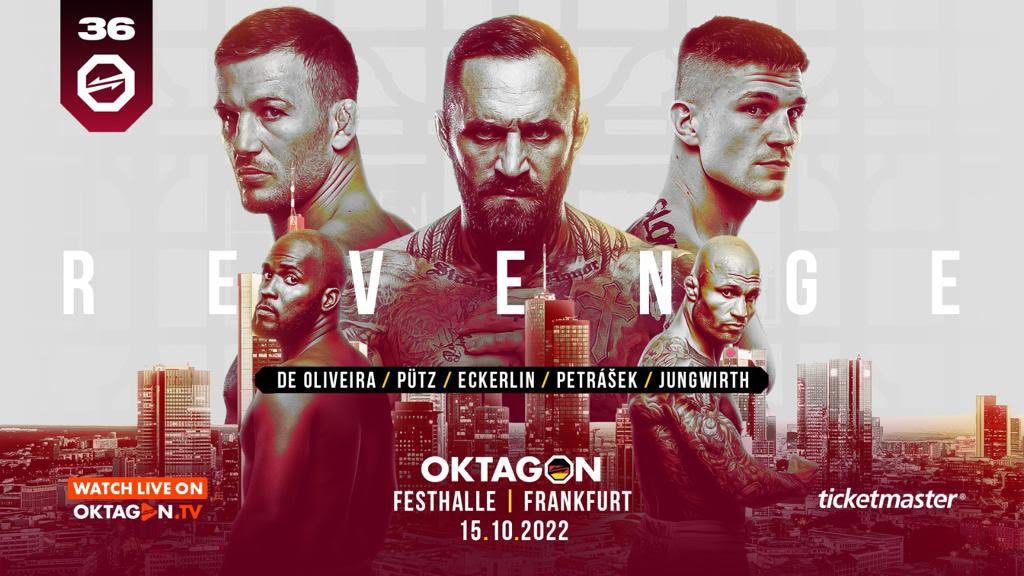 Oktagon is back in action with a big show on Saturday evening. Oktagon 36 goes down in the iconic Festhalle in Frankfurt, Germany. They sold out the arena back in June, receiving plaudits around the global MMA community for a great show. History repeats itself as they've sold another 9000 tickets, selling out the venue again. There will be twelve fights on an action packed card.
Christian Eckerlin (14-5) is the star of the show. Originally from Erbach a few hours outside Frankfurt, he now trains in the city with MMA Spirit. The 35-year-old has won his last seven fights barring a no contest last time out. Skillwise he's one of Germany's best of all time. He's been a pro since 2009 and has a strong grappling game with nice striking. Eckerlin won his Oktagon debut via rear naked choke in the very first round, and he also won his sole KSW fight via split decision after coming in from the regional scene. This fight is a rematch of a fight that ended in a no contest back in June at the same arena. Denilson Neves de Oliveira (16-8) is coming to ruin the party once again, however this time he aims to do it under the unified rules of MMA. The Brazilian spent much of his early career fighting in his homeland, travelling out to Europe for the first time in 2016 with a trio of Polish bouts, including two in KSW. He's bounced between continents since, competing for ACA and Venator along the way. The 26-year-old has a point to prove and he'll want to land his big shots early to silence the rabid crowd. This should be an action-packed thriller.
Jeremy Kimball (18-9) carries a lot of name value having fought in the UFC and Bellator. The man from Vermont came to Oktagon in 2018 and has won three of four to date, including two via TKO. The 31-year-old is a bruiser who will be keen to put his stellar kickboxing to good use. Shots will be thrown with venom and purpose. He'll have an opponent and the crowd to beat in this one. Hatef Moeil (12-4) is loving life at the moment. The German has won eight on the bounce, with five knockouts along the way. The Düsseldorf man beat Kerisson Leal on his Oktagon debut last time in Festhalle. He also has competed in KSW and EMC. The 35 year old will have a four inch height advantage. The likely story of this fight is going to be two lads biting down on their gumshields, risking going out on their shields and going for the knockout.
Stephan Puetz (21-5) is another experienced hometown favourite and training partner of Eckerlin. The 35-year-old has had a lot of experience in M1 Challenge, a promotion notorious for its tough matchmaking. "T-800" is a 6ft5in machine who looks like he was made in a lab. Like his teammate, he's an all-rounder that can knock you out or catch you in a submission on the ground. Miloš Petrášek (12-6) is tasked with going into enemy territory. The Reinders MMA man has a vicious kimura and a nice head and arm triangle, whilst also being a lively striker. Between his stints in XFN and Oktagon, he's used to a big show. These two light heavyweights aren't going to wait around for the judges.
Bojan Velickovic (21-11-2) is a former UFC and PFL competitor and has faced a particularly hard group of opponents along the way. The Serbian is 3-1 in Oktagon with two wins via knockout. The 33-year-old will be looking to continue this return to form on Saturday by putting on a striking clinic. In the grappling, his main weapon is the guillotine so best not leave your neck out when diving in for takedowns. Leandro Silva (25-10-1) is a fellow UFC Veteran. "Apollo" has bounced between boxing and MMA throughout the years and has appeared in PFL, ACA and Titan FC. The Brazilian trains out of ATT in Florida and will be looking to lay hands early and often on his opponent. Should be an exciting contest between two tough, brave warriors.
Samuel Krištofič (15-4) makes his first return since losing to Patrik Kincl in February. "Pirát" is one of the most iconic Oktagon fighters. The Slovakian is a tough, high-level fighter with knockout power and the durability to make it a nightmare for the opposition. He'll face off against Zdenek Polivka (8-5). The Czech has some impressive wins on his resume, including former BAMMA champ Cheick Kone and former UFC fighter Eric Spicely. The Nymburk man has won seven of his last nine, with four coming within the distance. The 24-year-old will likely attack from the off on the feet, however that'll be risky against Pirát. Can he overcome the more experienced foe?
Another rematch opens the main card. Christian Jungwirth (12-5) is looking to make amends after losing the first bout via split decision. The German has won his last three in a row, all within the distance. The Stuttgart man is a danger with his heavy blows and big ground and pound. Máté Kertész (12-5) has won four of his last five. The Hungarian is also at his most clinical in the standing exchanges. He's gone the distance more often than not as of late, however he still packs power in his punches. This will be all about the little adjustments made since the first meeting.
Topping the prelim card is one of the feel-good stories of the year. John Hathaway (17-2) makes his long-awaited return to mixed martial arts following eight years on the sidelines due to awful illness. The Englishman was one of Britain's greatest hopes of capturing UFC gold, going 7-2 in the octagon. The London Shootfighter is still in the UFC pool and is expected to make a return after a few fights should all things go well. The 35-year-old Cage Rage veteran is a fierce competitor on the feet and on the mat, however it's been a lifetime since we've seen him under the bright lights, so we'll just have to tune in to see how it goes. André Ricardo (11-5-2) is tasked with welcoming him back to the cage. The Brazilian is a former TUF Brazil competitor and will be most dangerous in the kickboxing exchanges. I can see Hathaway getting a submission in this one.
Alexander Poppeck (14-2) makes his promotional debut in his homeland. The German has previously fought for the PFL and on Dana White's Contender Series. The Munich man is a Muay Thai fighter with brutal ground and pound. He's big, strong and can dump you on the floor and end it in a hurry. Nermin Hajdarpašić (4-0) puts his unbeaten record on the line. The Swede trains out of the infamous Västerås Fight Club that has spawned the likes of Andreas Gustafsson and Tobias Harila. The 6ft6in giant comes in from Fight Club Rush where he's had two wins via knockout. The unstoppable force is going to meet the immovable object.
Hojat Khajevand (5-3) is an Iranian training out of Freiburg in southwest Germany and is a former foe of Will Fleury. He's a strong wrestler who can be a little fun on the feet. Václav Mikulášek (7-9) is looking to halt a three-fight losing streak. The Czech's gameplan won't be a secret, he's going to be going to try and knock the Iranian out. His submission defence is his Achilles heel which could pose a problem against such a strong grappler.
Ebrahim Hosseinpour (6-6) is another Iranian training out of Germany, this time out of the country's capital Berlin. He's won three of his last four, with the sole loss coming in his Oktagon debut in March. Unlike his compatriot, he's more of a knockout artist than a wrestler. Marek Bartl (10-11) is 5-4 under the promotional banner. The Czech will be happy to fight wherever this goes, however his defence isn't great.
Katharina Dalisda (6-3) will be looking to get the local MMA Spirit gym off to a winning start in the PPV prelim opener. The Frankfurter is a judoka who has fought Danni McCormack in the past. The German is a tough cookie and generally tries to dominate over fifteen minutes. Mallory Martin (7-5) is a UFC veteran who went 1-3 under the bright lights. The American has also fought on Invicta and is a strong grappler with good ground and pound.
The YouTube prelim will feature some middleweight talents. Jakub Bahník (8-4) is a really fun knockout artist. The Czech is a mainstay of the XFN and Oktagon scene and is a fantastic kickboxer. He'll face Jamie Cordero (2-0). The German draws his toughest test to date and puts his undefeated record on the line. He's won one fight via knockout. Tune in early to catch this as it likely won't last long.
Oktagon 36 is live on Saturday evening and is exclusively on PPV at Oktagon.tv from 17:00 Irish time.