UFC Vegas 62 Fighter to Watch: Tatsuro Taira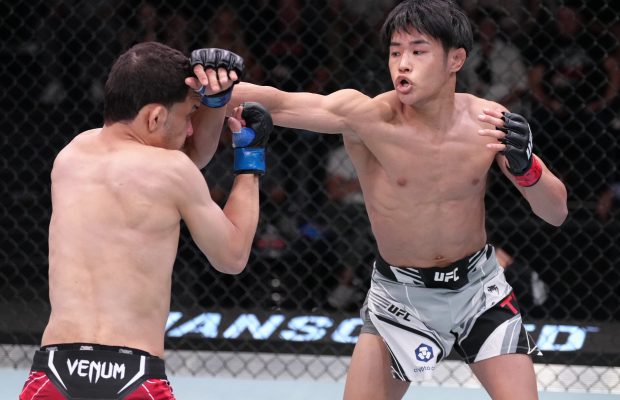 Name: Tatsuro Taira
Nickname: N/A
Record: 11-0 overall, 1-0 UFC
Division: Flyweight
Team: The Paraestra Okinawa
Opponent: CJ Vergara
Tatsuro Taira is one of the most intriguing new additions to the UFC roster this year — an undefeated 22-year-old that was beating experienced veterans, including Yoshiro Made, before he was legally allowed to drink in the United States and looked excellent in his promotional debut back in May.
After going unbeaten as an amateur, Taira turned pro in the summer of 2018 (at the age of 18) and has simply continued winning, amassing 11 consecutive victories with eight stoppages as he readies to take on Dana White's Contender Series (DWCS) alum CJ Vergara on Saturday evening in Las Vegas.
It's a second consecutive bout against a DWCS grad for Taira following his debut win over Carlos Candelario, and precisely the right path for the young fighter from Okinawa to be taking at this juncture of his career.
Flyweight is at a point right now where the top of the division is brimming with talent, and the remainder of the Top 15 features quality veterans and emerging names. Given that depth, there is no need to hustle a fighter like Taira into that experienced pack too quickly.
Bloody Elbow's Zane Simon counts 45 fighters in the 125-pound weight class, which means there are 29 unranked fighters beyond the champion and ranked competitors for Taira to matchup with over the next 12-18 months as he looks to continue improving and gaining time in the Octagon against more experienced, skilled opposition. Now, results will dictate how quickly he potentially climbs the divisional ladder, but given his age and the depth in the division, spending a year fighting outside of the rankings, sharpening his skills would make a great deal of sense for Taira.
Accepting that, there is a clearly a path to the Top 15 for the talented Japanese newcomer.
Despite his young age and somewhat limited experience, his debut effort opposite Candelario offered plenty of reasons to be excited.
After a solid, but unspectacular opening frame, Taira dropped Candelario in the second and quickly took his back, spending the majority of the round wrapped on his opponent, beating him in transitions and maintaining control on the canvas. While the third started with a scare as Candelario attacked a guillotine choke, Taira defended properly and without panicking, worked into top position, and again spent the bulk of the frame being the more dominant fighter on the canvas.
The kind of fluidity and awareness he showed on the canvas isn't something you often see out of a 22-year-old fighter, but at the same time, there were obvious points where Taira could still improve.
He never really committed to attacking when he had those dominant positions, opting instead to "hunt and peck" for chokes and cranks while offering occasional punches and elbows when he had Candelario belly-down or in a prone position. The only time he did really unleash was in the final 30 seconds, where things got a little hurried and sloppy, but there were spots earlier in the fight where if he continued driving home elbows, referee Mike Beltran could have been compelled to step in, and Taira is likely to recognize that when he goes back over the film with his team.
Additionally — and this can't be stated enough — he's 22 and 11 fights into his career, so the growth and development could come in leaps and bounds over the next couple years as he continues competing at this level, expanding his training, and sharpening his considerable weapons.
For all the times we understandably get super-hyped about young fighters, the reality is that most contenders and champions in the UFC don't reach that point until their late 20s or early 30s, if they get there at all. As promising as he looks now, Taira could very well be five or more years away from truly establishing who he is and the way he fights inside the Octagon, which is why identifying him as a Fighter to Watch now is so exciting.
This is an opportunity to track the progress of a clearly skilled prospect from the very early stages of his career and watch how he develops, which in turn can provide a greater overall picture of the different careers arcs fighters can take at this level.
Saturday's fight with Vergara offers a chance to get a second look at Taira and get answers to a few more questions.
Trained by UFC vet Pete Spratt, the 31-year-old Vergara has a little more pop than most of his flyweight contemporaries, and does well mixing up his attacks. He earned his UFC contract by aggressively hunting down Bruno Korea, stinging him with heavy hooks and sharp knees before jabbing the point of his left knee into the Brazilian's liver.
While he stumbled in his debut against fellow DWCS alum Ode' Osbourne, the San Antonio native looked much more comfortable, working through early punishment to hurt Kleydson Rodrigues in the second, and ultimately collect the split decision victory at UFC 274, maintaining his pressure and pace throughout.
He's a solid, but manageable step up in competition for Taira in his sophomore outing, and the kind of opponent that should present important questions for the Japanese prospect to answer on Saturday evening.
Long-term, Taira has the opportunity to be a contender in the flyweight ranks and a dynamic talent. Saturday's pairing wth Vergara is a good test, and a chance to get on the bandwagon before seats are more difficult to find.