UFC Vegas 66: About Saturday's Action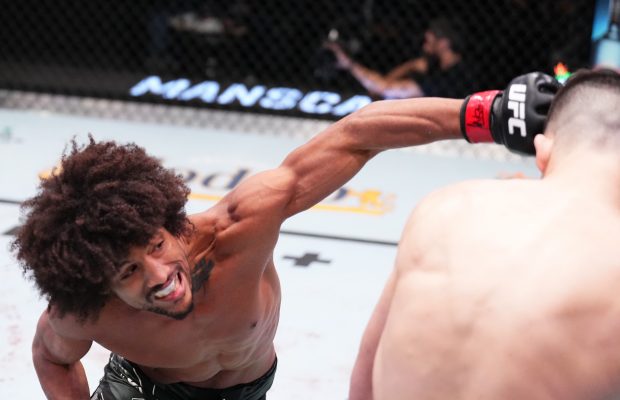 Recapping the action from the final UFC event of 2022, breaking down what transpired, what it means, and what to look out for from the victors and the vanquished next year.
Close Fight to Close the Year
Jared Cannonier and Sean Strickland went 25 minutes in the final bout of 2022, batting shot-for-shot in a competitive battle where all three judges scored the bout 49-46 and no fighter won a round unanimously. In the end, Cannonier landed on the happy side of the split, closing out the year with a victory.
Both men stuck to what they traditionally do best throughout — Cannonier looking for high-impact shots and chopping at Strickland's lead leg, while Strickland worked behind his sharp jab and crisp boxing; the former landing the bigger blows and the latter connecting at a higher pace with greater volume. There was no real grappling or even attempts to take this fight to the canvas — just two strikers marching into the fray, trading blows.
It's a good win for Cannonier, who lost a title fight against Israel Adesanya in July, and a tough setback for Strickland, who closes the year on a two-fight skid after getting knocked out by current champ Alex Pereira on that same night Cannonier challenged for gold.
While this was a solid scrap to close out the year, it also further underscores the gap between the very best in the middleweight division and the men even just a couple spots behind Pereira, Adesanya, and Robert Whittaker. Those three seem several steps ahead of the pack, and it will take some real effort from Cannonier, Strickland, or anyone else to close that distance and establish themself as a real contender.
Tsarukyan Shines
Arman Tsarukyan put a halt to the 19-fight winning streak of Damir Ismagulov on Saturday night, following it up by calling for a date with a Top 5 opponent next time out.
The 26-year-old from Armenia, who debuted with a hard-fought loss to current champ Islam Makhachev, dominated the action throughout, flashing his improving striking in the early portion of each round before getting into his grappling and neutralizing Ismagulov. In the second and third, he worked around to back mount, but was unable to find the finish, as the veteran defended well each time.
No one was in a hurry to face Ismagulov, and Tsarukyan beat him handily, making it even less likely that anyone will be rushing to ask to face him in 2023. He fought Mateusz Gamrot close in June, losing a debated decision, but showed he's still one of the top emerging talents in the UFC, not just the lightweight division, on Saturday night.
Tsarukyan continues to impress and will hopefully get a marquee matchup against a fellow contender in the first half of next year, with a win putting him in the mix to challenge for championship gold at some point in the future.
Albazi is The Goods
Amir Albazi keeps piling up victories, moving his record to 4-0 inside the Octagon with a third-round knockout win over Alessandro Costa on Saturday.
"The Prince" used the opening five minutes to make reads and gauge timing, and then in the second, he dropped Costa with an off-tempo one-two early in the frame. The surging flyweight spent the remainder of the frame battering the Dana White's Contender Series alum, and in the third, he put "Nono" out with a clean uppercut a little more than two minutes in.
Stop me if you think that you've heard this one before: flyweight is going to be front and center to start the year and likely throughout 2023, and a guy like Albazi is going to be a big part of that. He was scheduled to face two different Top 10 opponents here, and should get another chance to share the cage with an upper-echelon talent next year.
He's the genuine article and keeps improving, so pay close attention each time he steps into the Octagon.
Big Win for 'Bruce Leeroy'
Alex Caceres wasted little time getting back into the win column on Saturday, stopping Julian Erosa with a left high kick three minutes into the opening stanza of their featherweight main card clash.
The Ultimate Fighter alum had his five-fight winning streak snapped in March by Sodiq Yusuff, but the man known as "Bruce Leeroy" showed he's still one of the top competitors in the 145-pound weight class by rebounding quickly. Erosa entered on a quality winning streak of his own, but Caceres was the quicker and more active of the two from the jump, and the finish was breathtaking.
This was one helluva way for the veteran to close out the year.
One note on the close of the fight: for whatever reason, the officials tending to Erosa allowed him to get to his feet, and he staggered and stumbled all over the place before finally, mercifully making it to his corner and his stool. Just like with stoppages and cuts and all that stuff, maybe do a better job of making sure athletes that were just dispatched to the Shadow Realm don't teeter all of the cage soon after, no matter how much they swear they're fine.
Drew Dober: Excitement Every Time
There was a reason I said, "Drew Dober is Fighting" as one of the 10 Things I Liked about this fight card on Thursday, and he showed why on Saturday evening.
Paired off with Bobby Green, the lightweight veteran waded into the fray from the outset, catching a ton of punishment for seven-plus minutes before putting a left hand on Green's chin that ended the fight in a hurry. This was non-stop action from the outset, with both men having to take one to land one, and despite a bloody nose and getting touched up a bunch, Dober never stopped moving forward, and secured the finish.
After suffering a pair of losses in 2021, Dober wraps this year with a 3-0 record and three straight stoppage wins, cementing himself as one of the most consistently entertaining fighters on the roster. He's not a big name and is never going to be the biggest draw on the card, but Dober is all action, all the time and deserves a big opportunity next time out, and all kinds of praise for an outstanding year right now.
Okay Mr. Oleksiejczuk, We See You
It was difficult to judge how Michal Oleksiejczuk would fit in the middleweight division since his first appearance came against Sam Alvey. While there was value to getting the struggling veteran out of there in a hurry, being the seventh or eighth consecutive fighter to get the best of ol' Smilin' Sam doesn't exactly scream dark horse contender.
But Saturday night, Oleksiejczuk worked out of an early takedown and back control against Cody Brundage to collect a second straight first-round stoppage win, showing he's definitely a person of interest at '85 heading into 2023.
The 27-year-old Polish fighter had success up at light heavyweight to start his UFC run, and has carried his quick, powerful hands with him while moving down a division. The first left hand that cracked Brundage had an impact, and when the American refused to open his guard and look to get back to his feet, Oleksiejczuk was happy to keep smashing him with heavy shots until referee Mark Smith was forced to halt the action.
Middleweight is wide open at the moment, and while there is still work to be done, Oleksiejczuk could be someone that makes a run in the not too distant future. He called for a bout with Chris Curtis in his post-fight interview with Paul Felder, and I tell you what — that sounds real good to me.
Preliminary Card Thoughts
For some reason, Cory McKenna spent the majority of the opening round of her fight with Cheyanne Vlismas engaged in a striking contest. But late in the round, the Welsh prospect turned to her grappling, realized she had a significant edge in that department, and went right back to it for the remainder of the fight, earning herself a victory in the process.
This seemed like it was going to be a frustrating repeat of McKenna's loss to Elise Reed in London, but she wisely changed course and collected a second straight win. Vlismas was active off her back in the third, but has now been thoroughly out-grappled in each of her UFC losses, and you can be sure everyone that faces her going forward will be looking to put her on the deck.
McKenna is a bit of a question mark in terms of her upside because she's still extremely young (23) and light on experience (10 fights), as well as having the shortest reach in the division, by far. But she's relentless with her pressure and has shown flashes of dominance with her grappling, so it will be interesting to see how she continues to progress with more work at Team Alpha MMA and her team back home in Wales.
The big power of Matthew Semelsberger was the difference-maker in his clash with Jake Matthews, as the former collegiate football player dropped the Australian veteran in each round en route to a unanimous decision win.
If you want to see how the scoring criteria is correctly applied, watch this fight, as Semelsberger's big impact blows rightfully outweighed Matthews' volume. In each round, Matthews landed more shots, but "Semi the Jedi" found his chin in each frame, and those knockdowns dictated the outcome.
This was weird matchmaking as Matthews was coming off a terrific win and Semelsberger was coming off a loss that seemingly established his ceiling. It hasn't necessarily changed after this performance, but it's clear he's still growing as a fighter as he continues to gain experience, and his power will always give him a chance each time he steps into the Octagon.
Credit goes to Said Nurmagomedov for taking full advantage of the lone opportunity Saidyokub Kakhramonov affording him after the opening moments of their bantamweight clash.
After chasing a ninja choke in the first 30 seconds of the fight, Nurmagomedov was on the business end of the action for much of the next seven or eight minutes of action. In each exchange, Kakhramonov was a half-step ahead, beating the ranked bantamweight to each position and keeping him defensive while getting out to a lead on the scorecards. But with a little more than a minute remaining in the second, Nurmagomedov started looking for the choke again, and this time, he found it, drawing out the tap as soon as he tightened his grip.
Kakhramonov showed he can hang with quality competition in this one, but that ability to quickly find a finish is the kind of thing that often differentiates a prospect from a contender, and a contender from a potential champion. Nurmagomedov has some flaws that he'll need to address if he wants to reach the latter designation, but he's clearly a talented fighter and an intriguing figure in the 135-pound weight class.
Rafa Garcia painted the Octagon canvas with his blood on Saturday, but he also picked up a clean sweep of the scorecards, grinding out a quality win over Maheshate.
A slicing elbow to the side of the head in the second round opened up Garcia, but the 28-year-old never let it bother him one bit. He simply wiped it away when he could, dripped it on Maheshate a great deal, and let it dye his chiselled physique while he continued to press forward, wrestle, and generally out-hustle his Chinese foe.
This was a good win for Garcia, who had his tidy two-fight winning streak snapped in a short-notice loss to Drakkar Klose earlier this year. It was also another poor showing on the mic for Dominick Cruz, as he continued to speak unintelligently about how fights are scored, and the impact of cuts and blood in the eyes of the judges. Someone has got to talk to him about dealing back on this or give him the correct information, because it's getting tough to listen to on the broadcasts, and he's unfortunately spreading misinformation that will colour how people talk about these things.
Rinat Fakhretdinov is one to keep tabs on in the welterweight division.
"Gladiator" came out on Saturday and mauled Bryan Battle, dragging the recent TUF winner to the canvas early in the first and second before putting him on the deck with a clean right hand in the third. Each time Battle hit the ground, Fakhretdinov climbed into top position and controlled his adversary for the remainder of the round. It was the kind of suffocating grappling we've come to expect from Russian athletes, and it sets Fakhretdinov up as a person of interest going forward.
The 31-year-old has now won 19 consecutive contests, and there is still room to see growth from him, at least in terms of his output in the cage. He cut Battle with a heavy elbow in the first, and dropped him with a right in the third, but for the most part, his offensive output was muted. If he dialled up the punishment, he could continue to develop into a real serious problem at welterweight.
No one is going to be rushing to face Fakhretdinov with good reason, and it will be real interesting to see how the UFC opts to book him in 2023.
While Manel Kape wasn't able to secure a third straight finish, he turned in his best UFC performance to date on Saturday, outclassing David Dvorak to close out the year with another win.
In the opening round, Kape nearly collected the finish, wrenching Dvorak's left shoulder into a gruesome position, using a kimura to sweep from bottom and attack at the close of the round. He was close again in the second, hurting the Czech standout on the feet and sending him to the canvas a couple times, only for Dvorak to find a way to cover up and avoid being dispatched. Kape let off the gas a little in the third, with two judges awarding the frame to Dvorak, but the damage was already done.
Kape came into the UFC with a ton of hype and brimming with self-confidence, and now he's starting to put the wins together to rise to the level many anticipated for him right out of the chute. This win should catapult him into the Top 10, where a matchup with someone like Amir Albazzi or Brandon Royval would make a lot of sense.
Dominick Cruz had a rough start to Saturday's final fight card.
He spent the first round calling Sergey Morozov the wrong name (he called him Moroz, like Maryna), and then spent the remainder of the contest showing his complete lack of understanding when it comes to the application of the scoring criteria. The former bantamweight standout spoke about cuts winning competitors fights and tons of control time being discounted in recent decisions, offering little or no additional information to support his comments.
Cruz is sharp when it comes to his analysis, but the scoring criteria and judging has been his blind spot for quite some time. Hopefully over the holiday break, he can shore up this weak point and get a better understanding of things ahead of 2023.
And for the record: Morozov out-grappled Journey Newson to win a unanimous decision.