McGregor and Rousey to launch MMA into the mainstream?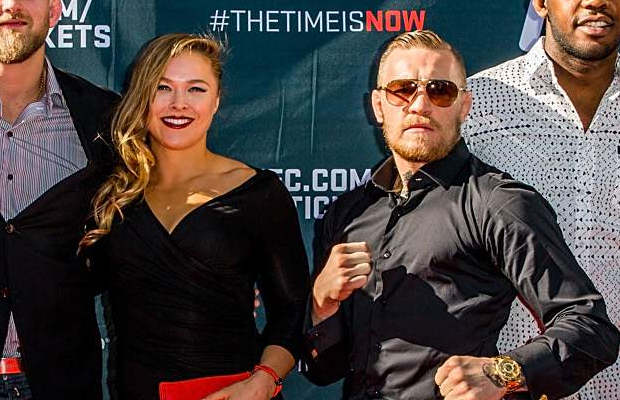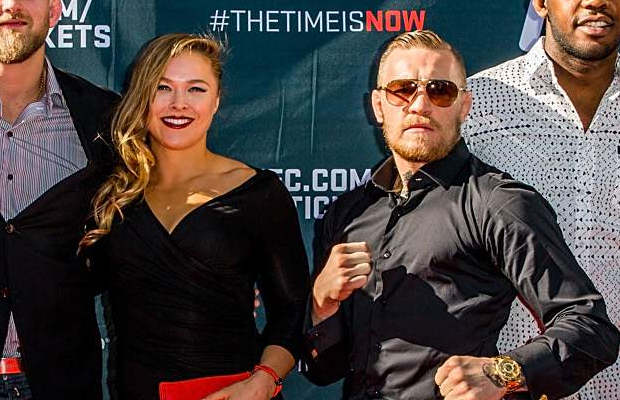 The Rousey decimation of Correia was inevitable. Sold to the casual MMA fan as a stern test for the golden girl of the UFC – other than McGregor, one of the biggest draws in MMA at the present time. But the opponents Correia has faced, prior to the bout with Rousey, are 1-7 in the UFC; hardly stiff opposition. Regardless of her subpar opponent, Rousey caused social media to erupt with admiration and awe for this supreme athlete, and with this heightened popularity, she seems an ideal component in the attempt to transform MMA into a far more mainstream sport – to challenge the NBA and NFL in America, and football in Europe. Rousey can reach areas of the media and a demographic that no other UFC fighter can.
It could be argued that Lawler and MacDonald's fight at UFC 189 went some way to sabotaging the ability of MMA to truly become a mainstream sporting event. The fight was gory, bloody and savage. A bout which left the two men battered and damaged; which is not easy viewing by any means for the casual spectator.
However, in my opinion, the respect fighters have for one another after a fight, in general, seems fairly high, considering the violent altercation they have just taken part in. To compare with another sport, tennis players, men and women, in some cases can barely manage a handshake after the conclusion of a match, let alone an embrace.
After the bout had concluded, the UFC tweeted a photo of Lawler with his arm around MacDonald, whilst both were receiving treatment for their various war wounds. This surely counteracts the gory nature of the fight, as it conveys that their battle was only for competition, in the name of sporting excellence. It wasn't a reckless brawl in the street due to an escalated argument, in which there is genuine vexation and rage between the two participants. Lawler and MacDonald are warriors with respect for their craft and one another. With the UFC growing in stature, and Rousey/McGregor's flourishing prevalence, they clearly want to portray this contradiction between ruthless combat and humility/respect.
My favourite image of this nature is of Paddy Holohan and his opponent Vaughan Lee. After their clash at UFC Fight Night 72, Holohan winning by UD, Holohan tweeted a picture of Lee and himself enjoying themselves drinking tea. The caption read 'We beat each other up and drink tea it's perfect.' This is the ideal accompaniment to the severe nature of MMA, reminding the audience that fighters remain ordinary, regular individuals outside the confines of the cage, not mindless ruffians with a lack of honour.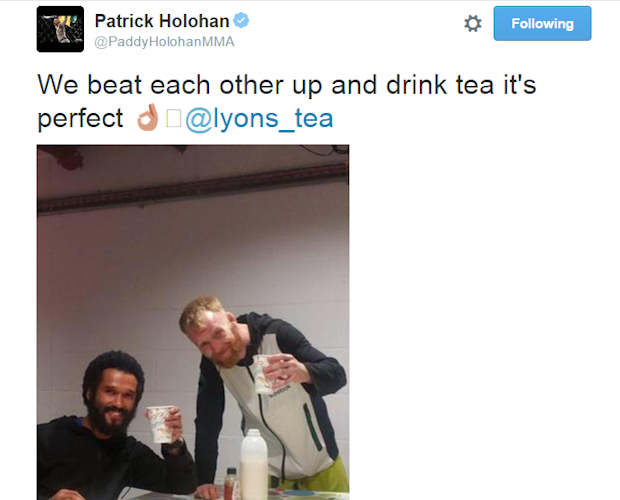 Images of this kind of camaraderie have since been replicated. After their fight at UFC 190, Antonio Silva and Soa Palelei had a photo taken together with an arm around each other. Silva posted the photo on Twitter with the caption 'I love my job, MMA is a beautiful sport. We're opponents and never enemies.' Coming from a man who has one of the most intimidating appearances in the UFC, these words serve as the complete antithesis to his physical presence.
I love my job, mma is a beautiful sport. We're opponents and never enemies..With @soathehulk oponentes não inimigos. pic.twitter.com/tg4hnexLrM

— Antonio Pezao Silva (@BigfootSilva) August 2, 2015
Most recently the UFC posted a photo of Glover Teixeira and Ovince Saint Preux, after their fight at UFC Fight Night 73. It again reflected the recurring motif of ruthless warriors within the cage, respectful individuals outside of it.
If the UFC wishes to truly become a global entity, presenting MMA as an accepted and established mainstream sport, there needs to be a continuation of this. As Rousey and McGregor pull the UFC into mainstream consciousness, these images of fighters embracing after their battles need to continue to permeate social media platforms to inform the masses that although MMA is a rough and ruthless sport, there is still room for respect, honour and decency.
By @CooperSN_