"I would put my money on Conor McGregor" – Michael Bisping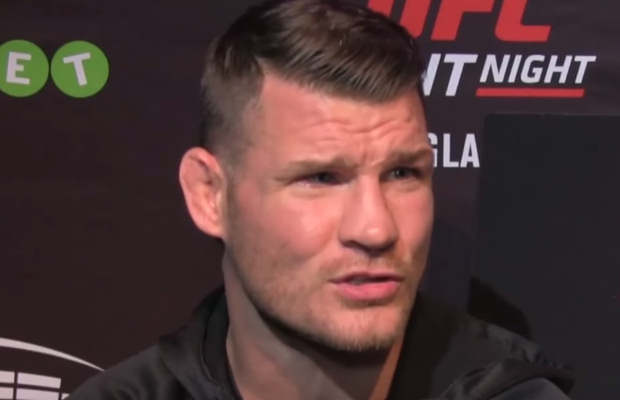 Michael 'The Count' Bisping spoke to the press following the announcement of his pivotal UFC London matchup with multi-promotional champion Gegard Mousasi on February 27, but the conversation quickly turned to this weekend's packed card at the MGM Grand, UFC 194.
The comparisons between Bisping and Irish superstar Conor McGregor have come in thick and fast since the Dubliner's emergence under the UFC banner back in April 2013. Both famed their skills on the microphone, the two Europeans also have strong national followings from Ireland and England respectfully.
When pushed to pick a winner out of the featherweight unification pairing, Bisping claimed he would put his money on 'The Notorious', but the Brit did underline how "very difficult" it is to pick a winner in the most eagerly anticipated featherweight title bout in the history of UFC.
"One day I think it's Conor, one day I think it's Jose," said Bisping. "But if I had to put money on it, I would give it to Conor. But I think they're very well matched and so it is very difficult to say.
"A lot of questions will be answered that weekend. Everybody has their time and Jose has been up at the top for so long, and I think Conor has the best chance out of anyone else."
Aldo and McGregor's unification meeting isn't the only reason Bisping will be tuning in on Saturday night as two pivotal middleweights will also take place on the UFC 194 main card. Chris Weidman defends his 185 lbs title against Luke Rockhold in the co-main event and top middleweight contenders Ronaldo 'Jacare' Souza and Yoel Romero will also meet to establish the division's number one contender.
According to Bisping, Rockhold has what it takes to be the "new champ" and he also tipped Brazilian jiu-jitsu ace to claim victory over Cuban wrestling standout Romero.
"I think Jacare will get the next title shot if he beats Romero. He is certainly ahead of me. But I think if I was to beat Mousasi, and then maybe one more, I could be next in line after that. 
"I think Rockhold will beat Weidman, I think Rockhold is the new champ. He's just too quick and light on his feet. The middleweight division is just ridiculous at the moment – there is no easy road. First, I get past Mousasi and then we see where we are."
@PetesyCarroll