The Big Breakdown: Jose Aldo vs. Conor McGregor at UFC 194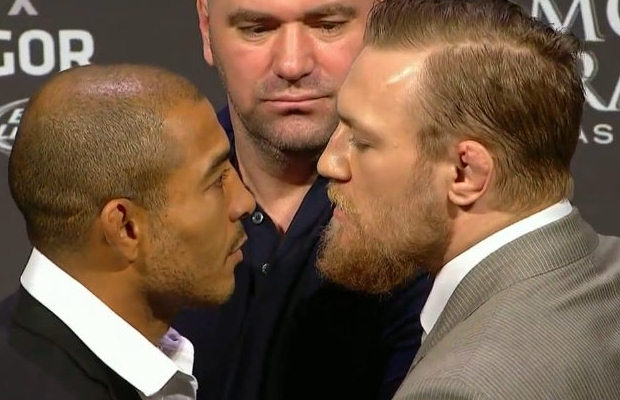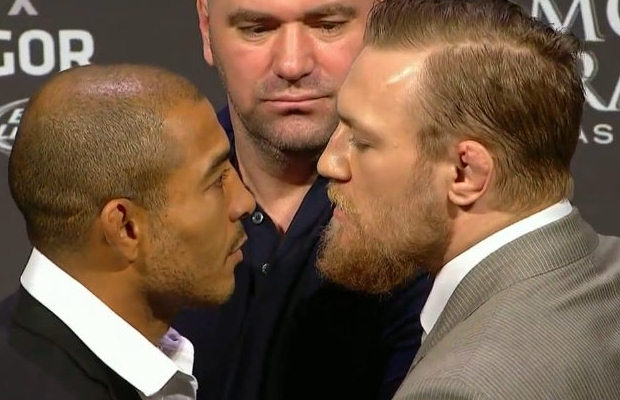 It's finally here.
Well, it's almost finally here.
From world tours and Embedded episodes to knee injuries and rib injuries. From will-he-won't-he to Chad Mendes (and back). From a mob to a king. From a God to a non-believer, to finally UFC 194: Jose Aldo vs. Conor McGregor for the unified UFC featherweight title this Saturday night.
Fights that are this hyped, this anticipated and this talked about rarely deserve half the adoration they are given. But this one is different.
This is a fight between two athletically monstrous born winners in their prime who just so happen to both currently hold a version of the featherweight belt which they have absolutely no intention of letting go. Unfortunately, one of them will have to.
To decide who that might be let's look in-depth at both men's careers, styles and possible gameplans.
The Careers
Born in Manaus, Brazil Aldo – like most Brazilian kids – started out his sporting life as a soccer player before transitioning to fighting when he moved to Rio De Janeiro at seventeen.
There, Aldo joined the Nova União gym where he still trains today under the tutelage of multi time world champion trainer Andre Pederneiras. He made his MMA debut in August of 2004 – a month before his eighteenth birthday.
In his first seven fights as a professional Aldo ran through his competition, beating everyone in the first round, before getting submitted to a rear-naked choke in his eight outing.
That loss, in November of 2005, is the first and, to this day only, time Aldo has tasted defeat.
After the loss, Aldo only fought once in the space of 18 months. But a couple of quick wins in the summer of 2007 saw him signed to the WEC, the top promotion in the world for featherweights at the time.
Aldo quickly rose through the ranks of the American based promotion, beating the likes of Jonathan Brookins and Cub Swanson along the way, before winning the title in his sixth fight against veteran champion Mike Brown. Two title defences against Urijah Faber and Manny Gamburyan followed that before the WEC was purchased by the UFC. A move which saw Aldo ordained the first ever UFC featherweight champion in 2011.
Since then he has fought seven times in an extremely impressive, but nonetheless injury ridden, five-year span. In that time former lightweight champion Frankie Edgar, Mark Hominick, Kenny Florian, Ricardo Lamas, Chan Sung Jung, and Chad Mendes (twice) have come up short against the longest current reigning UFC champion and pound-for-pound king.
……….
Like Brazil's Aldo, McGregor started and still trains in mixed martial arts with his original team of Straight Blast Gym in Dublin under the stewardship of one of the pioneers of MMA in Ireland John Kavanagh.
Previous to that McGregor trained as a boxer at Crumlin boxing club in the capital's inner city and brought that base with him into an MMA career which started for the Dubliner as a nineteen year old in March 2008.
In his first six professional fights McGregor had four knockout wins but struggled on the ground – giving up two losses via submission. The second of which came at the hands of current UFC lightweight Joseph Duffy in McGregor's 2010 Cage Warriors debut.
McGregor quickly got back on the horse after that and developed into the top fighter on the European scene with eight finishes in a row over a two-year period. At the end of that run the SBG man beat Dave Hill and Ivan Buchinger to concurrently hold the Cage Warriors lightweight and featherweight belts.
The only place to go after that was the UFC where a 67 second debut win over Marcus Brimage instantly made him one to watch. That was until a torn ACL in his next fight – a unanimous decision win over Max Holloway – put McGregor on the sidelines for almost a year.
Upon his return, McGregor headlined UFC Dublin where beat Diego Brandao in the first round before wins over Dustin Poirier and Dennis Siver earned him a title shot at Aldo. As we all know by now, Aldo injured a rib two weeks before that fight and McGregor went on to beat Chad Mendes to capture the interim UFC featherweight title which he puts on the line this Saturday.
The Styles
When talking about Jose Aldo's style and technical ability in all areas the word, "perfection" probably gives the best description. Since that early career loss Aldo's eleven years of fighting have seen him develop into one of the absolute best and most distinguished fighters to have ever graced a mixed martial arts cage.
Even though he started out as a grappler, Aldo's greatest strength is undoubtedly his striking. The Brazilian is a Muay Thai machine who remains consistent to his style against all opponents and in all situations. He is light on his feet from the very start of fights. He feints constantly to bamboozle opponents, and moves his head and feet brilliantly to avoid strikes.
And that's all before he even hits you.
Aldo has one of the best jabs in the game from his square stance and throws his left hook – as well as a stabbing knee to the body – with regularity.
His kicks, though, are a big x-factor in his game. In fights against Chad Mendes, Frankie Edgar, Urijah Faber (to almost a finishing rate) and others, Aldo has punished opponents with blistering kicks to the thigh. Kicks which are so fast and hard you can barely see them coming.
Against southpaw fighters (Kenny Florian and Jonathan Brookins) like McGregor, the inside leg kick to the opponent's lead right leg has been the stylistic weapon of choice for Aldo which can be equally as painful.
Outside of his stand-up game there is also plenty of quality in the back pocket of the 2014 fighter of the year to utilize. He isn't the best wrestler in the UFC's featherweight division, but he does a good job of hiding it. When he chooses to take the fight to the floor, Aldo has very nice single and double leg takedowns which he likes to use. Takedowns against the fence – as in his fight with Chan Sung Jung – are also a option while trips from the body lock – like against Ricardo Lamas – are also there.
If he manages to get in top position the Brazilian jiu-jitsu black belt isn't the most dominant at controlling with a heavy base but he makes up for it by being a quick passer with a wonderful mount who will do big damage in a short period of time.
On defence Aldo has arguably the best takedown defence in MMA history and even if you can get him down he usually pops straight back up unless it's late in the fight and the tank is approaching empty.
………
When looking at most fighters in MMA today it's relatively easy to pigeonhole their style. Wrestlers, pressure fighters, submission artist, power strikers, counter puncher or any other myriad of different types of games are on display at the top level.
McGregor, though, is different. He is a unique fighter in a world where development has made most people fight in a very set manner.
As of late, McGregor has fought mostly as a pressure based southpaw who walks opponents down. He cuts off the Octagon with his sublime footwork. He flashes spinning kicks into every part of the body and makes opponents look like they forgot how to fight.
Then comes the pain.
Front kicks to the body and face. Lead right uppercuts. Leg kicks, jabs and then, immediately after that, his crushing straight left hand.
That wasn't always the way, though.
Previously McGregor made his name as a counter puncher who stays light on his feet with the lead hand very active as he opens up to draw opponents in to be countered.
Both styles have brought knockouts. Diego Brandao and Dennis Siver to pressure. Marcus Brimage and Ivan Buchinger on the counter, while an ever developing blend of the pair against Dustin Poirier (and in odd bursts against Chad Mendes) have shown McGregor to be one of the most unreadable and dangerous strikers in the game today.
What's also important to note – along with style development – is its effectiveness. McGregor is, by a distance, the hardest hitter in the division, and up there with Aldo as the most accurate. His jab to left straight combination has been his deadliest weapon to date.  But spinning kicks – like the one which almost knocked out Diego Brandao – and the type of southpaw left hooks which flattened Ivan Buchinger are also capable of putting anyone's lights out.
As a brown belt in Brazilian jiu-jitsu McGregor is also no mug on the floor. Although that is undoubtedly the weakest link of the striking wunderkind.
In his last fight with American wrestler Chad Mendes – a man who struggled in two fights to take down Aldo – McGregor, previously untested against wrestlers, was taken down multiple times in the near two round fight. Despite showing some good takedown defence in the past.
McGregor was again largely untested in competition before Mendes who controlled him for long periods with his back on the canvas. The American did manage some early damage but the fight also gave McGregor an opportunity to show he can get up from the bottom and isn't easily hit or submitted.
Offensively, McGregor is more concerned with striking. But a wonderful takedown against Buchinger – and a series of takedowns against Holloway which led to good top control – show his game there is relatively solid.
The Fight
When looking ahead to any sporting event, and especially an MMA fight, the determining factor at the end of the day is often who can implement a gameplan in a way which gives them the best opportunity of beating their opponent. It's a case of taking away someone's best attribute or attacking the weakest part of their game in such a manner that they can't do the same to you.
When Jose Aldo and Conor McGregor meet, that's exactly what they'll do.
Two of the best fighters in the world, fighting in their toughest match-up ever, on the biggest platform imaginable to them currently. That high-stakes pressure, before a punch is even thrown, can bring a huge mental struggle that will need to be overcome.
McGregor will likely have the edge here come fight night. Thanks to the cancellation of the first fight the mental warfare has been going for almost a year.
McGregor touched Aldo's neck during a talk show when Aldo explicitly demanded that he not be touched. He held his belt in front of him backstage and then ripped it from his table in Dublin and held it in the air.
He calls him a pussy. He says he's his Daddy. He threatens to retire the most feared champion ever seen in the lighter weight classes.
The onslaught is certain to continue as the fight nears.
For Aldo the key is to not let the talk get to him. But with a weight-cut – and no IVs allowed to rehydrate – overcoming media obligations and everything else a fight week brings that might be easier said than done.
Then the real action starts.
A huge constant when watching tape on both of these men is Jose Aldo's unflappable confidence in his game. Earlier I spoke about McGregor being unorthodox and unpredictable; Jose Aldo is the exact opposite.
Aldo will fight in a straight Muay Thai stance. He will throw his jab. Then the right hand. Then the left hook followed by body shots and kicks high and low.
McGregor, on the other hand, will vary depending on which way Aldo moves or which way he feels he needs to attack. The Irishman will push forward to attack the body and head with wild and varied kicks immediately while using his reach to keep Aldo's power strikes at bay. That reach – and more specifically the range at which the fight plays out – will be absolutely huge early on.
Against Florian, a tall southpaw like McGregor whose stance isn't all that different as well, Aldo didn't attack with his usual ferocity early, although he did improve as the fight went on. The difference between McGregor and Florian is that McGregor will have a huge output of strikes and won't be looking for a grappling match.
Look for McGregor to throw mostly kicks from the start as Aldo tries to break down the distance with straight shots and his quick feet. If Aldo manages to get into a boxing range, he knows he'll be able to connect with McGregor who, in almost all of his fights, has taken one or two heavy shots to land one of his own.
Against the likes of Siver, Mendes and Poirier, McGregor knew he could outgun them. He knew he had the power advantage and he knew that, if they smelled an opening, that was his opportunity to capitalise with counters.
If that happens against Aldo – who also has ferocious striking and an iron chin – this could turn into an absolute war for the ages.
Neither man, though, would probably want that. Making it, in a perverse kind of middle ground meeting, more possible. Aldo certainly won't want give up ground trying to establish his in-pocket range where he can land all of his best strikes, including his often fight-changing leg kicks. While McGregor will be steadfast in hitting Aldo from a range where Aldo can't hit him and where he can counter attack the Aldo leg kicks with checks and strikes.
Something will have to give.
Over five rounds with such decorated fighters, you'd also expect them to mix it up a bit too. Should Aldo aggressively get inside, McGregor will have no problem fighting off the back foot. In fact, that might even give him a greater chance of a finish with his unbelievable powerful strikes as Aldo – who ate a good few McGregor-esque hard left hooks against orthodox fighter Chad Mendes – opens up. But that also puts McGregor in danger because of Aldo's hugely dangerous blitz attacks.
Another possibility here – especially if the fight gets out of the first two rounds – is Aldo using his wrestling game. Mendes' success against McGregor is sure to be a factor in Aldo's thinking. Against someone with such an aggressive pace-pushing game as McGregor it might also help the cardio issues which were present in the past.
Because of that aggressive game and ultra high punch output – unless it's a wrestling clinic by Aldo – the more you'd probably think that McGregor might nick rounds the longer the fight goes. But that also depends on who can win the all important battle for range.
…….
Any way this fight goes it will be an eye-opening contest that is hugely important to the future of the division and the UFC in general.
Two featherweight champions, with thirty career knockouts between them, will enter the Octagon in Las Vegas on Saturday night with the world watching.
But only one will leave accompanied by thirty pounds of gold and leather.
Will Aldo, in the tenth year of his reign as champion, continue on his journey to becoming the greatest champion the UFC has ever seen?
Or will McGregor, with fourteen wins in a row and the world seemingly at his fingertips, rip that belt from Aldo's hands and lift it aloft once more?
Thankfully, we don't have long to wait for the answer.
…..
Check out my full UFC 194 preview and fight picks HERE .