Full Event Analysis and Predictions: UFC 205 – Alvarez vs. McGregor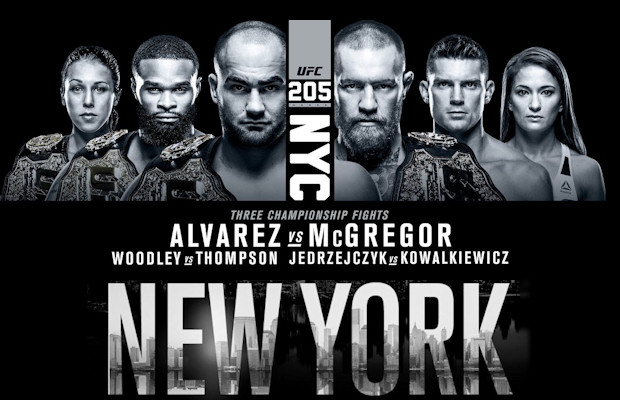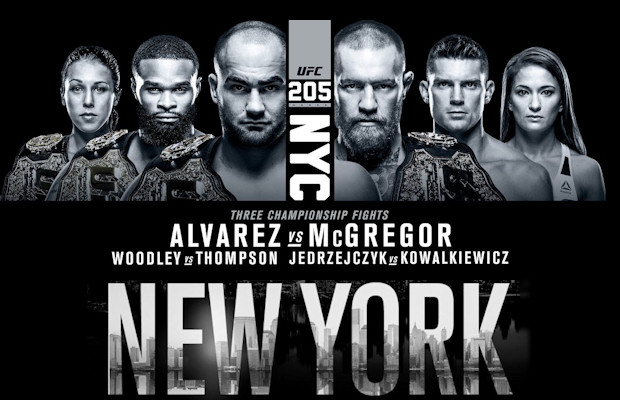 For the first time since UFC 7 in 1995, the Octagon lands in the Empire State of New York following the lifting of the ban on mixed martial arts in the state. To celebrate the occasion Dana White and his new WME/IMG colleagues have really pulled out all the stops with literally the greatest line-up of fights ever seen on one night of combat sports.
For that reason, this week's preview is going to be changed up a little as we look at each of the big fights on the card individually. And boy, are there some good ones.
Having already previewed Eddie Alvarez vs. Conor McGregor in the big breakdown let me start here at the co-main event.
In that spot the welterweight title is up for grabs as champion Tyron Woodley takes on striking phenom Stephen "Wonderboy" Thompson over five rounds.
A native of Ferguson, Missouri Woodley began his MMA career in 2009 by winning ten bouts in a row – against names like Paul Daley and Tarec Saffiedine – before losing out to Nate Marquardt for the Strikeforce strap in 2012. A fight which turned out to be his last before signing with the UFC.
Although Woodley is now the champion just eight fights into his Octagon career, it didn't start well for him. Wins over Jay Hieron, Josh Koscheck and Carlos Condit kept him in the mix early but losses to Jake Shields and Rory MacDonald stopped him from getting to the top earlier.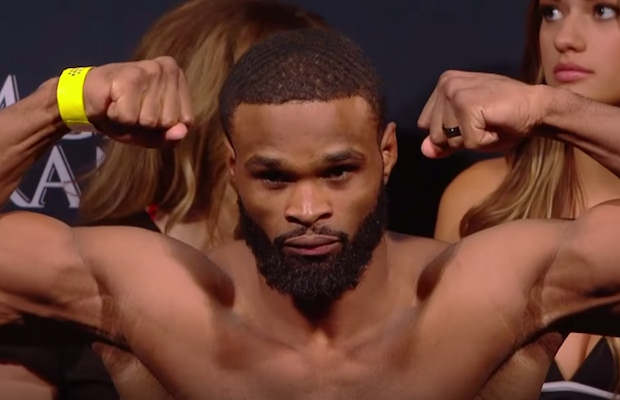 When the title shot did come, it was a little bit of a surprise as his wins over Dong Hyun Kim and Kelvin Gastelum came 18 months before his bout against Robbie Lawler due to opponents pulling out and his personal decision to sit on the sidelines. But once he got into the cage at UFC 201 he quickly ended that wait as it took Woodley less than half a round to end Robbie Lawler's reign as champion.
For a first defence of that title, it doesn't get much tougher than Simpsonville, South Carolina's Thompson. A gifted karateka and kickboxer, Thompson entered MMA in 2010 with a lifetime of victorious martial arts experience in his back pocket.
It took him just five fights to get to the UFC. And although he earned a highlight reel knockout over Dan Stittgen in his debut, Wonderboy was quickly given a dose of reality as Matt Brown grinded him into oblivion in his next fight.
In hindsight that turned out to be a necessary evil for Thompson who has won all seven fights since with names like Patrick Côté, Jake Ellenberger, Rory MacDonald and former UFC welterweight champion Johny Hendricks all emphatically beaten.
As a broad styles match-up this is somewhat like the main event. Strong wrestler with a big finishing punch against a movement orientated striker with a tricky, ruthless, fight-finishing curriculum vitae. But Thompson and Woodley are very different than McGregor and Alvarez when you look a little closer.
Over the years Woodley has improved his game from a grinding wrestler who would hope to land something on the feet to a dangerous power striker who blends his wrestling in a lot. It has almost become cliche to say it but his explosiveness into shots – when striking or wrestling – makes him a tough task for anyone.
Also cliched is talking about weathering his early storm. And it's not that Woodley immediately wilts after his initial burst, it's that he's just not the dangerous fighter who throws leather at the speed of light in the early rounds. In those starting bursts too, Woodley has greatly improved. His footwork to close the distance is excellent and so is the accuracy of his punches.
But when talking about elite footwork, distance control and accurate punching in the welterweight division, it's his opponent which comes to mind first.
In MMA today movement has become sort of a buzzword which people like to use for anyone who doesn't stick their back against the fence like they are Anderson Silva fighting Stephan Bonnar. But with Thompson it's different. He is the master of movement. Real, effective movement. Thompson uses his feet to not only attack and strike but to defend too. From a hands-down position at long range, Thompson can either pounce inwards and attack, or flash left, right or backwards to defend.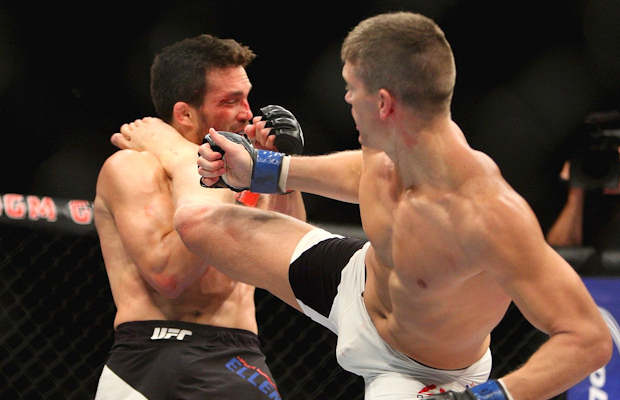 He constantly changes stances and throws kicks from everywhere – which also helps him avoid the takedown – but it's the improvement in his hands which have taken Thompson to the newer level in recent times. His objective at all times is to create space for himself but, in the past, when he was corned against the cage he sometimes struggled to get out. It's his boxing which solved this problem. Instead of throwing a kick in desperation or just allowing himself to be grinded on, Thompson bursts out with his hands to get the modicum of space which he needs to escape totally. That makes him not only hard to catch on the feet, but almost impossible to takedown too.
As a match-up this is obviously a very difficult one for Woodley because of the skillset which Thompson has. But it's also a tough one for Thompson. Usually, owning the range and dictating the positioning of the fight is a relatively easy task for Thompson. And although he'll probably win that battle for the most part, there is a huge danger when he doesn't. That's because of Woodley's punching power and strong takedown game but it's also because he has the ability to cover ground quicker than almost anyone. That bull vs. matador scenario makes this one very intriguing. The best fighter in the division at closing the distance vs. the best fighter in the division at keeping the distance.
When making my pick though, I have to go with the matador. Thompson will know he'll have to be careful early and won't be taking chances. And although I expect Woodley to maybe hold back a little bit to conserve energy because of who he's fighting, I just think it's in his nature to attack hard early. If he does that he'll get one of two things: the knockout or tired. And if he doesn't, he won't pose his usual threat.
After the initial possible mad bursts and feeling out process – which I see Thompson winning from a points point of view – I think Wonderboy will gradually up the output. If he can get Woodley following him around for long periods or get him on the back-foot the fight is his. Look for him to attack the body with kicks before going upstairs with time. I wouldn't be surprised if this one went all the way but I'm taking Thompson inside the distance.
Before that, the third UFC title defence of the night will come in the women's strawweight division as the commentator's nightmare goes down between Polish stars Joanna Jedrzejczyk and Karolina Kowalkiewicz.
A native of Olsztyn in Poland, Jedrzejczyk was the holder of multiple world titles in the striking arts prior to her MMA transition. Because of that it took her just six wins, the last of which came against veteran Rosi Sexton at Cage Warriors 69, to get signed by UFC matchmaker Sean Shelby.
After that, just two wins over Juliana Lima and Claudia Gadelha earned her a title shot against Carla Esparza. And although it was expected to be a tough night for Jedrzejczyk against an American wrestler, the opposite played out as she pieced up the first strawweight champion and finished her early. Jedrzejczyk has defended her title three times since and goes into Saturday night with her undefeated record still in tact.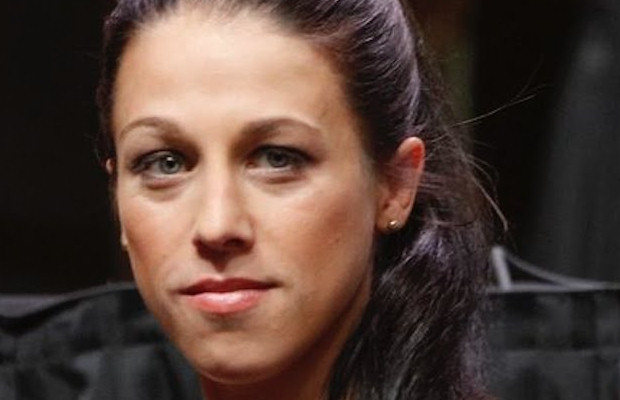 The same though, can be said for her opponent who holds a very impressive 10-0 professional record. Like Jedrzejczyk, Łódź native Kowalkiewicz was a martial artist before crossing over to the dark arts. In her early years she practised the Israeli self defence method of Krav Maga before competing as a Muay Thai practitioner.
After debuting in the summer of 2012, Kowalkiewicz signed for popular Polish promotion KSW later that year after just one fight. In her third outing, Kowalkiewicz won the KSW title but only defended it once as two non-title bouts and a fight against veteran Mizuki Inoue in Invicta saw her signed by the UFC in 2015. Immediately she made her mark with a win over the very talented Randa Markos before defeating Heather Clark in her next fight. That earned her a number one contender fight with top prospect Rose Namajunas which she edged out to put herself on a flight to New York.
As a fight I would expect this one to take place mostly on the feet. And if it does we are in for a battle which will be equal times ferocious and fascination.
Although both women like to fight standing up they do it in a very different manner. Jedrzejczyk is more of a detailed, technical striker who throws with crisp, perfect technique. While Kowalkiewicz is an elusive, footwork-based hitter who will dart in and out with strikes.
Normally, that would lead to a very cat-and-mouse type of fight – but maybe not here. Although Kowalkiewicz fights in a way which makes her very elusive, she actually gets hit an awful lot in certain positions. And it's not because of her range and movement. Instead it's a combination of her loading up on her shots and floating in the pocket when she's finished throwing. The latter especially is a huge weakness in her game.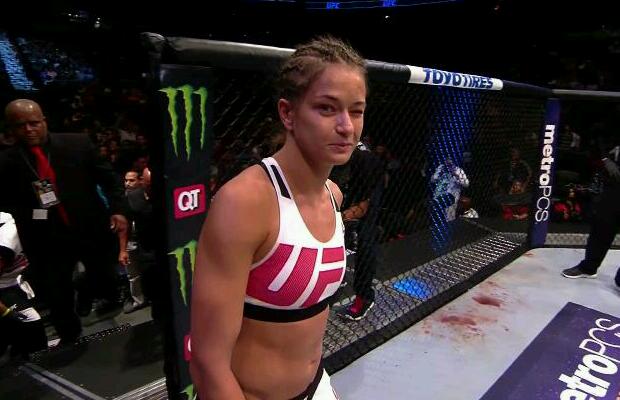 Unfortunately for her, Jedrzejczyk has the perfect skillset to take advantage of that. What makes her special is her ability to not only sniff tiny openings but to take them as well. Her jab is a sturdy opening weapon, her overhand is a powerful tool behind it while her elbows in close can be absolutely devastating – as can Kowalkiewicz's.
The biggest danger for Jedrzejczyk is the initial entry point of Kowalkiewicz – both with strikes and the odd takedown – but after that the danger shifts. Jedrzejczyk's takedown defence and an improving clinch game could also play a factor here when Kowalkiewicz attempts to mix it up. All in all though, you have to favour Jedrzejczyk to win again after defeating Kowalkiewicz as an amateur.
Now with the three big title fights out of the way let's quickly look at the other big match-ups before this article comes out in hardcover.
Personally, Yoel Romero vs. Chris Weidman is the hardest fight on this whole card to pick. I think Romero's game is criminally underrated while Weidman is one of the top middleweights in the world on his day.
Looking at it analytically I'd say Weidman is a better technical striker and Romero hits a little harder while also having a wrestling advantage despite both of them being very good. I think Weidman having an extra long break after the hellacious beating he took from Luke Rockhold also greatly benefits him entering this one. But it really is the elite of the elite and whoever wins probably won't be ahead by much in the fight when it happens.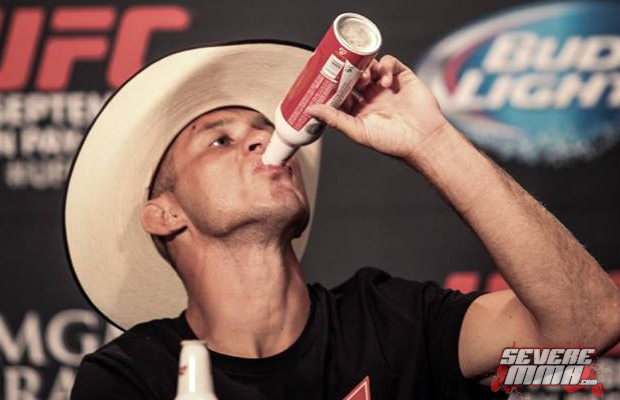 Another hard one to pick for me is the fight between Donald Cerrone and Kelvin Gastelum. On paper this really doesn't do much for either guy rankings-wise but it is a good chance for Gastelum to make his CV look better after a couple of losses in the last four fights. When on form and in shape, Gastelum has been know to rise to an occassion and I think he might do that again here. Cerrone has all the skill in the world but I've a feeling this one could come down to who has more heart.
Outside of that I think Miesha Tate and Raquel Pennington will be better than people expect, Sapo Natal vs. Tim Boetsch should be fun and Frankie Edgar shouldn't have too many issues against Jeremy Stephens as long as his chin doesn't get tested.
And lastly for this week, and sorry for keeping you so long, I have to mention the marvellous lightweight fight between undefeated Russian bear-fighter Khabib Nurmagomedov and slick American striker Michael Johnson. As we know Khabib is an often-injured, dominating grappler who can strike when he needs to while Johnson is an ever-improving striker who came out in his last fight like a man on a mission.
I think most people, including myself, believe in Khabib as a top rate lightweight but this one is a real test against a man whose striking can hurt anyone. But when looking at Michael Johnson's back catalogue the fight against Reza Madadi – where he was grinded out for long periods – sticks out. And I know it has been three years since that and he has improved a lot, but there is no catching up on a lifetime of being a Dageatani cowboy.
FIGHT PICKS
Eddie Alvarez vs. Conor McGregor – McGregor's pressure and precision get him a KO
Tyron Woodley vs. Stephen Thompson – Wonderboy fulfils his destiny
Joanna Jędrzejczyk vs. Karolina Kowalkiewicz – Jedrzejczyk gets a big KO
Chris Weidman vs. Yoel Romero – Taking Romero in a close one
Kelvin Gastelum vs. Donald Cerrone – Gastelum via heart
Miesha Tate vs. Raquel Pennington – Power and wrestling gets Tate the decision win
Frankie Edgar vs. Jeremy Stephens – Stephens is a live dog, but Edgar via decision
Khabib Nurmagomedov vs. Michael Johnson – Johnson is a live dog, but Khabib via decision
Rafael Natal vs. Tim Boetsch – Fancy Natal to get the finish
Vicente Luque vs. Belal Muhammad – Going Muhammad
Jim Miller vs. Thiago Alves – If the weight works, Alves' power should win out
Liz Carmouche vs. Katlyn Chookagian – The striking of Chookagian wins a decision
BETTING
As this week is a special one, I'm giving you a few options.
For an accumulator I'm going with Thompson, Natal, Tate and Jedrzejczyk at just under 4/1.
In outside bets I think Natal via submission at 11/2 is good while at 6/1 a Jeremy Stephens KO is worth a small wager.
While my bet of the week is McGregor via KO at even money.
START TIMES
Early prelims: Fight Pass at Midnight
Prelims: BT Sport 2 at 1am
Main Card: BT Sport 2 at 3am