Nad Narimani: "Paddy normally talks trash about his opponent, but he hasn't with me, he knows the score"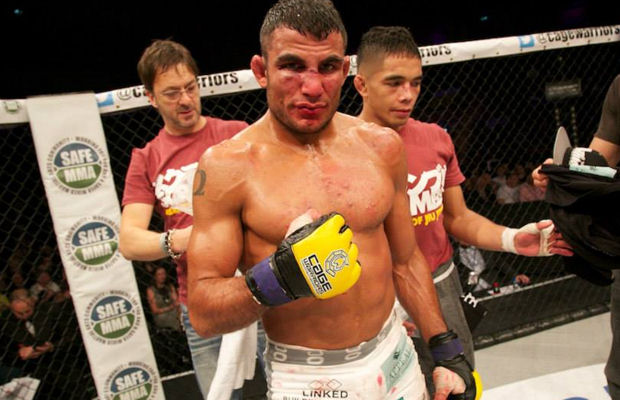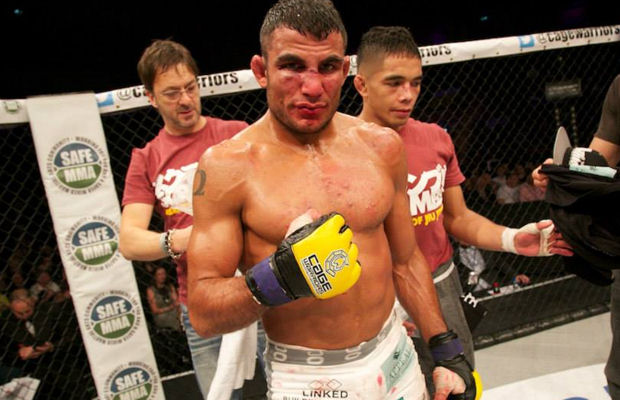 48-47, 48-47, 48-47. The judges had decided who would succeed Jim Alers as the Cage Warriors featherweight champion. Joe Martinez called out the winner's name, it was Alex Enlund who would be leaving Cage Warriors 73 with the belt. Three years later, Nad Narimani has been presented with a second shot at the title, as he travels from Bristol to Liverpool, where he'll face hometown star Paddy 'The Baddy' Pimblett in the main event of Cage Warriors 82.
Narimani has been told that over 7000 people will be in attendance on Saturday, with the vast majority of the crowd inside the Echo Arena favouring the Next Gen fighter. And for some, walking into enemy territory can be nerve wrecking, but Narimani feels that the extra support will count for nothing once the bell rings.
"It doesn't put any pressure on me," he told SevereMMA. "I'm focused on one person, I don't focus on the crowd, there is only person against me in the cage. I think they (Cage Warriors) are taking me to Liverpool to lose, with it being his hometown, but that isn't going to have any impact on the outcome."
Cage Warriors have been accused of favouring fighters signed to Intensiti FM, a fighter management company owned by Graham Boylan, and questions have been asked as to whether those fighters, such as Pimblett and his Next Gen teammate Chris Fishgold, would be spoon-fed opponents. Narimani believes that the promotion are most likely favouring the Liverpudlian, but that "it is what it is."
Matching Pimblett against Narimani, a respected UK MMA veteran, suggests that Cage Warriors want their young champions to face legitimate contenders. Narimani has competed under the Cage Warriors banner on 5 occasions, his most recent appearance being at Cage Warriors 76 in June 2016. He believes the Next Gen stable would be ill advised to judge him based off his last outing.
"I don't think he can really turn down fights, they might have looked at my last fight and thought that I was beatable, but they are in for a big shock if they judge off that fight."
Pimblett's star has been growing over the last 12 months, with many seeing him as the promotion's biggest star since Conor McGregor, but Narimani feels that the reigning champion is going to struggle when the pair meet on Saturday.
"I don't think it'll be a great night for him. This is definitely a big opportunity for me, to snap up the belt and take it back to Bristol would be great."
"I think he is a very wild fighter, but he gets results. He scrambles quite well, but my game is tighter. And I'm a lot stronger than him. I'll hit him with some shots, he won't be able to deal with me strength."
Cage Warriors originally offered him the bout in November, but he was recovering from a ligament injury and had to turn the fight down, Pimblett was then matched Julian Erosa at Cage Warriors Unplugged and secured a controversial victory over the American. Narimani didn't score the fight, but Erosa's inability to finish the Liverpudlian frustrated him. And he is confident that he would finish the reigning champion if they find themselves in a similar situation on Saturday.
"I think it was a bit of a tricky one," he told SevereMMA. "Paddy got a few takedowns and had some control on the ground. Erosa should have put him away, I don't know if he was tired, but he should have put him away."
Narimani, now healed up from the injuries he was carrying into his last fight, and the ligament damage sustained after the fight, has spent a considerable amount of time on improving his conditioning. Narimani won't be making the mistakes Erosa made, believing that the American was too fatigued to finish the 22-year-old. And past performances add credibility to that claim, the British-Iranian has been known to become more active in the later rounds of fights.
"I turn it on when the fight gets closer to the end. If it goes to the fifth, I'll be as strong as I was in the first round. I did so much pad work and boxing for my last fight, I've been working on my wrestling and jiu jitsu more this time, but I've spent a lot of time on my conditioning, especially with this fight being 5 rounds, and my conditioning is the best it has ever been."
Although prepared for the fight to last the full 25 minutes, Narimani is reluctant to let the judges decide the victor. "I'm looking for the stoppage. If it comes in the first, it comes in the first. If I have to break him down and finish it in the 5th, I'll break him down. I don't go in there looking to go the distance. I adjust throughout the fight and find new ways to finish."
Narimani has only been able to step into the cage 3 times since February 2014, with 4 scheduled bouts having been cancelled, for one reason or another, during that period. And his last bout, where he defeated Daniel Requeijo at Cage Warriors 76, was over 9 months ago. That time away from professional competition can be concerning for some coaches and fighters, with the risk of ring rust being a legitimate worry, but Narimani doesn't envision that being a problem for him.
"I don't feel ring rust. I'm constantly sparring and training with top level guys. I was out for a year and smashed Jeremy Petley in under two minutes."
The Bristol-based fighter has never been one to get involved in a "hashtag war" with other fighters, preferring to do his talking in the cage. The reluctance to use social media as a way to raise his profile, and the lack of fights over the last 3 years, has meant that Narimani has struggled to garner the attention that other UKMMA fighters have.
And whilst the back and forth between Paddy Pimblett and Brendan Loughnane has created headlines, the 29-year-old isn't going to change his ways, knowing that his peers respect him and view him as a legitimate threat, he'll continue to use his time in the cage to build his following and catch the eyes of the UFC matchmakers.
"I just have to keep plugging away and beating people, people will start paying attention. Fighters understand what I'm about. You speak to guys like Brendan [Loughnane] and Alex [Enlund], they know the score."
"Paddy normally talks trash about his opponent, but he hasn't with me, he knows the score. He understands I'm the real deal."
"I grew up with the idea that the quiet one is the most dangerous one, not the ones chatting shit."