Pimblett embraces professional approach to silence critics at CWFC 82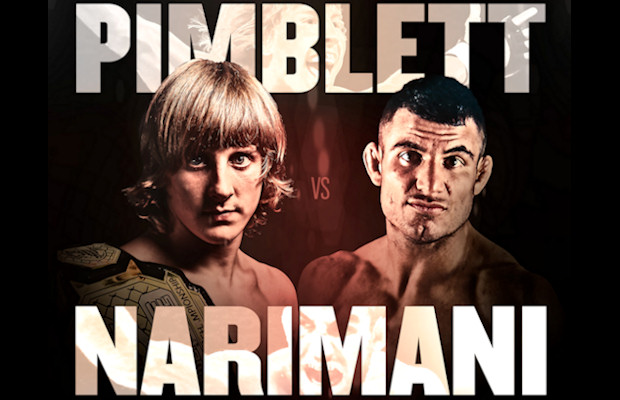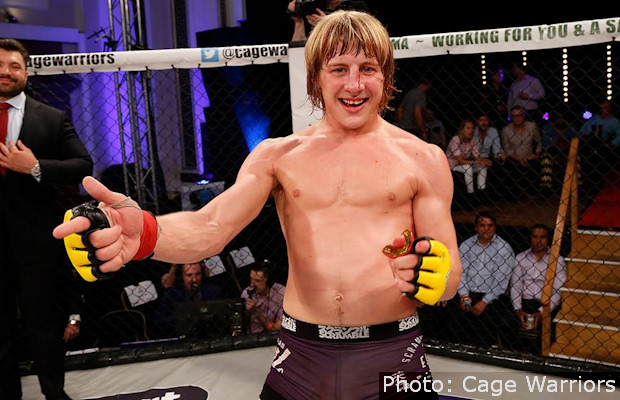 Paddy Pimblett estimates that 8000 tickets have already been sold for his second Cage Warriors title defense on Saturday night in Liverpool.
To sell an abundance of tickets for anything in Liverpool on the same day as the Merseyside derby is an achievement in itself, but Pimblett thinks the big game has only helped the Echo Arena event.
"The buzz in Liverpool huge. I think the match has only added to the excitement," he explained, fresh off a treadmill.
"A lot of people didn't have a lot of time to get interested in my last fight if I'm being honest. That show had to be put together very quickly by Cage Warriors. Luckily, it still ended up being a success.
"For this one, we've had a lot more time to plan it. I think it's going to be something special."
It's not only Pimblett's fans that have a rekindled interest ahead of his fight with Nad Narimani, 'The Baddy' admits his mindset has changed dramatically from his last fight back in November, a narrow decision win over Julian Erosa.
"The last fight did my head in more than anything," he conceded.
"Nobody understood my situation leading into the fight. I had a broken toe. I cut about nine kilos overnight and I had to cut about 15 kilos from about four weeks out.
"I was like an idiot-child eating chocolate, drinking hot chocolate and then spewing because of it. I was just an idiot ahead of that fight. You won't catch me doing that again."
Pimblett's stock was flying high in 2016 with four successful outings for Cage Warriors. The Next Generation man has been one of most highly touted prospects on the European for the last two years, and although he is well used to the limelight, the criticism of his last performance still doesn't sit right with him.
"I don't understand the people who have been calling it a robbery. One of the guys from SevereMMA.com had it 4 to 1 for Erosa. What was he smoking that day?" he asked.
"I think it was Sean Sheehan. I'd like to know what he was smoking that day because to score that fight four rounds to one for Erosa he had to be smoking something. They're all boxing fans that think they know how to score an MMA fight. They don't.
"It was mad, to be honest. It was weird the way everyone was on-side until I had one bad night at the office. I still won and everyone was on my back. That's how good I'm getting.
"I can understand people thinking that he won the last two rounds. I can remember when the fight finished I was thinking, 'I'm four rounds to one up here.'
"Honestly, I thought I had won the last round easier than I had won the first three. People who gave him rounds two and three are just boxing fans who are scoring the knockdown over every other thing that happened in the round.
"MMA isn't scored like that. You can't just score the knockdown when someone has been completely controlling their opponent for three and a half minutes of the round. He briefly knocked me down and I still ended up in top position."
Speaking to Pimblett on the week of his last two fights, you could tell that something needed to change in terms of his weight cutting procedure, or indeed, his competition activity that forced him to undergo the process.
The 22-year-old might not agree with his critics, but it's obvious that he wasn't content with his last performance when he reflected on it.
Ahead of his fight on Saturday night, the submission ace has enlisted the help of his local university to make his weight cut a lot of safer and manageable. He also revealed that his whole outlook on the fight game has changed considerably since the last time we saw him in action.
"That last fight woke me up. This is a far more professional Paddy Pimblett. It's woke me up to a lot of things. It's woke me up in terms of diet, fighting and not underestimating people.
"I'm doing something similar to what Dean Garnett did in that BBC documentary for my weight cut this time. I have a team with me from the university that are giving me scans to gauge my body fat, how much weight I'm cutting and how dehydrated I am.
"Every time I piss I have to piss into a cup for them so they know how much is coming out of me. I'm telling you, I nearly killed someone yesterday morning over it," he laughed.
"It's a lot safer, but it's going to really help me for my next cut because they will be able to compare the data that they get from this time. It is a bit of stress now in the last week, but I think it will be worth it."
On the UK scene, Nad Narimani has a very good reputation, and a lot of people think the 9-2 featherweight could be capable of pulling off a great upset in front of Pimblett's loyal fans.
He might not agree with that forecast, but Pimblett definitely thinks he will have his hands full on the night. Having never been finished before, he wants to be the first man to stop Narimani.
"He's good, man. Nad Narimani is no walkover. He's been beaten twice and they were both decisions, he's never been finished. Graham Turner beat him years ago and then Alex Enlund beat him recently enough for the featherweight belt.
"He's no pushover. He went five rounds with Alex, but I'm a different animal than Alex. Alex is Alex, but he hasn't got a patch on me.
"I'll put this guy away and then everyone will know."
Pimblett seems back to his fun-loving self. At various points during our conversation laughter erupts from around him as his teammates listen in for his infamous one-liners. Spirits are high, and that's always brought out the best in 'The Baddy'.
"I'm in a good place going into this one. For the last few fights I haven't been in a good place and that was because I have been worrying about making weight. The Frachey fight was the same as the Erosa fight. It was very difficult even though I had a bit less weight to cut.
"A happy Paddy is a dangerous Paddy. Happy Paddy shows up and smokes bitches.
"The last two fights I've been looking forward to weighing in. I didn't even care about the fights themselves. I'd just look forward to weighing in and going for a Nandos.
"I'll still go for my Nandos after the cut, but not until I get my proper refuel and nutrition done. Town is going to be crazy on Saturday though because it's Derby day, we'll have to wait and see."
And of course, when Adam Ventre tells Pimblett not to indulge in some hot chocolate ahead of his clash on Saturday night, the headliner is going to listen….this time.
"I will listen to Adam Ventre this time. You won't see me having any hot chocolate before this fight!
"I really wish I had listened to him the first time because then I wouldn't have had to listen to the imbeciles online talking about 'Paddy just threw up blood after the fight' or 'How can he win, he's just vomited blood!?'"
Far more than the victory, or giving his hometown support a night to remember, Pimblett is out to silence his doubters on Saturday night.
"I'm going to shut everyone up on Saturday and I can't wait for it. I'm going to shut a lot of people up and it's going to be absolutely brilliant. I'm going to bounce out there with the smile on my face like I always do, laughing.
"The prep has gone beautifully and the fight will go beautifully. It's going to be beautiful to watch. It's going to be a beautiful beat-down."
@PetesyCarroll