Molly McCann ahead of UFC debut "Cometh the moment, cometh the Meatball"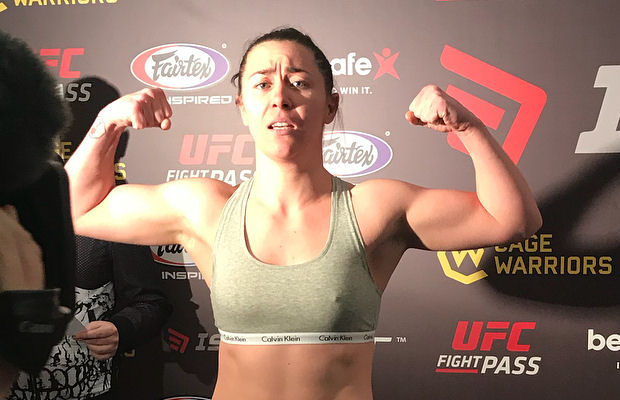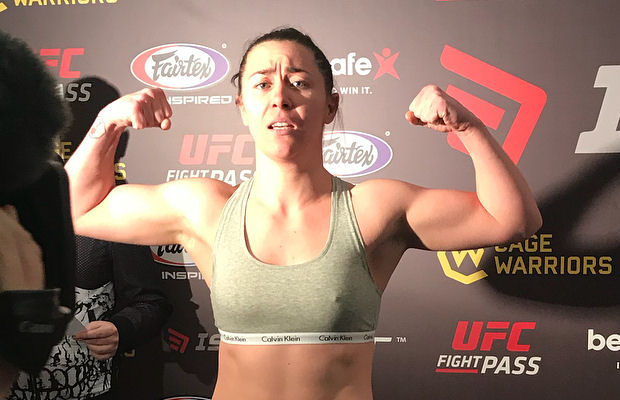 Last week, Severe MMA's John King caught up with Liverpool's "Meatball" Molly McCann, fresh off the news that the Cage Warriors women's flyweight champion has signed a contract with the UFC. McCann was understandably excited explaining how she got word:
"It was Wednesday night and Graham Boylan rang me, and he was like 'I've just spoken to a sponsor about the Cage Warriors September 1st card. Big, big money. We've got you an unreal sponsorship, unreal purse, but we're pulling the card.'
I was like 'you what?!', and I'm sat on the toilet and he goes 'darling, you've done it… May 27th, you're on the card'."
"Meatball" makes her Octagon debut at UFC Fight Night 130, which takes place on May 27th at the Echo Arena in Liverpool. Across the cage on the night will be former TUF winner, Gillian Roberson, who McCann had some thoughts on:
"The opportunity was there for TUF 26 and Gillian was on TUF. My goal was always get the belt first and then go in my own right as a champion. I remember watching it and thought 'there's something about her, she's alright'. She got put against Barb Honchak, who's the business in our weight division, and you could see she was a little bit inexperienced against the more experienced fighters.
She got to the TUF finale and won by quite an impressive armbar. So, don't get me wrong I'm going into this fight believing she's the toughest opponent I've ever had. But, a good soundbite for you is 'cometh the moment, cometh the Meatball'. If the opportunity comes, you know I'm grabbing it with two hands and not letting go."
McCann had some views on the rest of the flyweight division and how she stacks up against her rivals. Not one to mince her words, "Meatball" saved a special mention for former strawweight queen, Joanna Jedrzejczyk:
"I believe I've got a better record than 80% of the division. I've not fought any mugs, everyone's been experienced, everyone's had their shot. They fell short of it and I haven't.
No-one talks the talk like me, but I don't think I do it arrogantly. Some of them get it wrong in American, Joanna is a little bit mouthy and it's like 'oh shut up, just go and do the f**king job'."
All in all, it would appear that McCann is exactly where she expected to be and has no doubt about the timing:
"A year ago today, I had my first pro fight in the Echo. And a year to the day I signed, had three fights, won the belt and signed for the UFC, all in a year. So, it just feels right, it wasn't rushed, it wasn't forced."
She also spoke bullishly about her long-term plans now that she has made it to the UFC, laying out some ambitious goals and championship aspirations:
"My five-year projection: win my first three fights, gain sponsorships to sustain myself so I don't have to work, headline a UFC fight night, win the belt and become a commentator…
I'm 28 now, so by the time I'm 33 I want to be doing what Miesha Tate is doing, that kind of role and like Dan Hardy in Cage Warriors. I love being involved in fighting and I don't think I'll ever not be involved in fighting."
Asked if she had a message for UFC fans who will soon be watching her on their screens, "Meatball" said:
"A fan once sent me a picture and they said: 'You are guaranteed someone who will fight for every second, every minute of every round.' I'm like Cowboy Cerrone, I'll leave my life in there if I can. So, follow the journey, get involved, we're going to the top."