This Weekend's Warriors: Chaos in Bahrain following KO in Israel.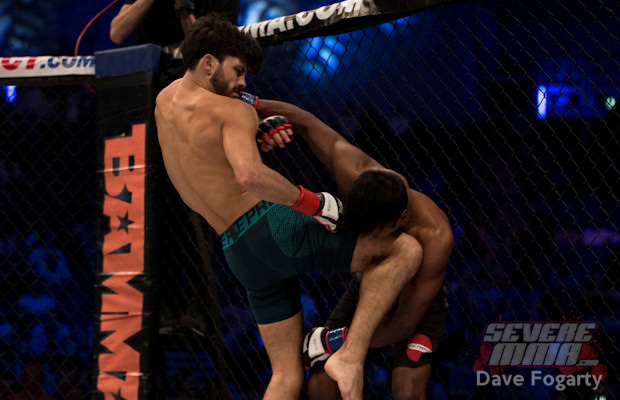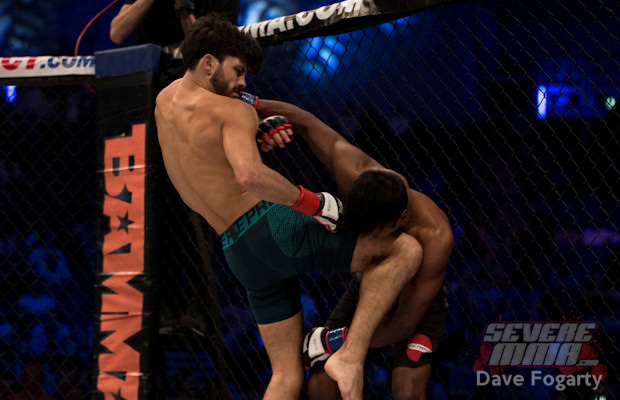 Welcome back to the sometimes present but never consistent column for Severe MMA, where we focus on Irish MMA pros fighting at home and abroad this weekend. Unfortunately, this issue was delayed, and thus Sinéad Kavanagh's fight has already happened.
Sinéad "KO" Kavanagh (SBG Ireland HQ, 5-4) vs Olga "Big Bad" Rubin (6-1)
(This was written prior to the fight)
Kavanagh takes on hometown fighter—and the most recent challenger to Julia Budd's FW crown—Olga Rubin. Kavanagh is coming off a controversial decision loss to Leslie Smith, which many scored in favour of the SBG Ireland athlete. Kavanagh's skillset has looked more polished as of late, displaying crisp striking off the back foot and a more composed gameplan. Despite a record of 5-4, it is unquestionable that Kavanagh is on the rise, and yet again she is faced with her toughest test to date in Olga Rubin.
It's hard to tell what Bellator's motives are here in making this matchup now. Rubin is looking to bounce back in her native country off a loss to the champ back in July. Do Bellator view Kavanagh as a winnable matchup to get Rubin back on track in front of a hometown crowd? Do they view Kavanagh as a potential title challenger down the road?
Here are my two cents: while Kavanagh's 5-4 record is nothing to celebrate on paper, it doesn't tell the full story of the heavy-handed Dubliner's career. Sinéad may be on a two-fight losing streak, but the loss to Harding was due to a doctor stoppage for a cut, and had it continued I think Kavanagh would have won. Similarly, the split decision loss to Smith was arguable at best. The truth is Kavanagh put on a clinic, sticking and moving throughout the three rounds. It's one of those fights where the shouts of "robbery" are for once justified. Alas, the judges deemed that Smith's forward pressure earned her a victory, even if I disagree. Kavanagh is displaying incremental improvements in each of her recent fights, and a win over Rubin could catapult her to the upper echelon of the Bellator women's 145lbs division.
UPDATE: Sinéad Kavanagh def. Olga Rubin via 2nd-round TKO. Due to Bellator's archaic tv deal structure, nobody saw it. Big win for Kavanagh. I tweeted back in July that I think we will see her face Cyborg in the next two years. Something tells me it may be sooner than that though!
Ryan "Chaos" Curtis (SBG Charlestown, 5-1) vs Amir "The Prince" Albazi (11-1)
Curtis tore onto the Irish pro MMA scene in 2015 with three consecutive knockout victories to open his career, culminating in an undefeated 4-0 record by the end of 2016. After losing his 0 to Daniel Barez on BAMMA 30 (remember when BAMMA existed?), it seemed that "Chaos" had disappeared from competition, and many were left wondering when we would see the exciting Dubliner fight again. 19 months after experiencing his first pro loss, Curtis emerged from the shadows and re-announced himself as a serious flyweight prospect with a bang, dismantling the 8-4 Luis Gonzalez in his Bellator debut. Curtis lit Barez up on the feet, most notably with a vicious knee that dropped his opponent. With 1 second to go in the round and Curtis raining down strikes on a downed Barez, the fight was waved off and Ryan Curtis was back in the win column, doing so in impression and devastating fashion.
Amir Albazi is no joke though. The London Shootfighters athlete has suffered just one loss in his career also, at the hands of ex-UFC fighter Jose "Shorty" Torres, who ended Albazi's 10-fight undefeated streak. London Shootfighters have been producing a string of high-level fighters: MVP, Norbert Novenyi Jr, and Mike Shipman to name but a few. Albazi will be the toughest test of Curtis' short career to date, and I predict a war.
You can watch Ryan's fight LIVE and FREE on www.bravecf.tv. The card kicks off at 5.30pm local time in Bahrain (2.30pm Irish time).
John "Johnny Jitzu" Redmond (7-14) vs Jonatan Westin (10-4)
John Redmond fights in Sweden this weekend on the Ak Fighting Championship 2 card. The long-time veteran of Irish MMA is currently on a three-fight skid, his last win coming against Glenn Irvine back in 2016. Westin is on a two-fight skid of his own, his most recent loss coming at the hands of Abubakar Nurmagomedov (Khabib's brother). Redmond will surely be going into enemy territory as an underdog in this co-main event.
Matiss Zaharovs (SBG Portarlington, 2-0) vs Hussain Maki (4-2)
Latvian-born Irish-bred Zaharovs makes his Brave CF debut alongside Ryan Curtis today as he takes on Hussani Maki. The SBG Portarlington fighter has finished both of his first two fights after transitioning over from an 11-fight amateur career.
If I have missed anyone, feel free to let me know. Also, be sure to check out Artem Lobov's rematch against Jason Knight in BKB. While it's not an MMA contest, the world will certainly be watching after the war the pair went through last time out.