Gallagher: I want to be world champion, that's my dream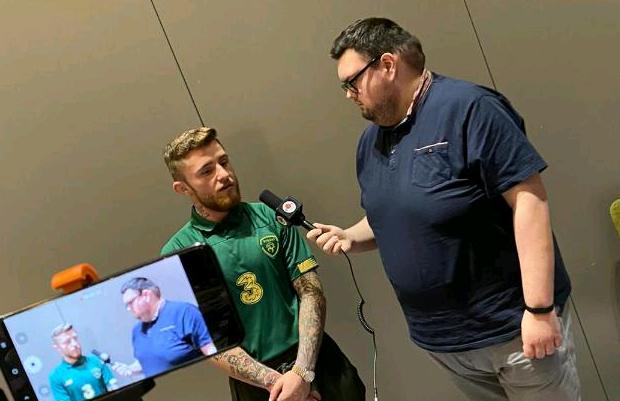 Sean Sheehan spoke with SBG fighter James Gallagher at the Bellator Dublin media day on Wednesday. Gallagher was set to face off against Cal Ellenor last September in the 3 Arena. For medical reasons Ellenor was unable to compete that night but the bout is now penciled in for next February at Bellator Dublin. 
The Strabane man had expressed interest in fighting over in the States but decided to go with that Ellenor match-up again; "This fight was supposed to happen, let's do it, why skip it?"
"I was supposed to fight Cal in Dublin and I messaged him to say get your shit together and I'll fight you. I'm a man of my word."
When asked about the progression of his MMA career he spoke confidently, "I've only turned 23, I've got a long long time, I've a lot to learn and I'm making a ton of money now why not just keep going the way I'm going?"
"I'm getting into property, I'm buying houses to invest in, I'm learning everyday in the gym so that's my focus now. I just need to keep racking up the fights, keep training hard, improve and look after myself."

Over the last couple of months there has been a lot of talk about which way is the best route to get to the top in MMA, especially in Ireland where there are not many MMA promotions to pick from. Giving his thoughts on that situation Gallagher said, "People do what they want, people do what suits them, live and let live mate. People can do it their way, I'm doing it my way like it or lump it."
"I'm just sticking to me and doing what I want to do and it'll speak for itself on February 22nd. The last two main events have been two sell out crowds and that's what it's down to. I'm the main event but it's down to the people that come and get behind me. I'm living my dream day in, day out and thats what its about for me".

When pushed further on his dreams "The Strabanimal' was sure about what he wanted. "I want to be world champion, that's my dream."
"What I'm going to do will speak for itself and that's the way my mindset is, I want to change how things are run, I want to change how things are done. I want to be like: I've changed it now, what can you do?"

Making it to the top is hard and when asked if he did make it to the top at Bellator and if the UFC were to come knocking would he be interested. Gallagher stated clearly, "I love fighting for Bellator, I love how they treat me, they give me what I want and more. I'm happy, my family is happy and that's all I'm concerned about." 

To get to the top you need a strong stable of fighters around you and having other SBG fighters fighting on the card, along with Conor McGregor's return in January, is likely to provide a huge boost to him. When asked about the return of  'The Notorious' to the gym and his other teammates helping him prepare he said, "Nearly the whole card is SBG and the gym is popping, there are a bunch of animals just interacting with each other everyday passing that positive energy and that world champion mindset, that unbreakable mindset, that mindset of winners. That's the vibe I've got going into this fight and I'm just looking forward to it."
Gallagher also speaks on how he feels he will overcome his next opponent and how he is going to enjoy his moment in the spotlight when he steps on the stage at the 3 Arena. Catch the full interview with Sean Sheehan below.