Matt Inman talks SBG takeover, three-year hiatus; Cage Warriors Trilogy 2 return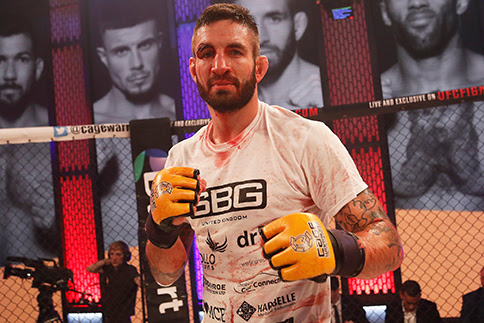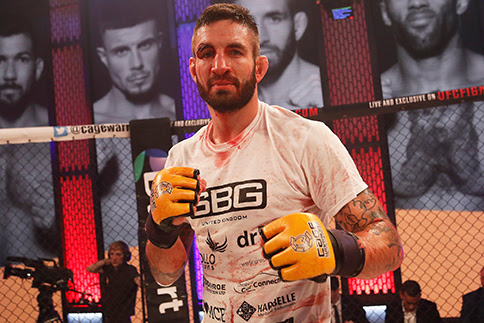 By Harry Williams
As sport evolve, time on the sideline in any sport is a big enough setback. In an ever-growing field like mixed martial arts, that time can pass you by quicker than anything else. It's been over three years since Matt Inman (20-10) last fought, wearing the ever-familiar yellow Cage Warriors gloves that have become somewhat synonymous with his fighting career, in a scrappy affair with British welterweight standout and UFC veteran Craig 'The Thundercat' White (14-12).
2017 posed as a tumultuous year for Inman. He entered the year in the biggest frame yet, challenging Karl Amoussou for the Cage Warriors welterweight title. An opportunity that came off the back of two blistering stoppage victories. Ultimately, Inman came up short to the Frenchman in the first stanza.
In what was certainly a mixed bag, what followed was perhaps one of the best performances of Matt Inman's career. A combustible match-up between himself and fellow slugger Brad Wheeler was a fight worth relishing and what developed was a fifteen minute clinic in nasty clinchwork from the SBG representative, getting back to winning ways.
The fight that followed against the aforementioned Thundercat, in Inman's words, wasn't what he anticipated to be last outing. He might have been bloodied, down but he was ready to go again. However, in life there comes circumstances out of our control, and with plenty on his plate, the time Inman needed to rest came his way in the worst way.
"I just had so much going on around that time in my personal life," Matt explained. "As well as a bunch on injuries with hardly any time off in back-to-back fight camps with the Karl Amoussou title fight, into the Brad Wheeler fight followed by the Craig White fight, so I was pretty beaten up.
"I just had a lot going on and we'd just opened up a second SBG gym over in Trafford, so I was helping running two gyms while training for a fight and it was a lot to carry. I'd never had a problem with workrate, so I was still working hard but everything else around it was proving difficult. I wasn't taking the time to recover.
"I went in to the Craig White fight expecting a win and just didn't put on a good performance. I wanted to go again. I remember just being pissed off with my performance and knowing I could do way better than I did show.
"After that, we lost our leader in Karl Tanswell at the start of 2018 and that left me without a coach, really. That was a big emotional blow. It messed everybody up. Fighting wasn't in my mind after that for a long time, nor anybody's, I don't think. After that, I was fully taking over the daily roles of the coaching lessons, the fight team – everything."
A great athlete doesn't always translate into a great coach. We've seen this in many sports with popular, successful figures. For most, it's a natural transition that comes in time, post-retirement. However, the circumstances aren't always in one's favour. It isn't often left upon you to step in, step up and fill big shoes.
After the loss of their longstanding SBG Mainline leader in Karl Tanswell, Matt had to do just that – step in and step up to the plate. A challenge that he had been under the wing of Tanswell for way before he knew; and for a role that come a lot earlier than anticipated.
"I was always coaching a lot. I guess you could say I was like an assistant coach running the sessions while Karl was away, so I was gradually getting that solo experience," Inman assessed. "The main transition came when I accepted this would be my full-time role now and I started to think about being a little less selfish and began thinking about other lads' games. I don't like using the term, but I think my fight IQ is far higher now over the last few years of coaching just from working with so many different guys and studying opponents' tape properly, whereas in my own career I wouldn't take much notice of that previously.
"It's a weird concept being the coach of a team in an individual sport; you have set fundamentals you want everyone to adhere to, but every athlete is different. I wouldn't train Jack Cartwright the same way I'd train Saul Rogers, for instance. I guess there was never anything else I was going to do anyway. Apart from the tragic circumstance leading to it, it was a natural transition for me."
It's become the most cliché saying of 2020, but this year really has been unprecedented in its own right. As the year got started, SBG found its form very early with their own bantamweight Jack Cartwright single-handedly bringing Cage Warriors to Manchester for the first time ever while successfully defending his title in the process.
Since then, the future of UK MMA has been unknown with very few shows being able to run during this pandemic and even fewer gyms managing to keep a regime going with the closure of facilities for the best part of the year.
"It was weird at first as we couldn't get in the gym or anything back in March, it was difficult," the thirty-fight veteran revealed. "Once we got back into it, we trained well with plenty of guys towards the last Cage Warriors trilogy. The only issue we've had is not having the same amount of access of bodies to train with.
"You've got the same two or three guys to work with day in and day out and if one of those guys gets broken, your training options are slimmer. We have some hard hitters and intense rounds, so we just have to work around that to refrain from injuries but keep the same intensity and workrate going to keep our athletes in the best shape possible. We've tackled the issue well, I think.
"It's hard to count this year as an active year of competition, but we've had some success in 2020. Cartwright is now a three-time world champion with Cage Warriors, we've had wins in major promotions like UFC and Bellator, so I think we're heading in the right direction. We are strong with the same ambitions."
In a year that has lacked all but normalcy, some will be restored for Matt Inman as he returns to the very same stomping grounds he left it all at: Cage Warriors Fighting Championship. This time, in their sequel to September's Trilogy events. After three years away, Matt will strap over the ever-familiar yellow gloves and return the cage – the only difference being one division higher at middleweight.
The adversary adjacent from him will be the gritty 185-pounder, Matthew Bonner (7-6). In what has made for added spice to the contest, Bonner's most recent victory comes over one of Inman's strongest prospects in George Smith (5-2). While Bonner has been on social media with memes, stating he'd beaten the apprentice and will now beat the master, Inman has remained unaware of this and is unfazed by this behaviour. In his nature, Matt is quiet. The kind of fighter who'll always let his craft do his talking.
However, having studied, planned and imitated Bonner for his 'apprentice' Smith's fight in September, Inman feels he has gotten more bang for his buck with this selection of opposition.
"I haven't actually paid it attention," Matt confessed. "I did kind of sense that's where it was going when we got offered the match. I told Cage Warriors to give me anyone in the division and that's the fight that came through to us. I felt like that was definitely the narrative, but it's not one I've taken much notice of.
"Beating George, that's a massive win. That, to me, proves Matthew is legit and it's the best win of his career no doubt. Time is going to tell with George, believe me. He's going to come back stronger as he's a serious fighter. It's that what shows me Matthew Bonner is a serious challenge which is always what I wanted. I don't want easy fights.
"I'm coming back after three years out – that's along time away while he's been active. I've never needed added animosity or build stories up in my head. I always fight the way I do and look to finish, whether I'm friendly with the guy or not.
"Looking at his record, Matthew has never been stopped as a professional, so that's what I'm looking to go out there and do. Having studied him for George and now myself, I feel I've doubled my money on the tape study. I've already spent two months imitating him as a sparring partner for George, so in some ways I feel I know his game better than he knows his own."
"The move to middleweight has been the most natural of all, too. I've been in the weights room a lot more and working on getting stronger. I knew that if I was to come back it would absolutely be at 185-pounds and not for the case of struggling at 170. I genuinely feel now that I'm ready to be a competitor at middleweight."
If you always do what you've always done, you'll always get the same results. In preparation for this occasion, Matt has gone out of his way to change his environment and make the most of this camp – entrusting fellow fighting veteran and coach of SBG South Shields, Alex Enlund, with the majority of his camp.
"I wanted to get out of the situation of coaching myself," Inman revealed. "To have someone else overseeing a lot of my training has been fantastic. Alex was a big voice that I could trust in giving me a real opinion and knew he would tell me what I needed to do if I was to return. It's pretty ridiculous over there as they do 6am sessions, so doing three five-minute rounds with Adam Proctor, who is one of the best guys in the UK, is not a fun way to wake up on a Wednesday morning!
"Alex has been kind enough to put me up while I'm over there, so I've been to and from so I can still get work in with my guys here. Alex is a really smart coach in the game and his insight has been very valuable. Aside from all the pandemic nonsense, this has probably been the most I've enjoyed training. I don't know if it's because I've been away from it so long and then suddenly I'm back in fight camp. Now I'm just excited to get back in the gym every day."
With the current state of the world being so unpredictable, it's impossible to look so far ahead into the new year. The same sentiment is shared by Matt himself. After so long away, full focus is set on December 11th as he looks to gain his twenty-first professional victory inside the cage. Whether or not this will be the first in a new chapter at middleweight or his last will depend on many personal factors, but Inman promises a new and improved battler come fight time.
"This is 100% my focus," the battle-tested veteran stated. "Whatever comes next, whether it be another fight or if I say I'm finished after this one, it doesn't matter right now. Until that final bell rings, I'm not focused on anything else except this fight. You'll be seeing a better fighter all-round; with technique, power and my biggest improvement has been my ground game.
"I'm hitting a lot harder, too. I've finished people off my back before, but I'm doing it even more so now and that's probably a bold claim to make, but I'm that confident now. It'll be a strong performance from me. I've made the most of this time."