PFL 2021 #9: Playoffs Preview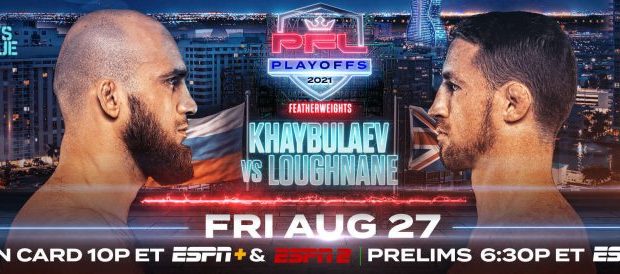 PFL are onto the last round of semi-finals this Friday night from the Seminole Hard Rock Hotel and Casino in Hollywood Florida. The Featherweights and The Light Heavyweights compete to earn their spot in October's final.
The Featherweight Semi-Finals
#1 Brendan Loughnane (21-3) vs #4 Movlid Khaybulaev (17-0-1)
This is one of the highest level matchups we have seen put together this year in any promotion. Manchester's Loughnane has made waves so far, earning the top seed with 2 wins, including a first round knockout victory over UFC veteran Sheymon Moraes. He has the best striking in the division with the ability to string together intricate combinations at ease. He manages the range really well and is fantastic at smelling blood and going for the kill. Khaybulaev is one of his toughest opponents to date. He likes to walk you down towards the cage using power shots and take you down from there. He is a very durable fighter and has wicked ground and pound. This should be a cracker.
#2 Chris Wade (19-6) vs #3 Bubba Jenkins (16-4)
Wade has looked good since moving down to 145. He's not afraid to throw everything at his opponent. He has nice footwork and will try big shots. He got his first knockout win in his last fight which he'll hope to add to his grappling threat. His biggest challenge will be avoiding being taken down, and that is likely to get tested here. Jenkins is developing into a nice all rounder and uses his striking to open up grappling opportunities. He has the ability to dominate rounds with his wrestling.
Light Heavyweight Semi-Finals
#1 Antônio Carlos Júnior (11-5) vs #4 Emiliano Sordi (23-8-1)
Carlos Jnr is a BJJ whizz and a high level black belt. If he takes you down, his aim will be to take the back. It's been a while since his last knockout win and it remains to be seen if he has the finishing power after moving up to 205. Sordi is a man who does have that power. The 2019 winner has stuttered through the regular season, qualifying with a decision win and a draw. The Argentine will be looking to find the finishing touch as we hit the knockout rounds. He throws everything into his strikes and has also proved that he's very adept at taking the fight to the mat.
#2 Cezar Ferreira (14-9) vs #3 Marthin Hamlet (7-2)
Ferreira is another man that's moved up in weight and another to have had a mixed bag this season. He scored a spectacular knockout in his first match, but then followed it with a decision loss. He is a BJJ black belt who is great at snatching guillotines. Hamlet is an all rounder with a very heavy top wrestling game. He can trade on the feet if necessary and can take damage. The Norwegian is a former Cage Warriors title contender.
Featherweight Non-Tournament Prelims
Sheymon Moraes (12-5) vs Lazar Stojadinovic (14-8)
Moraes snapped a losing streak last time with a nice second round kimura submission win. The UFC veteran is most known for his kickboxing and uses his footwork well to set up his power shots. Stojadinovic has used boxing most in his career, producing high paced high volume performances. He is a little open defensively and will take chances in order to finish fights.
Anthony Dizy (13-4) vs Jesse Stirn (11-5)
Dizy is a French national wrestling champion. His game is usually to try and take you down and keep you there. He doesn't have many finishes on his record. Stirn is a submission grappler with a habit of being in close fights. He has no problem looking for submissions off his back.
Jason Knight (21-6) vs Bobby Moffett (13-6)
This battle of UFC veterans has flown under the radar in the lead up to this card. Knight is a wildman who loves a brawl. He has been trying his hand at bare knuckle boxing and bare knuckle MMA in recent times. He keeps a high pace and will keep his output high for the duration. He's not bad on the ground either, dangerous at taking the back and throwing up subs from bottom. Moffett is more of a straight out grappler with a high level choke game. If he gets into top position, he'll usually work his arms in somewhere to finish it.
Alejandro Flores (19-3) vs Carl Deaton III (15-4)
Flores is a very popular fighter from his Combate Global fights. He has stamina for three rounds and he has the power to finish it on the feet. Deaton III is not too dissimilar, although maybe hasn't fought at as high a level as Flores. He trains out of American Top Team. Flores will bring in a sizable height advantage into this.
Light Heavyweight Non-Tournament Prelim
Chris Camozzi (26-15) vs Cory Hendricks (8-3)
Camozzi has been there, done it and bought the t-shirt. He has been competing professionally since 2006 and has been in many wars since then. In recent years, he's been specialising in kickboxing bouts. Hendricks looked phenomenal last time out with a third round submission victory. He's predominantly a grappler who specialises in chokes. His kickboxing has improved a lot over the years. This could be a low-key banger.
Lightweight Non-Tournament Prelim
Jacob Kilburn (8-4) vs Brandon Jenkins (14-7)
Kilburn earned a UFC spot after a string of knockout victories. He isn't as strong on the ground and that's usually where he's found problems. Jenkins is another wildman. He'll take chances and throw flashy moves to try and end it quickly. That leaves him open on defence. This has a high chance of finishing within the distance.
PFL 2021 #9 is live on Friday night from 23:30 and is available on ESPN2 and ESPN+ in the USA, on MMA TV (PPV) in the U.K. and on YouTube / Eir Sport in Ireland.