Cage Warriors 131 Preview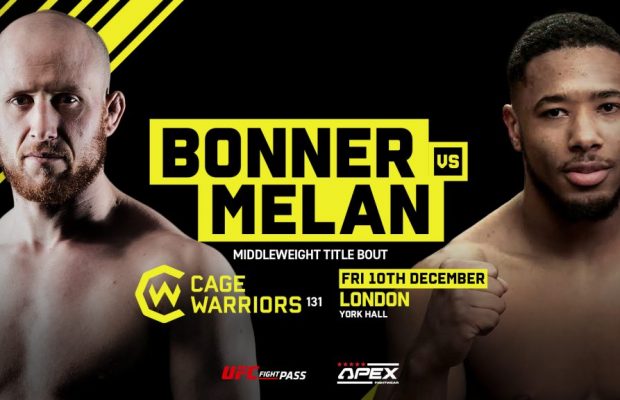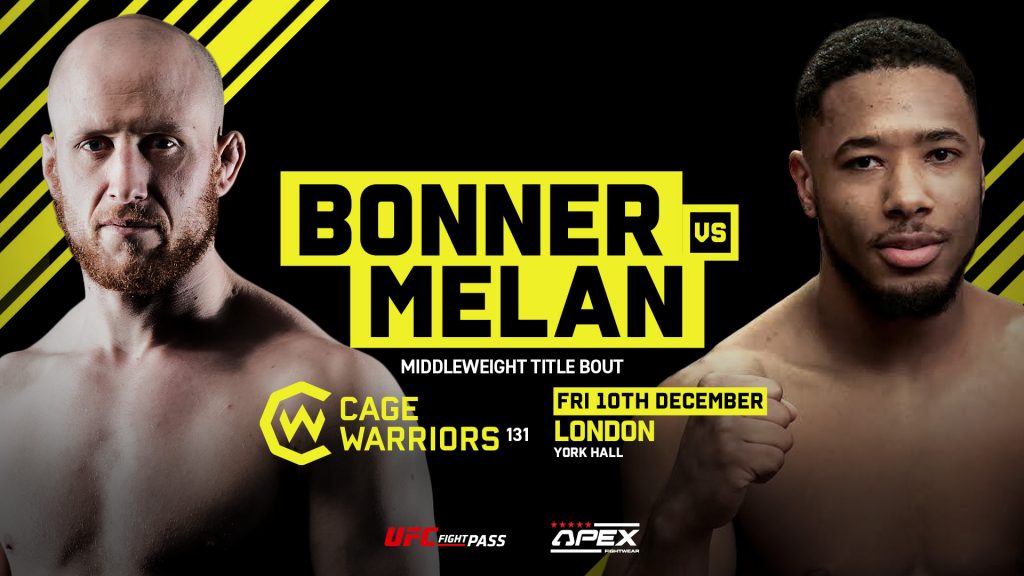 Cage Warriors are looking to end the year on a high with their back to back Double Trouble shows. Cage Warriors 131 is set to be another fun fight Friday in York Hall in London. The card contains 11 bouts, including 2 for Cage Warriors gold.
Matthew Bonner (10-6-1) makes the first defence of his CW Middleweight Championship against undefeated Djati Mélan (7-0). Bonner trains out of Next Gen Liverpool and has won his last four on the bounce, including defeating Nathias Frederick via a fourth round rear naked choke. The Warrington man has found a new lease of life at middleweight after having mixed results down at welterweight. He's a strong wrestler and packs a very heavy punch in the standup. Ivorian born Mélan trains out of Paris, France with some top French fighters. This is his first fight since 2019 so rust may be an issue. He's likely going to try and keep this standing, where he can use his footwork and look for the knockout.
Joe McColgan recently vacated the CW Lightweight Championship due to personal reasons. As a result, Mehdi Ben Lakhdhar (5-0-1) and George Hardwick (8-1) have been given the opportunity to fight for the vacant belt. Ben Lakhdhar has taken Cage Warriors by storm since his debut in 2018. He has struggled to stay active with only two fights since 2019. He's a very exciting fighter. He has incredible kickboxing and is a knockout artist. The draw on his record was against McColgan in the 2019 fight of the year. Hardwick is a very tough gentleman. He's got a mean guillotine and his boxing has come on leaps and bounds as of late, as showcased with a brutal body shot to Dean Trueman. This will be a fascinating clash of styles. The longer it stays on the feet, the better chance Ben Lakhdhar has.
Christian Leroy Duncan (4-0) has been a human wrecking machine since turning pro in 2020. The IMMAF graduate has shown that he has heavy hands to match his solid grappling with 3 of his wins coming via knockout. Justin Moore (10-5) is a big step up in experience for him. Moore wants this fight on the deck where he can get heavy top pressure and use ground and pound to either finish or open up choking opportunities. It's a good litmus test for Duncan.
Will Currie (5-2) is looking to bounce back from two defeats in a row to the aforementioned Duncan. The London man is a very slick grappler with great invention in the submission game. He's all action and always on the offensive. His foe for the evening is Nikola Zlatev (3-2). The Bulgarian is also a submission specialist, with all his victories coming via tap out. If Currie mixes up his striking with his takedown defence, he has big potential to crack his opponent when level changing.
Rounding out the main card is "The Latvian Express" Madars Fleminas (8-3) and Oban Elliott (4-1). Fleminas is a wrestler with a troubling overhand. He's very tough physically and can cause his opponents fits on the mat with his heavy control. Elliott looked sensational last time out in his welterweight debut, beating George McManus with a knockout. The Welshman can do pretty much everything. He's got lovely jiu-jitsu and mixes his striking really well. It looks like he's found a new power bar with the extra weight too. This is a big test for both men.
Kingsley Crawford (6-3) will likely come into Double Trouble with the best haircut in the arena. He won his last one with a fantastic Brabo choke against hot prospect Adam Wilson. Along with his submissions, he has the ability to be flashy on the feet and he will take plenty of chances. He may have found his perfect foil in Liam Gittins (7-3). The exciting Next Gen Liverpool fighter is must watch tv. Wherever this fight leads, Gittens will be as lively as a squirrel in a bag. He's very dangerous off his back and is always looking for a finish. Tune in for this one.
Jean N'Doye (9-3) is a French MMA trailblazer. In his first stint as an MMA fighter, he was predominantly a jiu-jitsu whizz. Following a seven year hiatus, he returned to the sport with exquisite striking to go with his submission skills. This was best shown against Corrin Eaton where he scored a big knee knockout. He's fighting Tom Mearns (7-7), a man who knows he has a lot to prove after going 2-7 in his last 9. He will try and use his wrestling to nullify N'Doye's output.
Luke Riley (1-0) is the latest product from the Next Gen Liverpool conveyor belt. His victory came against Team KF's Kamil Wincenciak, a fight he dominated with his striking. Tonight's opponent is a talent from Brad Pickett's GB Top Team, Yuki Angdembe (debut). He's had some nice knockouts on the amateur scene and Pickett's guys usually have strong wrestling.
Samir Kadi (3-1) and Michael Tchamou (1-0) are a pair of newcomers. Kadi is from France and has shown he can finish fights in the striking and grappling exchanges. Tchamou is English born Cameroonian national. He was pencilled in to fight Will Fleury recently until it fell through. The Newcastle based man has big power in his shots and has a jiu-jitsu game to fall back on.
Nik Bagley (1-0) is another prodigy from Brad Pickett's gym. He had an extensive amateur career and is very well rounded. He won his debut via arm triangle. He'll face off against Shore MMA prospect Scott Pedersen (1-1). The Welshman is an IMMAF alumnus and is also very well rounded. All of Richard Shore's fighters mix their striking well with very strong jiu-jitsu. Pedersen got his first pro win via rear naked choke back in June.
Next Gen Liverpool have a busy night at Double Trouble. Adam Cullen (2-0) will kick things off for Paul Rimmer's men. Cullen is a very talented jiu-jitsu player and has finished both his pro wins via rear naked choke in the first round. Mikail Bayram (5-1) comes in with an experience advantage at the professional level. He is a striker whose only blemish on his record was a DQ loss due to an illegal knee. The Frenchman trains out of YoFox MMA in the town of Poitiers.
Cage Warriors 131 comes to us live on Friday night. The action kicks off with the prelims at 18:30, followed by the main card at 21:00. Tune in to UFC Fight Pass to enjoy the festivities.