Cage Warriors 136 Preview; Mélan defends against Duncan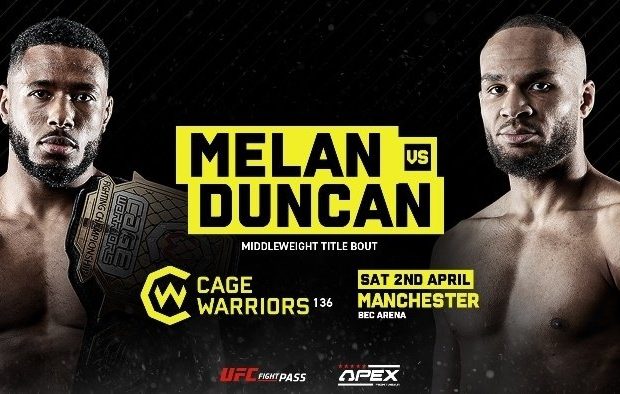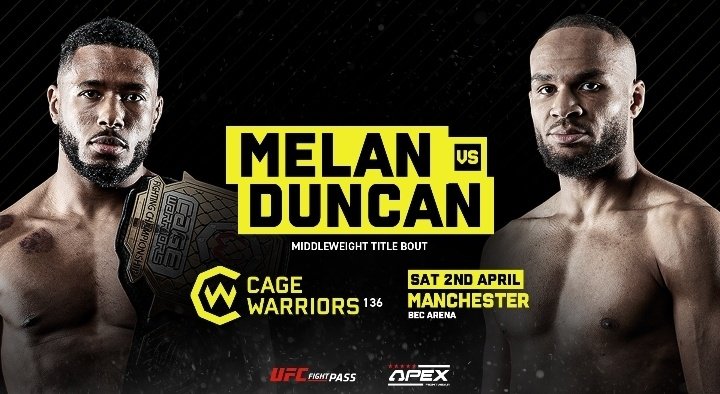 Night 2 of Cage Warriors' Double Header goes down on Saturday night at Manchester's BEC Arena. We can look forward to an action packed 14 fight card including one for a Cage Warriors championship title.
The main event features the first defence of Djati Mélan's (8-0) CW Middleweight title. The Ivorian born, Paris based fighter has an unblemished record, including big wins at ARES FC and Cage Warriors. He won the gold by comprehensively beating Matthew Bonner over 5 rounds at CW 131. Mélan has nifty footwork and slick striking with knockout power. He can also wrestle. He'll take on Christian Leroy Duncan (5-0), a man who's only worn the yellow gloves as a professional. He went pro in 2020 following an extensive amateur career with IMMAF and on the CW Academy scene. He's looked formidable since, winning four of five before the final bell. He's no one trick pony, he's a very well rounded martial artist with a lot of experience. On the feet, he hurts opponents early and often and he'll also be a match for most on the ground. I can't wait for this one, it should be a really exciting fight between two hot prospects.
In terms of entertainment, you can't go wrong with an all action battle between Aaron Aby (12-4-1) and Gerardo Fanny (11-2). Wales' Aby is an all rounder with fantastic cardio. He can hang on the feet and is tricky in the scrambles. He's more of an attritional fighter than a finisher. Holland's Fanny has a bit more panache in the standup realms. He's a risk taker who will throw flashy shots and he'll be looking to end it in every exchange. He'll leave some windows open for Aby to finish it so it's not necessarily a simple decision vs finisher outcome. What we do know is that whether it goes one minute or fifteen, it's going to be fun.
El Hadji Ndiaye (4-0) is a promising newcomer on the scene. He's from Senegal and fights out of Belgium. He's predominantly fought on the local French scene to date, where he's shown he's a solid wrestler. He's been given as tough a debut fight as you can get in Adam Cullen (3-0). The Next Gen Liverpool man is a submission wizard. Some talk of running a sub-3 minute kilometre, Cullen has perfected the sub-3 minute rear naked choke. This is a nice under the radar matchup of prospects.
Sam Spencer (6-2) is getting a second go at Cage Warriors, having lost his debut to Paull McBain at CW 88 back in 2017. His only other fight since then was a win in 2019 so he's been on the shelf for almost three years. He's a well rounded fighter with a mean streak in the striking exchanges. It will be interesting to see how much he's changed in the time off. Reece McEwan (3-1) is a debutant and another in a growing list of Scottish fighters under the CW banner. He's been predominantly a grappler thus far with slick submissions. He has a lovely armbar in his locker that we haven't seen at pro yet so keep an eye on that.
Luke Riley (2-0) is another really fun fighter out of Next Gen Liverpool. He's finished both his pro wins around the 3.5 minute mark with his striking. He's a volume striker with fantastic combinations and he works the levels very well. We've yet to see much of his grappling game, however he comes from a gym that's full of high level Jiu Jitsu players. Jack Eglin (2-0) comes in with an identical record. He's also finished all his fights, with his coming on the CW Academy scene. He's gone the opposite way, he's finished his bouts on the floor, one submission and one via ground and pound. This is very intriguing.
Mick Stanton (7-6) is as good a man as any to headline the prelim portion of the show. He's a tough as all hell wrestler who will make your life miserable on the floor if you're not careful. That's where this gets interesting. Alexis Fontes (4-1) is a man who will want this to take place on the ground. The Frenchman is a submission fighter who is dangerous both on top and on bottom. Stanton may want to keep this standing and show everyone why he's called The Huyton Hammer.
Aleksi Mäntykivi (13-7) has faced a murderers row in his CW bouts (Rhys McKee, Mason Mount, Jack Grant). The Fin is a tough man with a good kickboxing game. He tries to always move forward and is constantly looking for a finish. He holds a knockout victory over Soren Bak. He'll welcome Jeanderson Castro (6-5) to the promotion. He recently came up short against top talent Andreas Binder at Clan Wars 42. He's a veteran of the Irish MMA scene with appearances in BAMMA, Cage Legacy and Cage Ring Championship. The Brazilian is a fun striker who will throw some spinning and jumping stuff. He has a BJJ background as well.
Liam Molloy (2-2) is a promising striker who has shown some l grappling discrepancies against Ryan Shelley and Manny Akpan. His two wins have been on the feet. He'll take on submission fighter Ben Rees (3-4) in an all England affair. The Devon man is an armbar specialist.
Manny Akpan (3-1) is looking to bounce back from his first pro loss at CW 123 last year. The SBG Manchester man is a really exciting all rounder. Good Jiu Jitsu, good striking, he can do it all. Across the cage will be another fun fighter in Connor Hitchens (6-1). He's got power on the feet and has shown he can grapple as well with two rear naked choke wins under his belt. This should be a cracking little fight.
Italy's Dylan Hazan (7-0) has returned to try and ruin somebody's night with another shutout wrestling display. The Bari man is a blanket. He almost got caught last time out by not adding enough damage to his game so it will be interesting to see how he changes it up this time. He'll take on a submission grappler in Raymison Bruno (12-3). The Brazilian is based out of Spain and has been promotion hopping since moving to Europe.
We get a treat early in the night. Josh Reed (12-6) is must watch television. Whether it's grappling or striking, he's exciting and looking for a finish. He's a tornado. He faces newcomer Daan Duijs (7-1). The Dutchman is likely looking to get this down as soon as possible where he can use his Gracie Barra Jiu Jitsu game. If he doesn't get the submission, he usually gets the ground and pound win.
Kieran Lister (6-2-2) is a man in search of some form after going 0-2-1 recently (albeit against top opposition). He'd been undefeated before that. The Englishman is a fine striker with nice boxing. He's fighting a man who's likely going to want to stand and bang with him in Jan Quaeyhaegens (8-4). The Belgian is nicknamed "D-Bomb" primarily due to his penchant for knocking people out. Don't miss this fight.
Early in the night we have some debutants. Ricky Moore (debut) won most of his amateur bouts through grappling and ground and pound. He'll face college wrestler Chasen Blair (debut). He competed for the University of North Carolina. He's been training out of Next Gen Liverpool ahead of his MMA debut.
There's a fun little fight to open the card. Piotr Chmielecki (5-1) is a veteran and is very well rounded. The Pole trains out of Doncaster and can knock you out on the feet or submit you with a plethora of submissions. His opponent is in a similar boat. Michael Tchamou (1-1) has less experience with all of the same plus points. He's seven years younger than his opponent. He'a fighting out of Newcastle.
Cage Warriors 136 will be live on Saturday night. The prelims start at 18:00 and the main card at 21:00 live and exclusive on UFC Fight Pass.