Cage Warriors 135 Preview; Shelley Brothers, Loughran and Sheehan all in action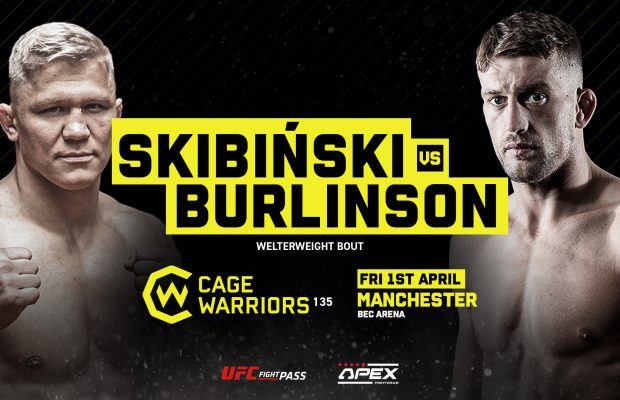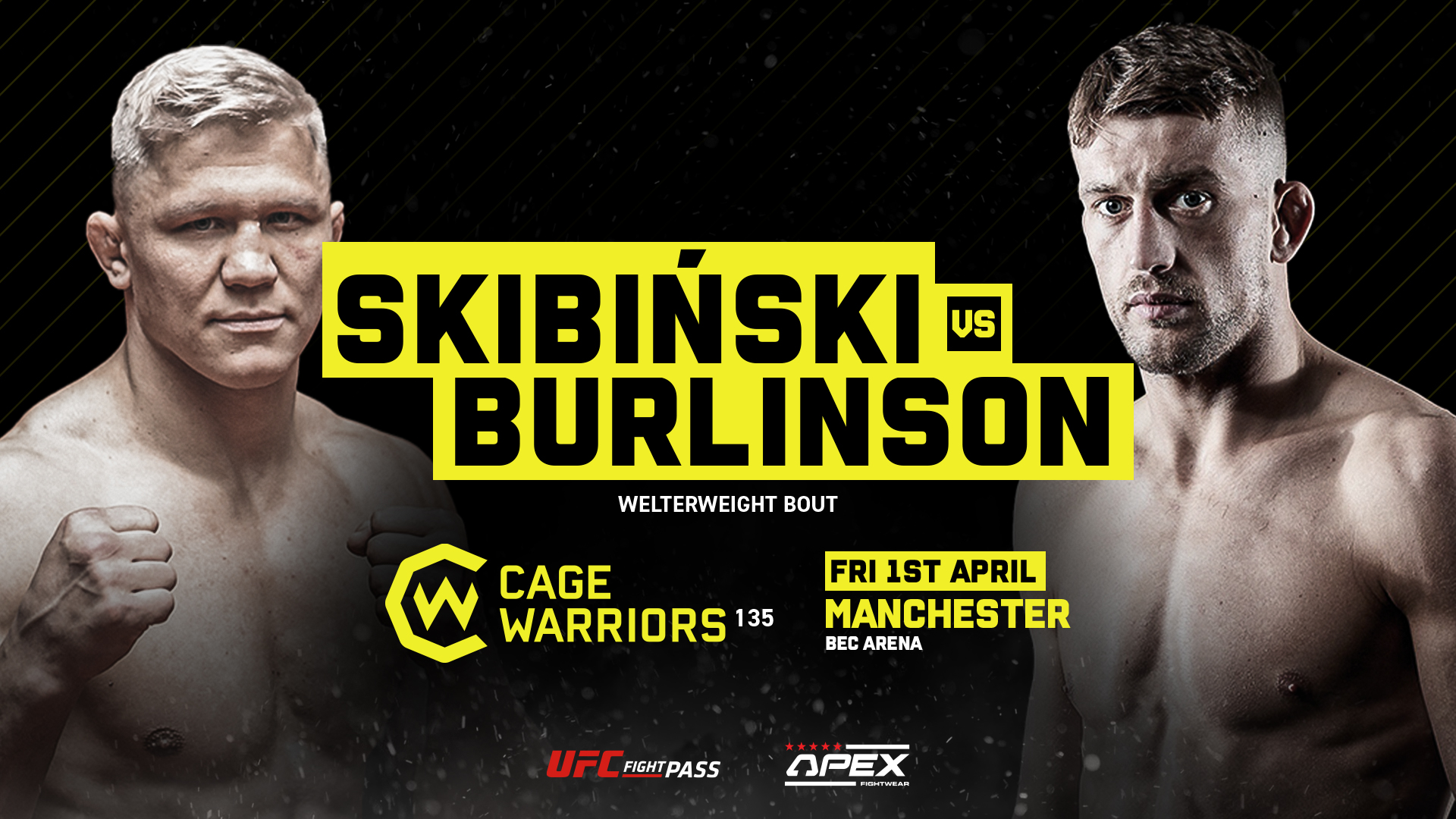 It's a quick turnaround for Cage Warriors as they return with a double header in Manchester's BEC Arena. It'll be another Fun Fight Friday with Cage Warriors 135 this Friday night, and it will be the night where we'll see the Irish fighters do battle. The card will feature 13 fights.
In the main event, Justin Burlinson (6-1) returns to Cage Warriors after an unsuccessful stint on Dana White's Contender Series. The Sunderland man was undefeated before then, with a string of six consecutive stoppages as a pro. Time is on his side at the age of 24, he's already a dual threat with a strong submission game and the ability to stop it with strikes. Along with his pro career, Burlinson enjoyed an illustrious amateur career on the U.K. local scene. The challenger comes in the shape of a man who knows what it's like to fall at the final hurdle. Daniel Skibiński (18-6) is a bit longer in the tooth than Burlinson at 31. He came undone against up and comer Tahir Abdullaev at UAE Warriors back in October. Poland's Skibiński fights out of one of his nation's top MMA gyms, Ankos MMA in Poznan. He has a strong wrestling base and he's added a very good kickboxing game to it throughout the years. This is an intriguing matchup that can go anywhere. Both are well rounded fights and not can finish it in multiple realms. Whoever is able to apply their game plan best here should have some joy. Will Skibiński's superior pro experience play a factor?
Former Middleweight champion Matthew Bonner (10-7-1) returns to the cage for the first since losing his belt to Djati Mélan at CW 131. The Next Gen Liverpool man has been on a destructive four fight win streak before that. This fight is at a 177lb catchweight. Bonner is a really strong grappler that does damage in the ground and pound. He's heavy on top, chooses his positions well and knows when to pile it on to get a finish. He'll take on Hugo Pereira (5-3). The Portuguese's last fight was a loss at Bellator 227 against Kiefer Crosbie in Dublin back in September 2019. At the age of 40, he is coming to the end of his career. From a skills perspective, he's competent everywhere however is likely outmatched by Bonner in every area of the game.
Antonio Sheldon (5-2) is a CW newcomer. He's been a pro since 2017 and has struggled for activity in recent years. He's an all rounder who has shown big improvements in striking of late. He'll take on Team Fish Tank's Milad Ahady (3-1). He's a fine grappler and is another one of Afghanistani heritage to keep and eye on. Like his opponent, he's struggled for activity since turning pro in 2017.
Dean Trueman (10-7) is a legend of the U.K. scene. His last three fights have been losses to CW champions and upcoming title contenders. The Hardy Wallhead fighter is well rounded with knockouts and submissions on the record. There's nothing he hasn't seen before. The challenger is undefeated Giuseppe Ruggeri (7-0). The Italian has had great success on the local scene, displaying good wrestling mixed with submissions and ground and pound. We'll find out if the Italian is the real deal on Friday.
There's a tasty co-main event to look forward to. Liam Gittens (7-4) is a very game fighter who hasn't had the best time of it recently, however he's always an exciting fighter to watch and he only faces top talent. The Next Gen Liverpool man has an all action knockout striking game which he mixes with a nasty choke game. Edward Walls (10-7) is another man who's tasted a few defeats recently. The Finn has a lovely kickboxing game with a decent wrestling game. This should be a fun all action contest.
Brothers have tended to do well recently in CW. We've had the Hardwicks and the Figlaks making waves of late wearing the yellow gloves. Step forward Ireland's answer, the Shelley brothers. Adam Shelley (1-1) is an elite Taekwondo player, with stylish knockouts to boot. He hasn't neglected his grappling game, working hard at his Jiu Jitsu and his wrestling ahead of this bout. The Team KF man has taken the hardest fights possible to date, against two strong grapplers. Steven Hooper (5-4) is another grappler. Don't let the record fool you, the SBG Manchester man is an elite submission player with a particular panache for the triangle choke. This is the toughest fight Shelley can take.
Omiel Brown (2-1) is looking to rebound from his first defeat against James Sheehan. He's a Team Renegade fighter and specialises in the guillotine choke. Dan Hepworth (0-1) is a Hardy Wallhead fighter who was unsuccessful in his pro debut after an undefeated amateur career, where he was finishing fights through TKO with the odd submission.
Federico Pasquali (6-0) will be defending his undefeated record on the night. The Italian is a BJJ player with some KO power on the feet. The Livorno man is a Venator FC veteran who generally finishes fights within the distance. His opponent is Paull McBain (7-2), a bruising Scot. He's tough on the feet and makes it miserable for you if he takes you down and gets top position. He's got good power and good ground and pound.
Hugo Guillon (1-0) is the latest from the French conveyor belt of talent. He's a big Light Heavyweight who has big knockout power. He'll take on Team Renegade prospect Matthew Byfield (3-1). The 6ft6in giant knows how to get the match to the ground and finish it with either strikes or submission. This should be an explosive encounter.
James Sheehan (3-2) makes his long awaited return on the card. The Team Ryano fighter has been around for a while now, however has struggled to stay active due to injuries and some other outside of the cage pursuits. His only defeats have come to former CW champions. He's a very strong wrestler with nice submissions, particularly the rear naked choke. He's also a mean striker should needs must. He'll take on tall Pole Karol Michalak (3-1). He lives in the Netherlands and is a very good grappler. He's good at taking you down and finishing with strikes or submission. Another well matched fight as we've come to expect on Cage Warriors.
Caolan Loughran (4-0) is another Irishman on the card. The Team Kaobon man has an unblemished record thus far and is a well rounded martial artist. The only downside so far is the quality of opposition. "The Don" hasn't been truly tested as a pro to date. Bakhtyaar Oryakhail (1-0) is the best fighter Loughran has been scheduled against. He won his CW debut via first round triangle choke. The Englishman is undefeated in the last seven between pro and ammy. Loughran should fly through this bout.
Ryan Shelley (3-0) is the undefeated brother. Like his sibling, he's a fantastic Taekwondo player who has developed a lovely grappling game with submissions. The Team KF man is good at taking the back and has won two of his pro bouts via rear naked choke. Dagestan's Magdi Gereev (2-0) is a highly touted fighter out of Manchester Top Team. He's heralded for his wrestling game and has won all his pro fights with submissions. This is an interesting style matchup.
Connor Wilson (2-1) is back in the yellow gloves. The Next Gen Liverpool man is a fine submission fighter that can cause issues on the feet. He'll take on a Spanish debutant Ander Sanchez (debut). The Haro man is an IMMAF vet with an impressive 10-1 amateur record. He'll need every ounce of that experience to beat his opponent.
Cage Warriors 135 will be live on Friday night. The prelims start at 18:00 and the main card at 21:00 live and exclusive on UFC Fight Pass.